While it's not official yet, once we hit the Memorial Day Weekend, it sure seems like summer is here.  At Total Home Supply, we're excited about it. In fact, we've been writing a lot about all things summery lately.
First, we gave our picks for the Top 3 Window Air Conditioners of 2014, then we told you how to Build Your Own Fire Pit, listed some great Summer Cocktail Recipes for when you are able to relax and enjoy your time off, and we previewed our new line of Outdoor Furniture for Enjoying the Outdoor Months.
Today we thought we talk about taking care of your outdoor furniture. As we all know, there are different types of outdoor furniture, and they require different methods to keep them looking their best.
Most of us own at least one or two plastic or resin chairs. Colored plastic and white plastic have slightly different cleaning methods.
White Plastic can be cleaned with 1 gallon of warm water to which 3 tablespoons of dishwasher detergent has been added. Apply using a sponge and leave the solution on for 15 minutes before rinsing and drying. The dishwasher detergent contains a small amount of bleach, which will help whiten the plastic.
Colored Plastic can be cleaned with an all-purpose cleaner and water. Rinse well. To keep the shine on plastic furniture, you need to add a little wax. Apply with a soft cloth, let it dry, then buff the wax off.
Wicker Furniture can be cleaned with a garden hose or pressure washer. For stubborn dirt, use a soft brush and a mild oil-based soap, then rinse well. It's best to hose down wicker pieces every few weeks to keep dirt from settling in the crevices.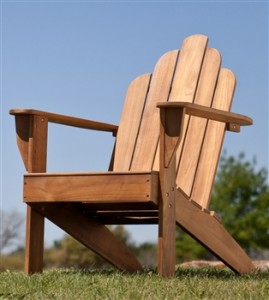 Wood Furniture should be cleaned with a soft brush which has been dampened with an oil based soap. Rinse after washing. Never use a power washer on wood furniture as it can cause cracks in the wood, shortening the lifetime of your furniture. If you need to scrub to remove the dirt, always scrub in the direction of the grain. Adding a UV stain to cedar or other soft woods can lessen the fading effects of the sun. For teak, be careful if you apply teak oil. If there is moisture inside the wood, the oil can trap it and cause mildew.
Fabric and Cushion cleaning should follow the manufacturer's instructions if at all possible. But a  gentle cleaning with lukewarm water with a mild detergent added, is usually a safe method.
Now that you've taken care of all the hard work, sit back and sip one of those delicious cocktails we told you about.