AC Buying Guide: Find the Best Air Conditioner for You
Please note: This article was updated June 15, 2016.
It's that time of year again – the weather is getting warmer, the humidity is setting in, and the idea of coming home and turning on the AC is probably starting to sound pretty good right about now. But if you're in the market for a new air conditioner, it can be tough to find exactly the right AC for your needs.
With so many different units to choose from, trying to figure out exactly which air conditioner to purchase can prove a daunting and overwhelming task. That's why we at Total Home Supply have put together this comprehensive AC buying guide to help you identify what to look for when shopping for a new AC unit. Take a look at some of our top picks, then head on over to our website to shop and get free shipping on your order!
What to Look For in an Air Conditioner
When shopping for a new air conditioner, you should first have a good idea of what type of AC unit you need. Are you looking to cool your entire house? Just a room? Knowing how large of a space you need to cool will help you narrow down your options and find an AC unit that delivers the right amount of cooling power for you.
In general:
Window ACs are best for cooling individual rooms and small spaces, like an apartment or dorm.
Central ACs are best for cooling your entire home.
Through-the-wall ACs are similar to window ACs, yet they do not rely on windows for installation. These are great if you want to cool a room that has no windows, or if you want to retain the ability to open your window as you please.
PTAC units are ideal for hotels, nursing homes, dormitories, and similar settings. They allow each room's occupant to adjust their room's temperature as needed without affecting other units in the building.
Ductless mini splits can cool as many rooms as you want without any sort of ductwork.
Now that you know the basics of these types of AC units, here are some of our staff picks and customer favorites in each category. We hope this AC buying guide will help you narrow down your search for the perfect AC unit.
Top Window AC for Small Rooms
General Electric: AEM05LV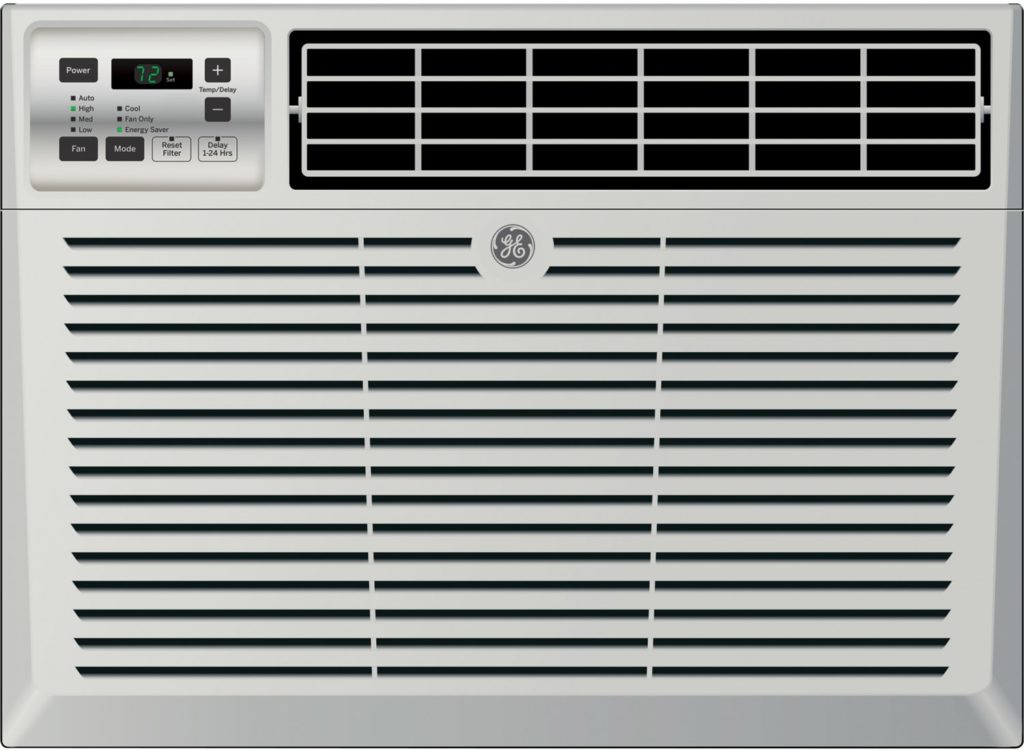 Window ACs are great for at-home use because of their easy installation and ability to be uninstalled come the wintertime. Operating at 5,200 BTUs, GE's AEM05LV window AC is ideal for smaller spaces of about 100 square feet, such as bedrooms, apartments, or offices. This unit is Energy Star qualified and features an energy saver mode for ultimate energy efficiency.
When shopping for an air conditioner for a small room, you should look for a unit that can efficiently and quietly cool an area of about 100 to 200 square feet. Any larger than that and you could be wasting money and energy.
Full product listing here.
Top Window AC for Larger Rooms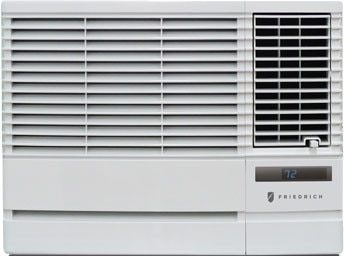 Made for larger spaces such as open living rooms, open office spaces, and master bedrooms, Friedrich's "Chill Series" CP12G10B window AC boasts 12,000 BTU and a 12.1 EER rating for effective cooling that is also efficient. This unit is Energy Star qualified and features a special Money Saver setting that gives you the option of fan-only operation.
If you're in the market for an AC for a larger room, be sure to look for an air conditioner that can cool an area of about 300 to 650 square feet.
Full product listing here.
Top Through-the-Wall AC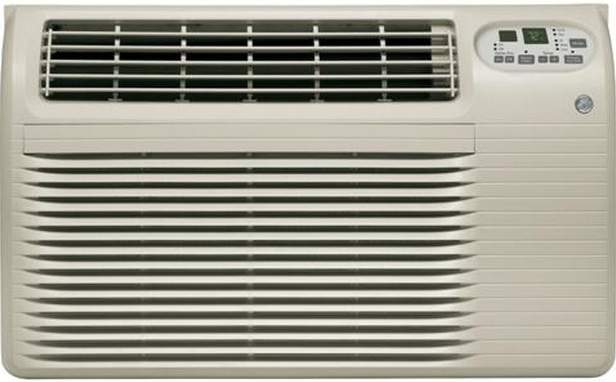 Operating at an impressive 12,000/11,800 BTUs, GE's AJCQ12DCG through-the-wall AC is great for large, windowless rooms or for people who want a more permanent yet easy-to-replace solution. This unit is Energy Star certified and features three cooling speeds, including a fan-only option.
If you're looking for a through-the-wall air conditioner, keep in mind that you'll also need a wall sleeve to support your AC unit. Unlike window ACs, through-the-wall air conditioners are permanent fixtures, so be sure to closely follow all manufacturer instructions and measure the correct size hole to place in your wall.
Full product listing here.
Most Efficient AC

While all of the AC units on this list are energy efficient, as per our company commitment to greener technology, the LG LA090HYV1 "Art Cool Premier" mini-split AC really comes out on top. Mini-splits are a favorite choice for many because of their effective and silent operation, and coupled with this unit's smart energy-saving technology, there really is no going wrong.
If you're looking to really maximize the efficiency of your air conditioner, keep an eye out for those that are Energy Star qualified or have built-in energy saver or sleep modes.
Full product listing here.
Best Heating & Cooling AC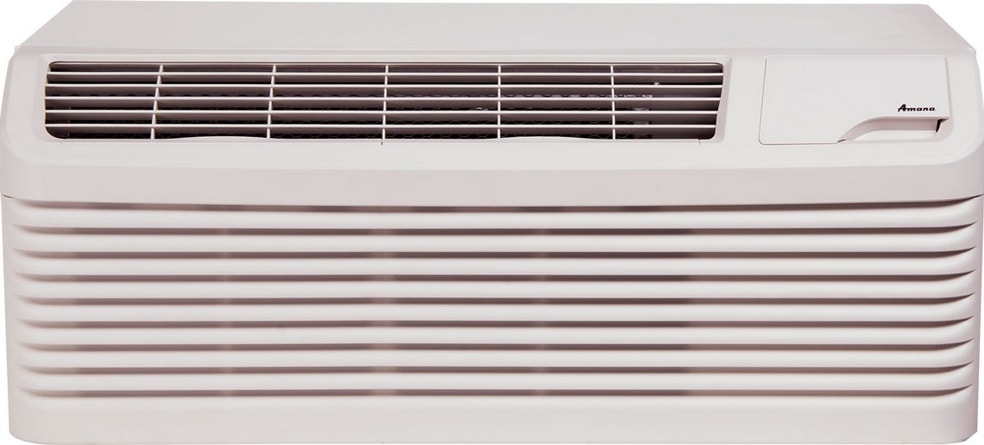 Amana's PTH123G35AXXX PTAC unit is the perfect 2-in-1 solution for year-long comfort. Most commonly found in hotels, newer apartment buildings, and office spaces, PTAC units also can be installed without having to tap into your home's existing heating or cooling system, making them ideal for sunrooms and additions. This unit features 12,000 BTUs, a high efficiency rating (10.7), and is entirely made in the USA.
PTAC units aren't the only types of air conditioners that offer heat — many window ACs, through-the-wall units and others can also double as heaters. If you're shopping for an AC with heat, make sure you find one that can provide adequate heating power to comfortably heat your room during the winter months.
Full product listing here, and don't forget to check out our guide to PTAC cleaning and maintenance!
As always, our excellent sales team is available to answer any questions you may have regarding our products. Please don't hesitate to contact us!