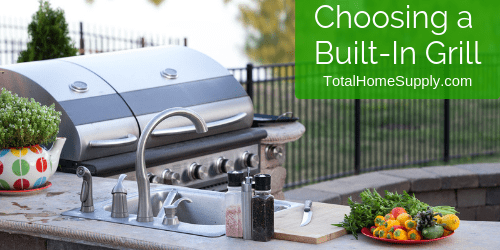 Whether you're a longtime grillmaster or new to the outdoor cooking game, the arrival of spring ushers in the season of backyard barbecues and get-togethers. Soon enough, it will be time to ditch the winter wear and get ready for sunnier days.
As you start preparing for the nicer weather, it's a good time to think about any changes you might like to make to your outdoor entertainment spaces, such as your deck, patio, backyard, or other space.
One upgrade you might consider making is your grill itself. Going from a freestanding grill to a built-in grill can signal the fact that you're ready to get serious about your outdoor cooking and entertaining.
There are many benefits to built-in grills, too. By having the grill in one place, there's no need to move it around to find a cooking spot, you have room to prepare your food, and easy access to your utensils. Plus, a built-in offers protection from the elements as well as keeps the cooking smells outside. This style grill is not only a good choice for hosting guests, but can increase the value of your home, too.
If you're considering a built-in outdoor grill design for your home or space, learn more about the different styles and options below.
What Does a Built-In Grill Usually Mean?
Typically a built-in grill will be installed into an outdoor counter area that has other kitchen features. Different from a freestanding grill, a built-in does not have a stand. The grill is built to be installed directly into a cutout counter space so there is no stand needed.
When installing an outdoor built-in grill, you are essentially creating an outdoor kitchen space. You want to tailor your setup according to the kinds of things you'll be making and serving from the grill and kitchen area. The counter typically includes a sink, but can also include other features such as wine/beer fridges, brick ovens, prep stations, cabinetry and other accessories.
Types of Built-In Grills
Most importantly, consider the needs for your particular setup.
First, consider the size of your patio area and the average number of mouths to feed. If you have more intimate family gatherings, a smaller option might be best, whereas big entertainers should look for ones with plenty of room, prep space, and multiple burners. Since you will be installing the grill directly into your counter space, the size is important. It won't be a quick fix to switch out grills as the cutout of the counter will be sized to fit the one you decide on.
Second, decide which type of built-in grill you want.
Charcoal Grills
When many people think of BBQ, they think about charcoal grills. Whether it's childhood nostalgia of family cookouts or simple a personal preference for the taste, there are many great reasons to choose charcoal.
The heat regulation achieved by the airflow combined with an accessible coal bed makes charcoal an easy and convenient choice for many. Their easy-open grates and multiple vents and dampers are also a breeze to clean.
Charcoal grills can be a great choice when thinking about which built-in is best for you.
Gas Grills
Another type that some prefer for their outdoor setups are built-in gas grills.
Many people prefer this type because of their flexible temperature range, quality, and sturdiness. When comparing gas grills, pay special attention to the number of burners, and any accompanying warranties that might set one apart from another. Also, remember there are both natural gas and liquid propane options.
Within the grill itself, keep in mind the needs you identified earlier. Check to see if the usable cooking surface area is sufficient for your needs. Examine the different features such as gliding drawers, rotisseries, and pull-out grease trays to see what functions are most important to you. Certain accessories might be a must depending on your grilling style.
Finally, consider the maintenance and cleaning. These may require a bit more care than their charcoal counterparts, but the benefits may outweigh the cons.
Combination Grills
Sometimes it's hard to pick just one. If you want the best of both charcoal and gas worlds, go for a combination grill. These options allow you to cook faster, and offer heating source backups in case you run out of one or the other.
Although these options tend to take up more space and require a little extra elbow grease to keep clean, ultimately the advantages outweigh the disadvantages.
Top Brands
If you already have a type of grill brand that you prefer, it can be a good idea to go for a built-in grill of the same kind. Check to see if your favorite brand already offers built-in options.
Or on the flip side, if you aren't sure about what brands to look at, a few of our favorites are American Outdoor Grill, Broilmaster, and Fire Magic.
Grill Designs and Kitchen Layouts
Do you have an eye for design?
There are many different looks that outdoor kitchens can have, including angular looks, classic L shapes, curves, outdoor grill islands, and multiple cooking surfaces. Don't discount aesthetics –– function isn't the only important thing when it comes to built-in grills. They should look good too!
Choose a Grill Design that Suits your Entertainment Space
Making a change to your backyard space can be a fun and exciting process. When it comes to installing a built-in grill, there are many elements to consider before you decide to do it.
The most important thing is to think about your needs before you decide. What is it that you are hoping to get out of your grill? Style? Convenience? Size? Wow factor?
There are so many different options and designs to choose from, so you can start the process of getting your new built-in grill today.
At Total Home Supply, we want to help make sure you get the one that's right for you. If you need a little assistance in the process, contact one of our specialists today to get started.