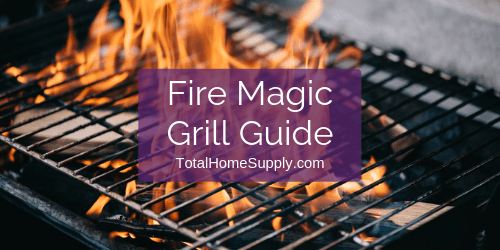 In the world of grills, there are many players. One brand that continues to gain recognition in the industry and set themselves apart are Fire Magic Grills. Founded by Harold Keck in 1937, Fire Magic has been committed to quality craftsmanship in outdoor grills and accessories for more than 80 years.
Over several decades, Fire Magic has continued to develop their superior technology and construction so that their durable grills last a lifetime. Manufactured here in the United States, this brand truly represents the all-American traditions of barbecues that bring people together.
Have you been wondering if a Fire Magic grill might be the right choice for you? Read on to find out more about the magic behind Fire Magic.
Product Quality and Features
There are many reasons why people love grills from Fire Magic.
Starting with the stainless steel construction, the cooking surfaces are naturally stick-resistant and offer much more cooking area than your average grill. But these grills aren't just larger for the sake of it –– they also boast many BTU's per square inch, too. That means that your cooking is much more time and energy efficient than other options you might be looking at elsewhere.
Fire Magic Grills also have a compact grease collection system, which makes cleanup much quicker and easier than other comparable options.
Apart from the grill itself, this brand offers excellent warranties and an extensive line of premium accessories. So not only can you take comfort in the long-term quality and durability of your grill, but you can also modify and update it to your liking.
Fire Magic Grill Types
Not all grillmasters prefer the same type of grill. With Fire Magic, you can find the model that suits your particular cooking style and preferences.
Below we have featured some popular Fire Magic Grills from different categories.
Built-In Charcoal Grills
Fire Magic 12-S101C-A Legacy 24″ Built-In Charcoal Grill
If you're looking for space, flexibility, and convenience, this might be the pick for you. With a 24" by 18" grilling surface and adjustable height charcoal pan, this grill is easy to work with and can be installed into your outdoor kitchen, patio, or other similar space.
Plus, it is also available with a smoker oven and hood for added functionality.
Built-In Gas Grills
Fire Magic A430i-5E1P Aurora 24″ Built-In Gas Grill
Have you been dreaming of a grill with hot surface ignition?
With the push of a control knob, you can turn up the gas and get cooking in no time with this model. The Diamond Sear cooking grids come standard, and feature a trapezoid shape that more quickly and evenly distributes heat.
Plus, this grill minimizes flareups by vaporizing the juices and creating additional flavor. That means your food will come out faster and tastier. Plus, the stainless steel construction sticks less than others, which makes cleanup much easier.
Built-In Combo Grills
Fire Magic A830i-6EAN-CB Aurora Built-In Combo Gas/Charcoal Grill with Rotisserie
Get the best of both worlds with this combination gas and charcoal grill.
With the push of a control knob, you can turn up the gas and light the flame in no time. For professional restaurant-style sear marks, the unique Diamond Sear cooking grids deliver.
With this option, there is also no need to worry about running out of space. With 828 square inches of grilling room, you'll be sure to have enough for your friends and family to enjoy.
Electric Table Top Grills
Fire Magic E250s-1Z1E-P6 Electric Patio Post Grill
Convenience and quality combine in this ultra-portable grill that's perfect for boats, condos, apartments, or any other space where open flame cooking is not allowed. Simply plug it into a standard 110V outlet and you are on your way. Its large heating element allows for both quick and hot cooking, with top temperatures of over 725 degrees Fahrenheit.
This might be the perfect addition to your next balcony cookout.
Post Gas Grills
Fire Magic A430s-5E1N-P6 Aurora 24″ Patio Post Gas Grill
Like the others featured here, this grill comes with the stainless steel construction, startup ease, and efficient cooking times.
With 432 square inches of space and a pedestal patio post mount, this model combines spatial flexibility with a boost of power to make your hot dogs, hamburgers, steaks, and other creations especially delicious.
Things to Consider Before You Buy
Sometimes it can be tough to figure out which grill is the best choice when you are comparing among many options. Before you make your final selection, make sure that the one you have chosen matches your needs.
Consider the purpose of your grill. Will you be doing occasional soirees or consistent cooking? Depending on how frequently you will use it and why, you may want to prioritize certain characteristics over others.
You'll want to determine your desired heating options: charcoal, gas, or a combination?
Do you need a freestanding or built-in grill?
Are you anticipating the need for a rotisserie or smoker functionality?
Once you have answered these questions, then it's time to look at the numbers. Determine your size needs or constraints, and firm up your budget for this purchase. Fire Magic grill prices are comparable with other high quality brands in the industry.
After limiting your search, compare the remaining options using the reviews and warranties so that you can feel confident you are selecting the grill that will satisfy, last, and won't break the bank.
Find the Fire Magic Grill for You
When you are looking for a new grill, taking into account your particular preferences and budget is a key first step. From there, you'll want to make sure to get a one that can deliver performance and durability all in one place.
Fire Magic Grills might be just the choice to elevate your cooking and entertaining experience. With their longstanding history of making quality grills that people love, you can have peace of mind that your money will be well spent.
Here at Total Home Supply, we carry an array of Fire Magic grills that are sure to suit grillers of many stripes.
Looking for a U.S. made grill? Browse our wide selection of Fire Magic models, or get in touch with one of our experts who can answer any questions you have along the way.