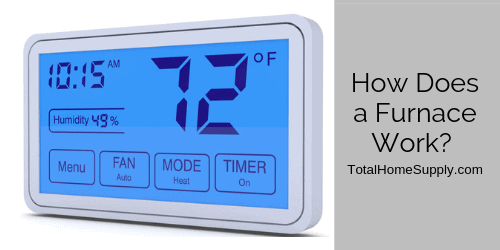 A furnace works by heating air either through the use of a pilot light, burners, and a heat exchanger (gas furnace) or through conductive coils (electric furnace). The warm air is then dispersed into the home by being blown through ducts, or through a different method if the system is not a standard forced air unit.
As we prepare for the upcoming winter months, it's time to start thinking about keeping warm while we are outside and inside. You might already be upgrading your winter coat or grabbing some new gloves, but there might be one big factor you are forgetting: your furnace.
For homeowners, making sure that you not only have the right system in place but that you also understand how it functions is a must for winter preparation. A better understanding of the inner workings of your furnace can help you determine if things are functioning properly, or help you choose a new one for your home.
Believe it or not, a furnace is much more than a machine that pumps out warm air, so there are various items to consider before making a purchase.
Below we will take a look at some of the common furnaces you will come across in your search, how they work, factors such as safety and energy efficiency, and what kinds of situations or environments they work best in.
How a Furnace Works
You probably already know the primary function of a furnace: to heat your home. However, you may not be as familiar with how a heater accomplishes that goal. Knowing about the processes involved can help you pick which one is right for you.
Gas Furnace Vs. Electric Furnace
One of the big choices you will probably make when selecting a furnace is whether you would like to get a gas or an electric option. While there are certainly some advantages and disadvantages to each, ultimately the choice is up to the priorities you have, from cost to durability to environmental impact.
While both types create the same end result, they do so in slightly different ways.
How does a gas furnace work?
A gas furnace functions by way of a series of burners in the combustion chamber. When the pilot light is lit or igniter sparks, it ignites the burners, which in turn create heat.
This heat then travels into the heat exchanger, which moves the air and raises it to the temperature set by the thermostat. From there, the blowers send the air outward through the ducts and into specific rooms of your home.
How does an electric furnace work?
While an electric furnace does the same job as a gas one, it works slightly differently.
In an electric furnace, instead of a pilot light, there is an electrical system which starts the heating process through conductive coils. As the current goes through the coils it creates heat, warming the air. From there, the hot air is blown outward into the ducts.
Depending on what temperature has been set, more or less heating elements are activated.
Types of Furnaces
Once you have decided on gas or electric, then you can start picking from some of the top options in heating.
Here we have listed a few of our favorites and how they work so we can help you narrow down the search process.
Standard Forced Air Furnace
For many years, the main choice for home heating was forced air furnaces, often also referred to as central heating. Chances are if you live in an older home, you have one of these.
This type of furnace works by transferring heat to the air, which is then blown through the house to make it warmer. The warm air produced by the furnace is channeled or "forced" through the air ducts in your home, which makes sure the air is evenly distributed in different rooms.
These are built for energy efficiency, which allows you to both stay warm and save money at the same time. For example, the Goodman Single-Stage Gas Furnace converts 92% of gas into heat.
Direct Vented Forced Air Furnace
Similar to the standard forced air furnace, the direct vented forced air furnace works in much the same way, but vents directly outside and pulls in fresh air for combustion. These models are usually more energy efficient and can be used as a replacement to a standard forced air furnace.
Whether you're heating a large room, a small apartment, or another similar space, direct vent gas heaters are a reliable, safe, quiet option.
Atmospheric Vented Room Furnace
Another option that you might consider is an atmospheric vented room furnace. This unit draws on a home's air to mix with natural gas from the burner to allow combustion to occur. A grill on the furnace pulls in this air for the combustion process. This type of heater works with vent pipes that are connected to the chimney or flue to carry the combustion by-products outside. One of the advantages of these heaters is their versatility –– they can be installed in the ceiling, floor, wall, and other areas.
This type is also available in many different shapes and sizes, depending on your needs. Plus, they can be used for purposes as different as commercial warehouses and in-home use as well.
Gravity Direct Vent Furnace
For those who have some space concerns, the gravity direct vent furnace can be a perfect choice, as these highly efficient units are often quite small. A direct-vent system draws air directly into the chamber from outside. Because it sources air externally, this allows doors and windows to remain closed while the furnace is in operation.
These units are also incredibly efficient and safe, as the combustion chamber is sealed, with the gas flame sealed off from contact with the outside air.
How Long Does a Furnace Last?
Typically a standard furnace lasts 10-20 years, but it depends on the type you purchase and how often it runs. They can certainly last longer as well, but need proper maintenance. Just like any other major appliance in your home, it's important to take care of your system. Follow the proper maintenance guidelines and get it serviced annually to check for any issues and keep it operating smoothly. This will help extend the lifetime of your furnace and ensure it runs properly for years to come.
Choose a System That Works for You
When it comes to choosing a furnace for your home, you want to be as informed as possible so that you can make the right decision for you. Buying one is no small investment, so knowing that you are getting what you want is crucial in this decision.
Here at Total Home Supply, we understand that knowing the ins and outs of how your furnace works is the best first step to take as you explore your options. With this information, you can set about finding the one that is the most appropriate fit and function for your home or other space.
Are you ready to find for the perfect system for your home? We are here to help. Start your search today by checking out our array of furnace options, and make sure this winter is the warmest one yet.