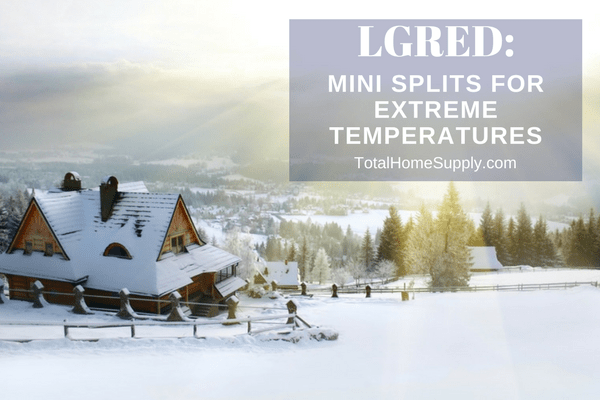 If you live in an area that's subject to extreme temperatures, you understand how important it is to have a reliable heating or cooling system. However, finding a great HVAC system is easier said than done. Too hot, and the AC doesn't kick on. Too cold, and the furnace is barely functioning.
It's an ironic and frustrating process, but fortunately, LG is making waves in the HVAC industry with their new LGRED mini splits. This product line is specifically designed for those who live in extreme climates, operating in a range of -13 to 118 degrees Fahrenheit.
What is LGRED?
LGRED is a new proprietary technology from LG, a leader in the HVAC industry. An abbreviation for "Reliable to Extreme Degrees," the name says it all – LGRED products can operate at full capacity down to 5 degrees Fahrenheit, and continues to provide 70% heat down to -13 degrees Fahrenheit without a significant increase in current draw. This means that LGRED products can be used as a primary heat source almost anywhere in the U.S. while still operating efficiently.
LGRED products are mini split systems, making them extremely efficient. Since LGRED mini splits do not require any sort of ductwork to operate, heat and cold air stay where they belong: in your house. LGRED technology is featured in various single-zone and multi-zone mini split systems, allowing you to find a solution that meets your precise needs.
Compared to competitors, LG has better low to high heat range. Most configurations are Energy Star qualified.
LGRED Series Features
The LGRED series comes with an assortment of features to help keep your home at a comfortable temperature year-round:
Compressor speed range of 10 Hz to 115 Hz. The slow speed provides lower cooling/ heating output and more consistent temperature swings.
Base pan heaters are included in all LGRED models. The base pan heater prevents the outdoor unit from freezing at low temperatures, which allows the mini split system to keep working even in frigid climates. Base pan heater turns on at 32°F and draws 90 to 120 watts depending on the model.
Operating range is -13° F to 118° F, with 100% heat output at 5° F. Once the temperature drops below 5°, the system operates at 70% efficiency.
LGRED Series Cost
The cost of LGRED Series mini split systems depends on their BTUs and other features. Overall, the LGRED Series falls in the $1,300 – $2,000 range for single zone units and $3,300 up to about $8,000 for multi zone units depending on your configuration. We carry both single-zone systems and outdoor units that can be configured with up to 6 indoor units.
LGRED – A Solution for Extreme Temps
Whether you live in Phoenix or Fairbanks, LGRED mini splits are an effective and efficient solution for combating extreme temperatures. You can count on these systems to function even in the harshest heat or cold, leaving your home at a comfortable temperature all year long.
Browse our LGRED collection at TotalHomeSupply.com and enjoy free shipping to anywhere in the contiguous U.S.