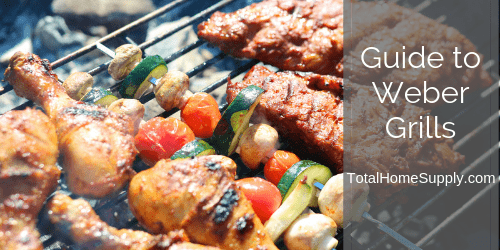 If there's one name often associated with true grillmasters, it's Weber. For years, the iconic buoy-shaped grill has dominated backyards everywhere. These days, there are more options to choose from Weber than ever before, and Total Home Supply can help you find and select the best option for your grilling needs, whether you're new to the scene or a self-appointed master.
Want to make your backyard a great place for family gatherings? Does your porch need a little flavor? Have you been daydreaming of your very own spot to don your grilling apron?
Look no further than the many reliable and stylish offerings available from a brand that grillers of many stripes have counted on for decades.
Types of Weber grills
While you may be most familiar with the classic buoy-inspired grill shape, Weber actually carries many different types to choose from. Depending on the types of items you will be cooking, the volume of items being grilled, space and size options, as well as design preferences, there are various ways to mix and match to ensure your cooking area looks and works just how you want it to.
Freestanding – The most popular option is a freestanding grill. With this choice, you have the ability to move your grill about as you wish. This option allows for maximum versatility in your location and is often a cost-effective choice for the new griller who is just starting out. The majority of Webers are freestanding grills with both natural gas and liquid propane options. On the flip side, there are also built-in options, which are designed differently for outdoor kitchens, or setups that are slightly more permanent.
Charcoal – Within the realm of freestanding grills, there are some different types from which to choose. Charcoal grills are often known for their authentic flavor they provide the meat.
Smokers – For those seeking a particularly smoky flavor for the food they cook, a smoker can be the perfect way to cook. These allow you to slow cook the meat or dinner to perfection. They are very popular for many types of gatherings, parties, and celebrations.
Other Options and Accessories
Choosing the type of grill you would like is only one part of the process. There are many different features and accessories that can be added and/or adjusted to make it the perfect fit for you:
Want to grill a lot of things simultaneously? Expand the size of the grilling space.
Seeking pitch perfect cooking temperatures? Opt for a built-in thermometer.
Prefer your grates more wide set or narrow? Adjust the grate size.
Planning to make a splash with a bold color scheme? Pick a fun color like green or copper.
Desire a warming rack area for that food on deck? Add it on.
Like to cook chicken? How about a rotisserie burner.
Prefer liquid propane or natural gas? Weber offers both.
Need space to cook items separately at the same time? Get extra burners on the sides.
No matter what specific cooking option you're looking for, chances are Weber has the ability to make it happen for you.
The Weber Brand
Steak grilling enthusiast and Weber Brothers Metal Works employee George Stephen invented the kettle grill in 1952 after being inspired by the shape of a buoy. Once he cut the buoy in half and added three legs to the bottom and a handle on top, as the Weber website writes, "the rest is history."
And where are Weber grills made? They are a Chicago-based company.
Popularity and Benefits
There are many reasons why people prefer the Weber brand for their grills, but the main one that many people think of is reliability. With options at different price points, there are a wide array of choices for both novice and expert grillers and the budget-conscious and spendy alike.
Plus, Weber takes into account the necessity of flexibility and variety. For instance, separate burner areas are often available and can be used to cook different foods such as veggies, meats, fish, fruits, veggies, etc.
Another element that Weber boasts is that its grills are long-lasting. This durability is achieved through high-quality construction with premium materials.
Warranty Information
Each Weber comes with a warranty specific to the type of grill itself. For warranty information on specific products, check the product information on the Total Home Supply website.
A Few of Our Favorites
Here are a few of our favorite options when it comes to freestanding Weber grills:
Get Cookin' with a New Weber Grill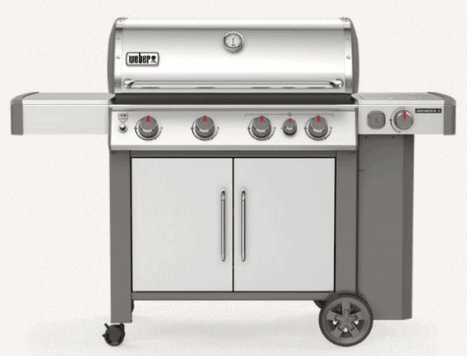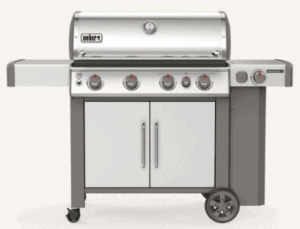 If you are just starting out on the hunt for a brand new grill, one of the first considerations you want to think about is what your intentions for using the grill are.
Will it be used for nightly steaks? Occasional family barbecues? Weekly rib burnoffs? Teaching your children to make a hamburger? Depending on your needs, you will want to match the type and accessories accordingly.
Weber carries a few different types of grills, with freestanding being the most popular. Gas grills tend to be a common choice, but charcoal or smokers may be a more desired option for specific types of cooking and flavor profiles. In the end, you should select one that you like the look of and that will get the cooking job done right.
Are you all set to find the right option for your backyard, porch, or poolside? Start your search with Total Home Supply's great selection of grills.