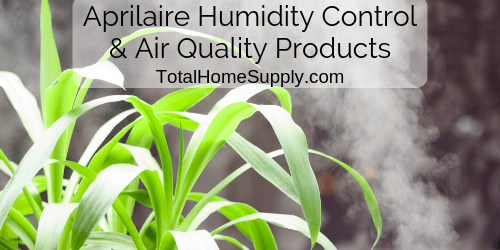 Good air is essential for a clean, comfortable, and healthy living environment, and ensuring the circulation of good air throughout your home requires an efficient system of dehumidification. Just as with outdoor air, high humidity levels in the indoor air greatly affect how the human body perceives hot and cold, making warm temperatures feel hotter and cool temperatures feel colder. A high level of moisture in the air is also the leading cause of mold, which can consequently release harmful spores into the air you breathe. Investing in a good whole house dehumidifier is a smart move for overall health and wellness as well as comfort.
Conversely, a lack of moisture in your home's air can have detrimental health effects, not to mention that your home could suffer, too. In particularly dry locations, inhabitants can experience dry skin, hair, and lips, as well as other nuisances like dry throat. Because your body moisture evaporates more quickly in a dry space, this also leaves your body temperature chilled, putting you at a higher risk for respiratory illness.
Low humidity in the home can also cause damage to furniture and woodwork. Some issues you might see include warping of hardwood or peeling wallpaper. This shrinkage can cause doors and drawers in cabinets to loosen as well.
If you would like to help your family breathe a little easier, clear the air. Whether you are looking for a humidifier, dehumidifier, or other air cleaner, Aprilaire has you covered, with healthy home products that support personal health, comfort, and home preservation.
Aprilaire Brand
Since the release of its first humidifier in 1954, Aprilaire has become synonymous with indoor air quality. Based in Madison, Wisconsin, Aprilaire addresses the four conditions that most impact your indoor air quality:
Temperature
Humidity
Air purity
Air freshness
Along with Research Products Corporation, the parent company of Aprilaire, they have innovated over the decades to continually improve their products. Total Home Supply stands behind the quality of Aprilaire products.
Aprilaire Whole House Dehumidifiers
Whole house dehumidifiers are the ideal device for keeping excess humidity out of your home. Keeping your humidity level properly adjusted is important to the overall health of your family and the efficiency of other in-home systems you have running.
Aprilaire has conducted extensive research and testing to ensure that their updated line of whole house dehumidifiers are suitable for use in virtually any application. These products have been approved under the highest possible standards for both customer satisfaction and world class quality construction. Equipped with an industry-leading warranty policy, these dehumidifiers are certified for use in attics, basements, HVAC closets, garages, as well as free-standing applications. Aprilaire's whole home dehumidifier units operate at a quiet noise level and have a large capacity.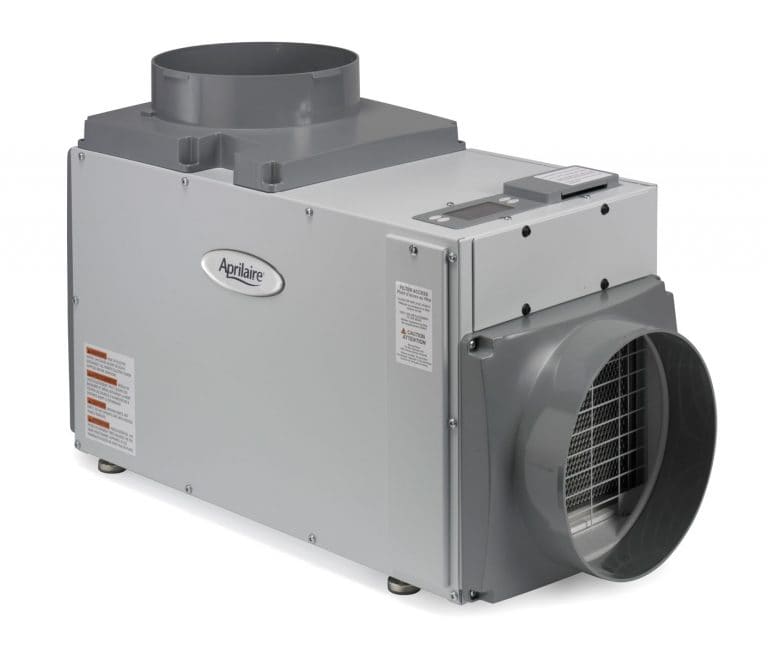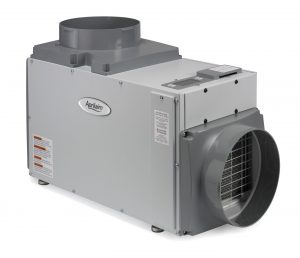 Aprilaire 1850 95 Pint Whole House Dehumidifier
A whole house humidifier is a great choice for if you frequently find the air in your home to be overly heavy with vapor. To avoid mold or mildew growing in your home, it is important to make your air humidity properly adjusted.
The 1850 features multiple control options, automatic humidity sensing, and an on-board LED status, which provides easily understood feedback. Cleanup and maintenance is easy –– simply clean the on-board air filter once per year. This unit has a large capacity and can remove up to 95 pints of moisture per day, while the size of the unit remains small.
Aprilaire 1830 70 Pint Whole House Dehumidifier
This unit is another great option for removing high levels of humidity from your home. This unit's capacity allows the ability to remove up to 70 pints of moisture per day. This whole home dehumidifier boasts its high-capacity performance while still maintaining its compact size, and easily fits through scuttles, under HVAC equipment, through crawlspace openings, and virtually anywhere else you can think of, without compromising the aesthetic of your indoor space.
Further, because bettering your home and health should not be a complicated endeavor, this unit features a simple installation process, with easy-to-use and easy-to-read digital controls that walk you through setup. Once your unit has been installed, digital LCD control options make use a breeze.
Aprilaire Whole House Humidifiers
If you find that the air in your home is frequently drier than you would like, you may find that a whole house humidifier could improve your comfort. Not only can low humidity levels impact your health causing issues such as nose bleeds, but low levels can also cause damage to things within your household, such as furniture.
These units hook up to your home's existing heating and cooling system and are fairly easy to install. Just as with their other systems, Aprilaire whole house humidifiers are made to operate quietly and efficiently, without taking up space in your home.
Aprilaire 500M Whole House Humidifier with Manual Control
Perfect amount of humidity, 24/7. That's the promise made by Aprilaire's whole house humidifier. Designed for homes between 750 and 3000 square feet, this model lets you set the relative humidity as needed by using the manually controlled humidistat. This humidifier operates silently, with only simple annual maintenance required to make sure it is operating at its best. This unit also comes equipped with a drain to flush minerals.
You can control your air quality systems easily by using an Aprilaire WiFi thermostat.
Aprilaire Air Cleaners
Sometimes impurities like dust, dirt, and dander can linger in the air, making it more difficult to breathe easy, particularly those with allergy issues. Like the aforementioned systems, Aprilaire also offers whole home air cleaners or purifiers that hook directly into your existing system, and work continually (and silently!) to filter out unwanted airborne particles.
Aprilaire 3210 3000 Series Whole-Home Air Cleaner
This air cleaner easily installs into your existing heating and air conditioning system. Meant to use year-round, this cleaner works to purify the air in your home by eliminating dust, mold, pet dander, pollen, bacteria, and more. It only requires a filter change once a year!
Control the Air in Your Home
If you are looking for a high-quality device that can take care of your air for a healthier and more comfortable home, you can count on Aprilaire humidity control and air cleaning systems. With decades of experience and a stellar reputation in the industry, you can't go wrong.
At Total Home Supply, we believe in their products, so start shopping today for the Aprilaire device that is right for you!