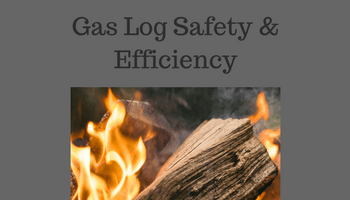 More and more people are swapping their standard wood-burning fireplaces for gas and electric fireplaces. While there's something magical about the crackle of a wood-burning fire, some may find that it's not worth the effort and maintenance.
Gas log sets offer many benefits to the homeowner who still wants that cozy glow of a fireplace. Not only do gas logs generate more heat, but they're also much safer than wood-burning fireplaces. It should seem obvious, but there's less of a risk of fire. This gives many homeowners peace of mind when deciding how to heat their homes — and as a bonus, there's no need to worry about chopping wood or cleaning soot!
While gas logs are safer and more efficient than wood-burning fireplaces, it's important to not lose sight of these two factors if you do decide to purchase a gas log set. Here are some ways to make sure your gas logs are as safe and efficient as possible.