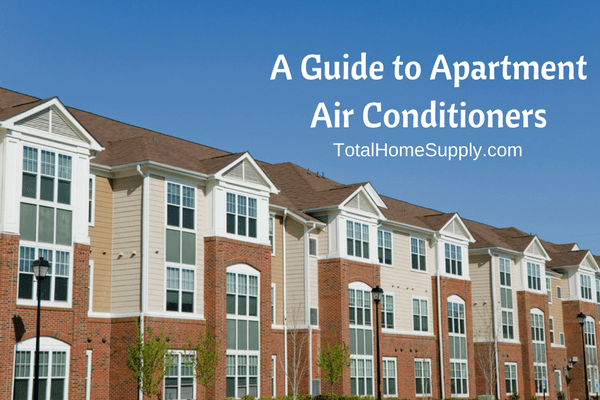 Getting an air conditioner for an apartment can be a daunting task. This is especially true for property owners and landlords who need to outfit multiple apartment units with good AC units that are budget-friendly while being reliable at the same time. According to the Energy Information Administration, 80% of apartments in the US have air conditioning installed. As temperatures rise, even states with traditionally cold weather are getting air conditioners for apartments and homes.  
If you're a property owner and considering installing apartment AC units, you've come to the right place for information. Read on to learn more about the different factors you should consider when shopping for apartment AC units, then explore the options that are available to you.
What to Consider
There's no perfect one-size-fits-all solution when it comes to apartment AC units. These are the factors you need to consider when shopping for an apartment air conditioner:
Room Sizing
Before you can determine the AC capacity, you need to know the square footage of the apartment space to be cooled. For rectangular units, this can simply be done with the formula:
Area to be cooled = Length x Width
AC Capacity
The cooling capacity of air conditioners is measured in British Thermal Units, or BTU. The higher the BTU, the more space it can cool.
As a general rule, it takes 20-30 BTUs to cool each square foot of space. So the size of your apartment that you calculated above determines the BTU capacity.
You can use our handy Air Conditioner BTU Calculator tool to find out the capacity you need.
Energy Efficiency
Since air conditioners are long-term investments, it makes sense to get the most efficient unit you can. An AC's energy efficiency can be measured in three ways:
Energy Star rating – this certifies the unit conforms to the latest energy efficiency standards
SEER rating – the Seasonal Energy Efficiency Ratio measures how efficient the AC is over a cooling season. The higher the SEER rating, the more efficient it is. You can find out more about the new SEER2 standards here.
HSPF rating – the Heating Seasonal Performance Function measures how efficient the AC works as a heat pump. The higher the number, the more efficient it is at heating.
Inverter technology
Another factor that can greatly affect the AC unit's efficiency is inverter technology. This allows the air conditioner to adjust its cooling power to meet a preset temperature, instead of going full-blast all the time.
Inverters can greatly reduce utility costs while prolonging the life of the air conditioner. For property owners looking to outfit entire apartments with air conditioning, an inverter AC is a must.
Refrigerant
Starting in 2023, the Environmental Protection Agency is phasing out R-410a, a popular refrigerant used in many AC units. These will be replaced by A2L refrigerants that are more efficient and eco-friendly. As R-410a gets gradually phased out of the market, it will eventually become more expensive and harder to find.
When shopping for a new AC, look for one that uses newer A2L refrigerants like R-32 to future-proof your unit. An air conditioner that uses the older R-410a cannot simply switch to new refrigerants.
You can learn more about R-32 air conditioners here.
Price
Of course, there's also the price tag. Factors that affect the price include the type of AC unit (discussed below), the capacity, efficiency in the form of SEER and inverter tech, and extra features.
Typically, window air conditioners are the least expensive. Mini splits cost more, but are much more efficient over the long term and can service multiple rooms. PTAC and VTAC units are designed for heavy use and commercial-grade reliability.
Updating Existing Apartments
If your building already has apartment HVAC systems, it is easiest to replace what is there. Depending on the type of system you have, there are a variety of replacement options. If you have PTAC units, be sure to consult our PTAC replacement guide to learn how to choose the best replacement unit.
If you are not happy with the solution you have now, it may be time to look for something new.
Types of Air Conditioners for New Apartments
PTAC
A packaged terminal air conditioner (PTAC) is a self-contained cooling and heating unit that houses all components in one casing. They are easy to install, user-friendly, and very ideal for apartments or condominiums. They also offer heat to provide year-round comfort — an added bonus for these inexpensive and practical air conditioning systems.
For apartment complexes and condominium buildings, PTAC units can be an ideal alternative to central air conditioning. They are relatively inexpensive, so it's not uncommon for management companies to keep some spare units on hand for whenever a replacement is needed. This also works in favor of the tenants, as they won't have to wait long to get a new AC installed.
Keep in mind that a new installation of a PTAC requires that you make a large hole in the wall, which can be a drawback for some.
Recommended PTAC for Apartments:
Amana PTH123J35AXXX 12000 BTU Class 11.5 EER PTAC Air Conditioner with Heat Pump
The New Amana "J" Series uses R32 refrigerant, making this a future-proof investment. This model is capable of 11,600 / 12,000 BTUs of cooling power, a 10,800 / 11,000 BTU heat pump and a 3.5 kW electric heater, providing approximately 9,900 / 12,000 BTUs of electric backup heat. It features an EER of 11.5 and will cool a space that is about 300 – 525 sq. ft.
The new, improved design of this model boasts an STC (Sound Transmission Class) of 29, making it much quieter than previous versions. It comes equipped with RF and Bluetooth connectivity but does require a wall thermostat to operate the unit.
It can be paired with the optional RF compatibility and DigiSmart controller, allowing for site-wide PTAC configuration options, site wide PTAC diagnostics, a front desk system interface, and email reporting all through an easy to use web interface. You can save up to 35% by reducing energy usage with the DigiSmart system!
Through-the-wall
If you do not have the space for a PTAC unit or if you are looking for an apartment air conditioner with cooling only, a smaller through the wall unit might be the best choice. Through-the-wall air conditioners share many of the same advantages of PTAC units but in a smaller package. They are available in heat and cool and cooling only variants. Keep in mind, through-the-wall units are not manufactured to the same commercial grade quality standard as PTAC units.
Through-the-wall and PTAC units are available with stylish architectural grilles to provide a clean and consistent look on the outside of the building. They can even be special-ordered to match the color of the building's exterior.
Recommended Apartment Through-the-Wall AC:
GE AJCQ12DWH 12000 BTU Through-the-Wall Room Air Conditioner – 208/230V – WiFi Enabled – Energy Star
The GE AJCQ12DWH 26″ through the wall air conditioner features 12,000 BTU Cooling Capacity, 10.5 CEER, ENERGY STAR Certified and 208/230 volt electricity.
This through the wall AC is WiFi-enabled thanks to a built-in GE SmartHQ communication card. This allows you to control the AC with your smartphone or tablet from anywhere with an Internet connection.
This model is ideal for tight spaces. It offers a true built in look with only a minimal 5″ extension into the room with front.
Central Air and Mini Splits
Central air is a luxury that many apartment and condo dwellers don't get to enjoy, especially if they reside in buildings built before 1960. Retrofitting an older building for AC is a challenge, and an expensive one at that.
However, central air conditioning can be a viable option for newer apartment buildings or buildings that are already retrofitted with ducts. Contact your local trusted HVAC specialist to get an estimate on the cost of installation in your unit or building.
Mini split air conditioners can be a great option in buildings where central air is not. Requiring only a three-inch hole to run through the line set, installing a mini split requires much less construction than a central air system. Mini splits can raise the value of the property, as they are a luxury product compared to window units or through-the-wall. Super quiet and very energy efficient, mini splits provide a premium heating and cooling experience and make great apartment AC units.
Recommended Mini Splits for Apartments:
Single zone Mini Split
Friedrich FPHW123A 12000 BTU Floating Air Pro Series Single Zone Mini Split with Built-In WiFi – Heat and Cool – Energy Star
This single zone mini split system includes both the FPHFW12A3B wall unit and the FPHSR12A3A outdoor compressor. It is capable of 12,000 BTU of cooling and 13,000 BTU of heat (7,500 BTUs at 17°F but with its low ambient heating capacity, will provide heat even with temperatures down to 5°F.) It features high efficiency ratings including a 22.0 SEER and 13.0 EER, and can service up to 600 sq. ft.
One of the newest features of the Floating Air Pro Series is the FastPro Technology. FastPro Technology makes installation and maintenance a much easier, less time consuming task. FastPro gives your HVAC technician easy access to the entire indoor unit, including piping, wire terminal, the fan and fan components. The front panel of your wall unit can be propped open with sliding bolts to keep the cover up and out of the way. If more room is needed to work, there is a slide bar than can be pushed out for a wider space. This makes installation of the refrigerant lines and wiring a much more manageable, less time consuming task for your HVAC technician.
It comes with built-in WiFi and access to FriedrichGo App for wireless control as well as Google Assistant and Alexa voice commands.
Multi-zone Mini Split
Bosch BMS500-AAM027-1CSXHC MAX Performance 27000 BTU Configurable Tri-Zone Heat and Cool Split System
With a Bosch tri-zone system, you can heat and cool two or three separate spaces in your apartment with one outdoor condenser and no duct work needed. Each indoor unit is controlled with its own remote or wired wall thermostat (available separately). Additionally, the multi zone systems can be operated with a BCC WiFi thermostat and is compatible with a 24V thermostat.
Rated at 27,000 BTU cooling capacity, this trizone system can handle a total connected capacity of up to 36,000 BTUs. The system will adjust its load as needed. It offers heating and cooling operation range down to -22°F, with 100% capacity at -5°F.
Window AC
Another option for apartments, though less ideal, is window air conditioning. These air conditioners are even easier to install as they do not require that you drill a hole in the wall — they simply install right into the window.
However, there are definitely downsides to these air conditioners.
Window units can create a sloppy and cheap look, bringing down the value of apartment complexes. While they are even less expensive than PTAC units, they do not last as long and are more unreliable. On a similar note, they aren't nearly as efficient as other apartment HVAC units and can be loud. Finally, they take up valuable window space — annoying if you have an urge to crack open a window to enjoy some fresh air.
Recommended Window AC for Apartments:
Entry level window AC
GE AHY08LZ 8000 BTU Smart Window Air Conditioner with Remote – 115 V – Energy Star
This budget window AC features 8,000 BTUs of cool air, and is packed with features despite its wallet-friendly price. It will efficiently cool a space that is about 250 – 350 sq. ft or space that is about 17′ x 20′. It is an Energy Star Rated unit with an 11.4 CEER.
It has 3 cooling and 3 fan speeds and built-In WiFi, allowing you to control your room's comfort level from anywhere you have an internet connection. To remind you to clean the filter, the AHY series has a filter reminder light. The filter on the AHY08LZ is a one-touch lift-out filter, making it easy to clean and maintain.
Premium window AC
Friedrich KEQ08A11A 8000 BTU Class Kuhl+ Series Cooling with Electric Heat Smart Window Air Conditioner, 115V
Featuring 7,700 BTUs of cooling power, the Friedrich KEQ08A11A also includes an electric heater with 4,000 BTUs of heat, which can service about 300-350 sq. ft of space. It has an EER of 11.1 and a CEER of 11.0.
Its commercial-grade construction makes it ideal for heavy use in both residential apartments and commercial spaces and uses a 115 Volt plug. Friedrich Air Conditioners operate with outdoor temperatures between 60°F and 115°F.
This model can be installed via window or thru-the-wall. It boasts built-in Wi-Fi, as well as Amazon Alexa and Google Assistant support. It also features Friedrich's Quietmaster Technology that uses sound-blocking insulation, a rotary compressor mounted on rubber grommets and steel inner walls, making it up to 45% quieter than competing window ACs.
Summary
As mentioned above, there's no ideal air conditioner solution for every apartment building. However, if we were to pick one, we'd choose PTAC units. These air conditioners are inexpensive, easy to install, user-friendly, and work well for small spaces like apartments and condos.
For all your commercial cooling needs, you can count on Total Home Supply to have what you need. Consult our PTAC Buying Guide for more detailed information on how to purchase a PTAC unit for your apartment complex, then head to our website to shop our PTAC collection.