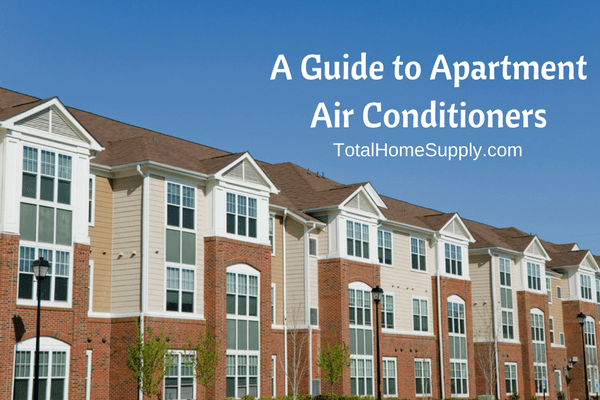 If you're a property owner and considering installing apartment AC units, you've come to the right place for information. Finding an air conditioner for apartments can seem like a daunting task, but we're here to help you navigate the process. Read on to learn more about the different factors you should consider when shopping for air conditioning units for apartments, then explore the options that are available to you.
What to Consider
There's no perfect one-size-fits-all solution when it comes to apartment AC units. Before you begin shopping, it's important to take the following into consideration:
Number of apartment units – If you have a small building with fewer units, you will need fewer air conditioners and less power than if you own a large apartment complex.
Square footage – How large are the apartments that you're wanting to cool? The larger the apartment, the more cooling power it will need.
Ductwork – Is your building already retrofitted with ducts for central air conditioning? If not, installing a central AC system will end up costing you a pretty penny.
Updating Existing Apartments
If your building already has apartment HVAC systems, it is easiest to replace what is there. Depending on the type of system you have, there are a variety of replacement options. If you have PTAC units, be sure to consult our PTAC replacement guide to learn how to choose the best replacement unit.
If you are not happy with the solution you have now, it may be time to look for something new.
Types of Air Conditioners for New Apartments
PTAC
PTAC units are easy to install, user-friendly, and very ideal for apartments or condominiums. They also offer heat to provide year-round comfort — an added bonus for these inexpensive and practical air conditioning systems.
For apartment complexes and condominium buildings, PTAC units can be an ideal alternative to central air conditioning. They are relatively inexpensive, so it's not uncommon for management companies to keep some spare units on hand for whenever a replacement is needed. This also works in favor of the tenants, as they won't have to wait long to get a new AC installed.
Keep in mind that installing a PTAC requires that you drill a large hole in the wall, which can be a drawback for some.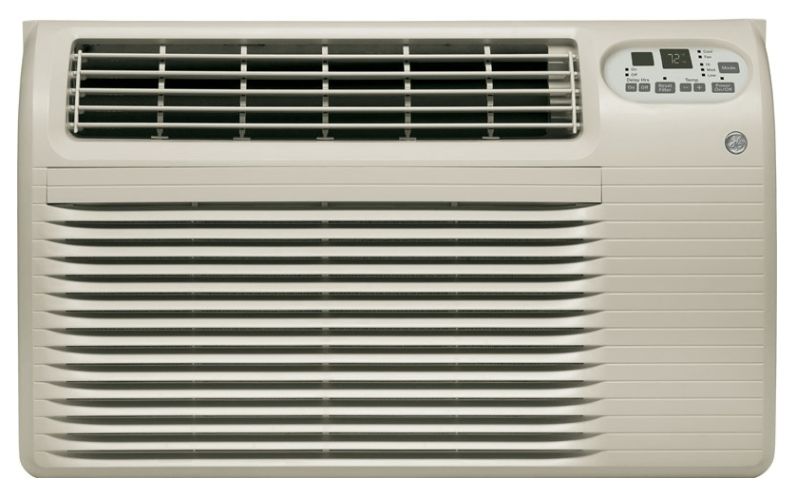 Through-the-wall
If you do not have the space for a PTAC unit or if you are looking for an apartment air conditioner with cooling only, a smaller through the wall unit might be the best choice. Through-the-wall air conditioners share many of the same advantages of PTAC units but in a smaller package. They are available in heat and cool and cooling only variants. Keep in mind, through-the-wall units are not manufactured to the same commercial grade quality standard as PTAC units.
Through-the-wall and PTAC units are available with stylish architectural grilles to provide a clean and consistent look on the outside of the building. They can even be special ordered to match the color of the building's exterior.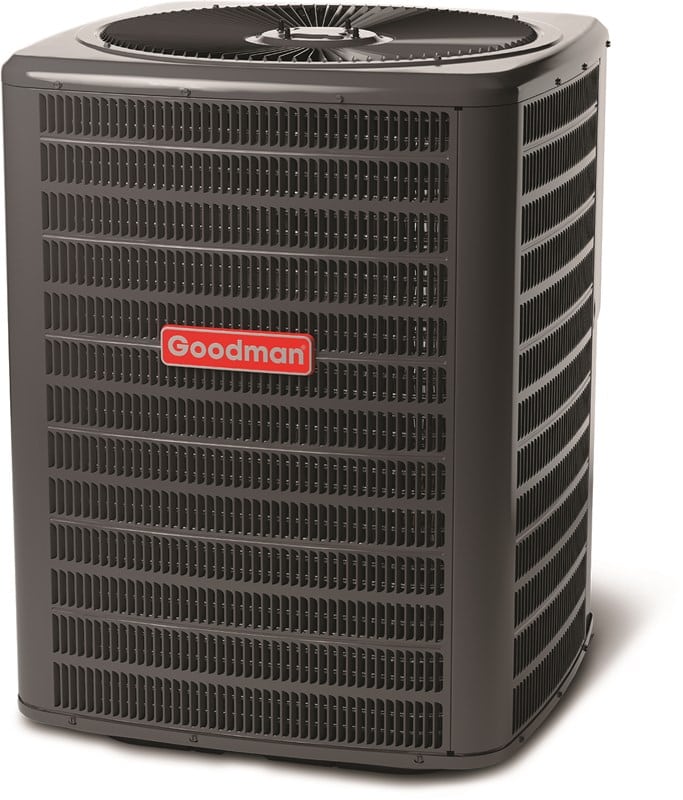 Central Air and Mini Splits
Central air is a luxury that many apartment and condo dwellers don't get to enjoy, especially if they reside in buildings built before 1960. Retrofitting an older building for AC is a challenge, and an expensive one at that.
However, central air conditioning can be a viable option for newer apartment buildings or buildings that are already retrofitted with ducts. Contact your local trusted HVAC specialist to get an estimate on the cost of installation in your unit or building.
Mini split air conditioners can be a great option in buildings where central air is not. Requiring only a three-inch hole to run through the line set, installing a mini split requires much less construction than a central air system. Mini splits can raise the value of the property, as they are a luxury product compared to window units or through-the-wall. Super quiet and very energy efficient, mini splits provide a premium heating and cooling experience and make great apartment AC units.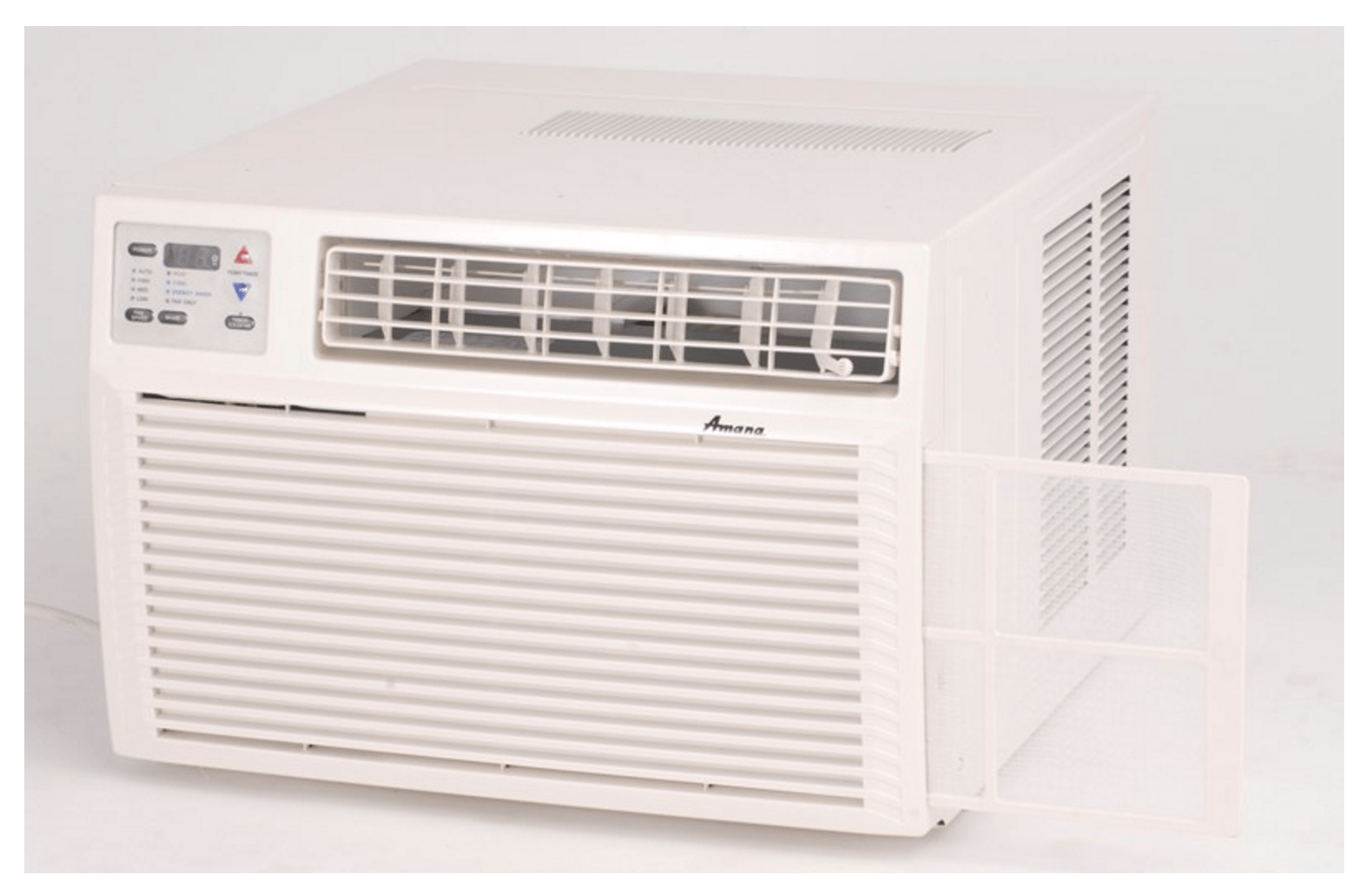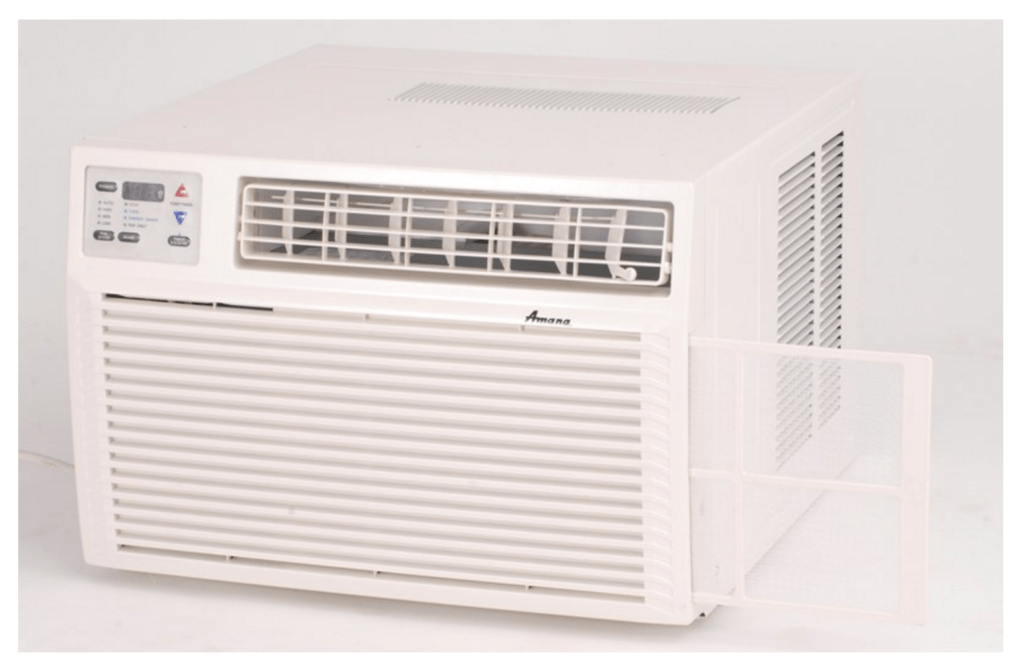 Window AC
Another option for apartments, though less ideal, is window air conditioning. These air conditioners are even easier to install as they do not require that you drill a hole in the wall — they simply install right into the window.
However, there are definitely downsides to these air conditioners.
Window units can create a sloppy and cheap look, bringing down the value of apartments complexes. While they are even less expensive than PTAC units, they do not last as long and are more unreliable. On a similar note, they aren't nearly as efficient as other apartment HVAC units and can be loud. Finally, they take up valuable window space — annoying if you have an urge to crack open a window to enjoy some fresh air.
Summary
As mentioned above, there's no ideal air conditioner solution for every apartment building. However, if we were to pick one, we'd choose PTAC units. These air conditioners are inexpensive, easy to install, user-friendly, and work well for small spaces like apartments and condos.
For all your commercial cooling needs, you can count on Total Home Supply to have what you need. Consult our PTAC Buying Guide for more detailed information on how to purchase a PTAC unit for your apartment complex, then head to our website to shop our PTAC collection.