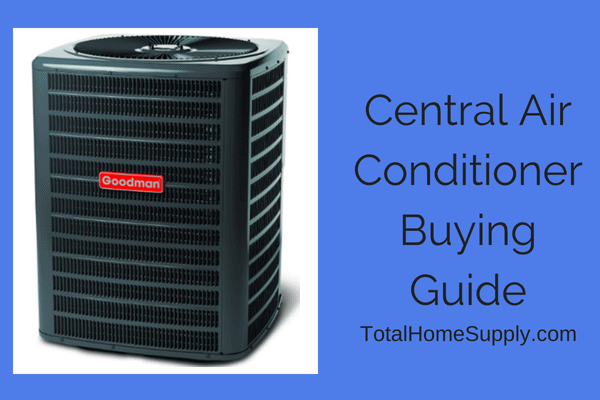 Central air conditioning units make a lot of sense for larger homes in warmer climates. Central units give you the ability to efficiently cool more square-footage for your dollar, and make managing the temperature of your entire home a lot easier. Not to mention more comfortable.
Whether you're looking at updating an existing unit or interested in installing a new one, deciding which central AC unit is best for your needs can be confusing. There's a lot to consider – sizing of the unit, placement of the refrigerant source and ductwork, overall cost, and which system will be most efficient for you are all things that need to be taken into consideration. We'll cover a few of the basic things you need to know about selecting a central air conditioning unit and give you a few options to choose from, as well as give you a better understanding of how these central systems work.
How Central Unit Air Conditioners Work
Most central AC units consist of a condenser unit, an air-handling unit with a blower to distribute the cooled air (much like a forced-air furnace), an evaporator coil, and a ductwork system that transports the cooled air and removes the warm air. Condenser units are usually placed outside of the home in an open but slightly sheltered location, while the air handler and the evaporator are installed in a basement or garage. In some cases, they can also be installed in the attic. The ductwork is then routed throughout the house, with the evaporator as the base.
A central AC unit is basically a refrigeration system for your home. It utilizes many of the basic components, units, and materials that a refrigerator does. This includes the chemical required to actually cool the air, which is known as refrigerant. It works by converting from liquid to gas and then back to liquid as it travels through the coils and tubes that collect heat. As it does this, it gathers hot air from one place and transfers it to another, while simultaneously replacing the warm air with cold air. The receiver of the cold air is the part of the unit equipped with the blower so that it can move the cold air throughout your home.
Buying a Central Air Conditioner Unit for Your Home
Because central air conditioning units run off of electricity and expend a lot of power converting hot air into cool and transporting it throughout your home, you'll want to go with the most cost-efficient model for your home. This will mean replacing any AC systems that are outdated, as these models tend to be highly inefficient. If your home is equipped with an older model, you'll want to replace both the outdoor condensing unit and the indoor evaporator, as replacing just one unit will compromise efficiency.
Every AC unit is given an efficiency rating by the US Department of Energy, known as SEER – Seasonal Energy Efficiency Rating. The higher this number is, the more cost-efficient it will be to use. For example, older air conditioning unit models will have a SEER rating of 6, while the newer and better models will have SEER numbers of anywhere from 15-17. The standard SEER number is generally right around 13.
When selecting an efficient air conditioner unit for your home, look a for a few elements that will ensure you're getting the most cooling power for your money. These factors are what lend your potential system higher SEER numbers:
You'll want to find a unit with a energy efficient rating (or EER) that's greater than 11.6, and a thermal expansion valve if you live in a climate that has particularly warm summers. Both these things together help increase the efficiency when the unit needs to be used constantly.
Make sure the unit you select has larger coils which makes for a more efficient heat transfer.
A central AC unit equipped with a blower with variable speeds means reduced energy consumption, as it allows you to customize the usage of the unit to your needs.
A fan-only switch allows you to turn the cooling off while still utilizing the fan, which means air is still circulating but you're using less energy. An automatic delay fan switch is a great night-time option, as it keeps the fan on long enough to move the residual cool air after the compressor switches off.
A clogged filter means your system is running poorly. An air conditioning unit with a filter indicator light helps you know when the filter needs to be changed and keeps the efficiency up.
Other Features to Look For
Programmable thermostats offer a lot more control and make it easier to customize energy-saving settings so that you're not bleeding money while trying to stay cool. Some of them have even more energy-saving programs, like customizable settings for when you're out of town, or overnight settings to stay cool but prevent overuse.
Make sure your unit has a good warranty. Air conditioning unit warranties will vary from manufacturer to manufacturer, so it's important to ensure you have one that includes coverage of the parts and compressor so you can get the most out of your unit.
Other Things to Keep In Mind
Understanding your BTU needs – in addition to the SEER rating, it's also important to understand your systems BTU rating. This refers the "British Thermal Unit" which is a measurement of the energy required to raise the temperature of one pound of water by one degree. Don't worry if this doesn't make sense – all you need to know is that this number is important for supplying your home with the proper amount of cooling power and helps you properly calculate the size your unit needs to be.
AC Unit Voltage, Amperage, and Wattage – There IS a difference between these three, and knowing the electrical requirements of your current and potential air conditioning system is important. Voltage refers to the electrical power potential between two points, while amperage is the actual power flowing. Wattage refers to the electrical power required to run your system.
Types of Central Air Conditioning Units
Packaged Unit Air Conditioners
Packaged Unit Air Conditioners combines heating and cooling functions in one simple set-up. These units are perfect for housing situations that may not have space to house a central unit and its various sub-units in multiple locations around the site. However some models are also powerful enough to be used as a central system in most large homes, and attaches easily to the existing ductwork. Packaged units are available in a variety of types:
Air Conditioner with an optional heating unit available. This set-up is perfect for warmer climates the see fewer extreme winter temperatures.
The Air Conditioner with Heat Pump option is a complete system that can be used year-round for all heating and cooling needs within your home.
The Gas/Electric packaged unit option includes an electric AC unit and a gas heater. Standard settings are for natural gas but an LP conversion kit is available.
Dual Fuel means that the air conditioner unit provides cooling power in the summer while the heat pump provides heat in fall and winter. It's a similar set-up to the Gas/Electric Package because the system also provides the option for gas heat, but the unit doesn't require an additional conversion kit and can be used with natural gas or liquid propane.
Each variation can replace a pre-existing furnace or coil/blower combo. It's a self-contained system that installs easily outdoors, whether on the roof or just outside the house and connects directly to the pre-existing ductwork. Air flow converts to horizontal or vertical for multiple installation options and features a super-quiet blower.
We Recommend: The Goodman GPG1436080M41 3 Ton Cooling, 80000 BTU Heating Gas/Electric Package Unit. The perfect replacement for any duct-based or whole-house system.
Central Air Conditioning Units
Standard central air conditioning units generally offer a cooling only or heat pump and cooling option. They can be paired with air handers that provide gas or electric heating.
We Recommend: The Goodman GSX140601 5 Ton Split System Air Conditioner. A great option for any homeowner, it features a SEER rating of 14, meaning it's the perfect high-powered yet cost-efficient central air conditioning unit option for a variety of home sizes. Installs easily in one succinct unit just outside your home, and the heavy gauge steel cabinet helps protect it from the elements. Included in the purchase is a 10-year compressor warranty, making sure your system is durable and lasts for a long time.
Multi-Position Air Handlers
Multi-position Air Handlers are paired with Central Air units to make a complete system.
We Recommend: The Goodman ARUF25B14 2.0 Ton Single Piece, Multi-Position Air Handler. It features a quiet variable speed motor, which is more efficient than a single speed motor. The system is also Comfortnet compatible, which means that when it's installed with a compatible thermostat, you can control the unit from anywhere using WiFi and your smartphone. The all-aluminum evaporator coil is specifically formulated to be highly efficient and and corrosion resistant. Heater kits are also available to install alongside the cooling system, which allows the unit to function as a heater when the weather turns cold.
Best Central Air Conditioner for Your Home
When it comes to buying a central air conditioner system that's efficient and suits your home perfectly, we're here to help. Browse our entire selection of central air conditioning units and find the perfect one for your needs.