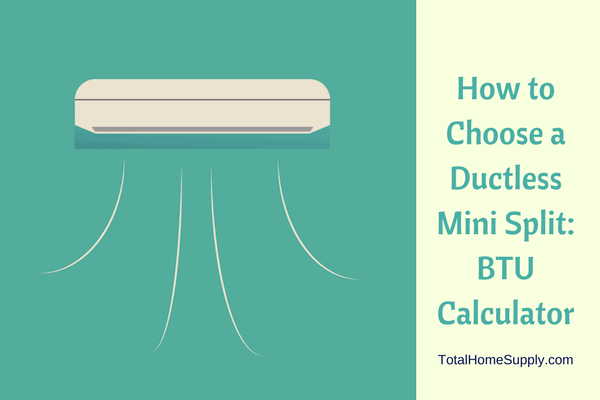 A ductless mini split system is an ideal way to heat and cool several areas of your home in one convenient and energy-efficient package. However, the system is only as good as the size — too big and you risk wasting power and utility bills; too small and it might not do the job sufficiently. So how do you size a mini split?
Here we'll help you find the ideal mini split size based on the specific dimensions of the rooms that need cooling.
The Importance of Proper Mini-Split Sizing
When it comes to mini splits, bigger isn't always better. There are several reasons why the system should be proportionate to the room size:
Comfort – An underpowered unit might not be enough for the space, or may struggle if there are additional occupants in the room
Utility – An oversized unit may not be efficient in terms of energy, initial and operating cost, space occupied, and power consumed from the total system load. Similarly, an undersized unit can also cause bigger bills, since they will need to run for longer periods and on higher settings just to cool the room.
Short cycling – Because they are designed for bigger cooling requirements, oversized units can struggle to maintain temperature in smaller spaces. In such cases, they tend to quickly cycle on and off, resulting in more wear and wasted energy.
What Size Mini Split Do I Need?
Once you know the number of rooms that need cooling, the next question is "What size of mini split do I need?" 
First you need to know how many square feet a ductless air conditioner can cool. This capacity is measured in British thermal units, or BTUs. A BTU is the heat needed to raise the temperature of one pound of water by one degree Fahrenheit. The larger the space, the more BTUs are needed.
For air conditioners, there is a BTU-to-room sizing rule of thumb. This can provide a rough estimate of the mini split BTU per square foot you need to efficiently service the room. One major advantage of mini splits over portable air conditioners with the same BTU rating is that they can cool a larger area.
| | |
| --- | --- |
| Space in square ft. | BTUs per hour needed |
| 0-150 | 5,000 |
| 150-250 | 6,000 |
| 250-300 | 7,000 |
| 300-350 | 8,000 |
| 350-400 | 9,000 |
| 400-450 | 10,000 |
| 450-500 | 12,000 |
| 550-700 | 14,000 |
| 700-1,000 | 18,000 |
| 1,000-1,200 | 21,000 |
| 1,200-1,400 | 23,000 |
| 1,400-1,500 | 24,000 |
| 1,500-2,000 | 30,000 |
| 2,000-2,500 | 34,000 |
Getting the Square Footage
We've tackled sizing a mini split. Now it's time to size up the space. While BTU ratings are straightforward, calculating the room size is more complicated. Since rooms come in all shapes and sizes, here's how to determine the square footage:
Square and rectangular spaces: 
Multiple the length by the width
Triangular spaces: 
Multiply the length by the width, then divide by two
Non-standard linear spaces:
Divide the room into squares, rectangles or triangles as applicable

Determine the size of each subplot, then add everything together
Circular spaces:
If you happen to have an oval office, don't worry – there's a formula for that too.
Measure the diameter (the largest width of the room)

Divide it by two

Square it

Multiply the result by

π

(3.14159265)
Other Room Factors to Consider
Note that Square-foot-to-BTU is only one part of the cooling equation. Another factor to consider is the heat load, which is the heat gained by the room from different sources. These include the insulation, windows, floors, ceiling, and even the room's specific location and direction with respect to the sun.
Ceiling height – if  it's higher than 8 ft., you will to need multiply by the difference. For example, 10 foot high ceilings are 25% taller so you will need to increase your BTU total by 25%.
Sunlight – if the room gets lots of sun, add 10%. Conversely, reduce the BTU by 10% if the room is heavily shaded.
Room type – If it's a kitchen, add 4,000 BTUs to compensate for kitchen appliances that emit heat like the fridge, cooktop and oven. If you're looking for a mini split for your garage, you'll also have to consider the level of insulation and weather. Add 20% for old or drafty garages, or for hot seasons like summer.
Capacity – If more than two people occupy the room regularly or for long periods (such as a family den), add 600 BTUs for each additional person.
Insulation – If the room is poorly insulated, add 20% to compensate for heat loss.
Location – If you live in the south or in climates that experience seasonal temperatures over 90 degrees Fahrenheit, consider adding 30% BTU.
For more information on heat gain and how to calculate the heat load of a room, refer to our check out our Heat Load BTU Calculator.
Indoor-to-outdoor Unit Ratio
Multi-zone units allow you to connect multiple indoor units provided that their total BTU load falls within the outdoor condenser's capacity. Depending on the model, it is often acceptable for the total load of the indoor units to exceed the outdoor rating by up to 30%.
For example, an outdoor condenser rated for 36,000 BTUs may be packaged with four 12,000 BTU indoor units, for a combined load of 48,000 BTUs. Each outdoor unit will list its maximum connection capacity. This will vary by brand and model so be sure to check the documentation when planning out your system.
This is because each indoor unit functions independently, so they can adjust according to energy need. Unless all rooms are fully occupied in the middle of a heat wave, it's rare that all units will operate at full capacity simultaneously. So getting a bigger condenser may just be overkill and wasted money.
What About Mini Split Heat Pumps?
We've tackled cooling. What about heating? The good news is that when on heating mode, mini splits are much more energy-efficient than traditional electric heaters. This is because they move heat from the outside condenser instead of generating it. 
In fact, their heating mode is so efficient that mini splits actually consume less power than when on cooling mode. So if you're looking for a mini split heat pump sizing chart, just use the above sq foot-to-BTU table or mini split calculator, and subtract 1,000 BTUs when on heating mode.
Since mini splits last for a very long time, getting the right BTU capacity for the room size is essential. This will ensure many years of comfort, savings and efficiency. When it comes to mini splits, the right size matters to get the best satisfaction.
Find Your Mini Split – Next Steps
Be sure to check out our Multi-Zone Mini Split Buying Guide for a thorough explanation of how to find the right mini split for your needs. Then, hop on over to TotalHomeSupply.com to browse our collection of ductless mini splits.
If you have any other questions or concerns regarding BTU ratings and choosing the best ductless mini-split for you, please do not hesitate to contact us and speak with one of our qualified sales representatives.