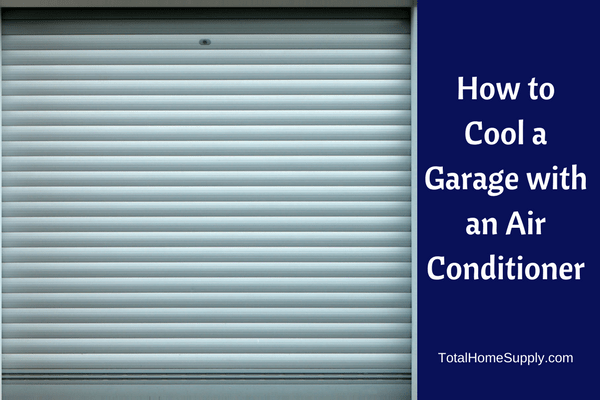 Whether you use your garage as a workshop or a hangout, you understand the appeal of keeping it temperature controlled.
In the summertime, sweltering heat can make for an uncomfortable environment. So, how do you cool a garage? With an air conditioner, of course!
However, you simply cannot purchase just any AC. This guide will offer insight on how to air condition a garage even if it has no windows, and will explore the following steps and options:
Insulation that's compatible with door
Insulation for windows
Window film or curtains
Window unit
Through-the-wall unit
Mini Split
Portable air conditioner
Learn more about the best way to cool a garage below.

Why Install a Garage AC?
Installing an air conditioner in your garage may seem like a futile pursuit compared to other homeownership projects. However, depending on what you use your garage for, it may be a wise move.
If you use your garage to store your prized possessions, such as a classic car or musical instruments, keeping your garage temperature controlled is a smart choice. Doing so will ensure your belongings stay in excellent condition and will help prevent issues such as rot and other damage. If you use your garage as a workshop, keeping your workspace temperature controlled is even more appealing — after all, no one wants to be uncomfortable while working.
Even if you only use your space to store basic items like paint and other household goods, keeping it cool is still a good thing to do. For example, lumber can warp if it's exposed to high temperature and humidity. Temperature can also affect the quality of paints and varnishes.
In a nutshell, if you live in a very hot climate, cooling your garage may be well worth the investment.
How to cool a garage
There are several ways to go about cooling a garage:
Insulation
Keeping your garage cool starts with proper insulation, and the area that requires the most attention is the garage door. It's important to purchase insulation that's compatible with the type of door you have. Here is a general overview of the types of insulation that work best with certain kinds of doors:
Steel garage doors – Compatible with any type of insulation. You can place batting insulation around the panels or install rigid insulation on the garage's frame.
Wood garage doors – Rigid insulation works best for wooden garage doors.
Flat garage doors – Garage doors without panels work best with reflective insulation or foam board.
In addition to the garage door, you'll also want to make sure any windows in your garage are insulated.
Window film can do wonders for your garage by significantly reducing the amount of heat that enters your home. You can also add blackout curtains for additional insulation. Of course, the best option is to invest in energy efficient windows, but if that's not in your budget, the aforementioned options will certainly help keep your garage cool.
Air conditioning
Once your garage is properly insulated, the best way to keep it cool is with an air conditioning unit. A combination of insulation and a cooling system will keep your energy costs down. Many types of systems can be used in a garage. If you have a window in the space and are looking for a quick solution, a window AC is your best bet. Another quick solution if you're wondering how to cool a garage is a portable AC. This is not the best long-term solution.
For a more energy efficient and permanent solution consider a through-the wall-unit or, even better, a mini split unit. Many through-the-wall and mini split units offer heating in addition to cooling. Mini split units are energy efficient and quiet making them the best overall choice.
In addition to ventilation, you'll want to make sure your air conditioner is appropriately sized for your garage. Too powerful of an AC will be a waste of energy, while too weak of an AC will not keep you comfortable.
So, how do you know which size AC to get? The easiest way to determine AC size is with our handy BTU Calculator tool. Simply enter the dimensions of your garage into the tool and it will tell you how large of a unit you'll need to cool your space.
Once you've determined the BTUs you'll need to cool your garage, you can begin the shopping process. Here are some things to keep in mind before you begin:
Consider purchasing a commercial air conditioner. These types of air conditioners are designed for use in industrial spaces (including garages), making them perfect for household garages.
Filters. If you are using the space as a workshop you would want something with easy to access and replace filters since there might be a lot of sawdust.
Temperature range. You might not want to keep the space at 70 degrees but instead maybe 80 degrees. Not all units have a high temperature that can be set.
Aside from an air conditioner, you may also want to purchase a dehumidifier, especially if you live in a particularly hot and humid climate. High humidity can cause the air to feel warmer than it actually is, and a good dehumidifier will effectively remove moisture to keep you comfortable and protect the belongings in your garage.
Best AC for a garage
Now that you're aware of what to look for in a garage air conditioner, take a look at some of our favorite garage air conditioning systems: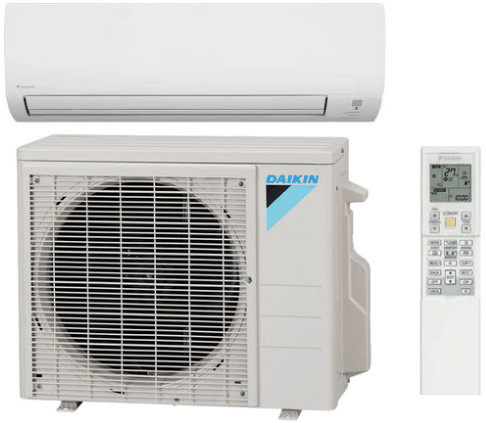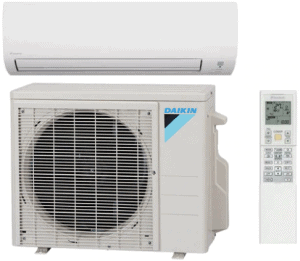 Once you've installed a cooling system, remember to keep from opening and closing your garage doors too often. The system has to work hard to pump out cool air each time it escapes through the door.
No matter how big or small your space, we're bound to have the perfect garage cooling system for your needs to help you stay cool in those hot Summer months. Shop our air conditioners and DIY mini split systems today, and contact our cooling experts should you have any questions about our products. We're always ready and willing to help you make a smart purchase for your home.