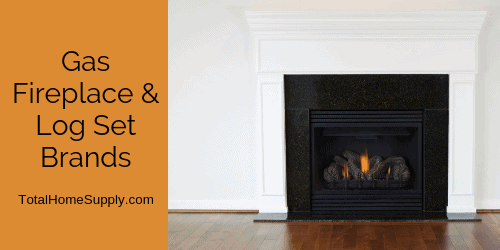 Looking for that extra bit of warmth to add to your home? One such option that many homeowners choose is a gas fireplace with accompanying log sets.
These setups not only provide a cozy spot to curl up with your family, friends, and pooch, but also a way to make sure that every inch of your home is nice and toasty. There are many different options to choose from when it comes to gas fireplaces, with various features and styles to match your existing mantel.
Below we will take a look at some of the excellent brands we carry, and highlight some of the best products and key features so that you can make a more informed decision when it comes time to check out.
Gas Fireplace Brands
While there are many great brands carrying gas fireplaces out there, we are partial to a few in particular. Below are some of our favorite options for gas fireplace and log set products out there.
White Mountain Hearth 
Well-known in the home heating field, the White Mountain Hearth brand can be counted on to deliver high-quality performance that lasts.
The White Mountain Hearth Small Loft Series, a direct vent fireplace, is a great example of the kind of products that you can count on with this brand. With a linear burner and reflective black liner that lets the flames flicker, shake, and reflect inside the combustion chamber and accompanying millivolt valve, it will operate even in the event of a power outage.
Many White Mountain Hearth products are moderate in cost, so you can get a premium product without completely breaking the bank. Plus, the products come with anywhere from a limited 3-year parts warranty, to a 5 year limited warranty, so you can breathe easy knowing you have some backup at the ready. They offer many different fireplace styles, including modern, classic, and cast iron stoves, so you're sure to find the style to compliment your home.
Superior
The name says it all: with Superior, you know you are getting high quality for your gas fireplace.
While at a little higher price point than some of the other fireplace products, the Superior DRT3535DEP 35″ Direct Vent Fireplace offers maximum flexibility with its combo top or rear venting.
This series features an Aged Oak Log Set, a decorative grate, and even glowing embers and volcanic stones for a truly realistic-looking fire. Its full view face with a heat-circulating design adds to the gorgeous look and feel of this fireplace set. Plus, it also features six setting interior lighting and includes a full function remote (thermostat, flame, blower, lighting and IPI/CPI). And if you're looking to save energy, the intermittent pilot ignition with standard high/low flame control has you covered.
The Superior brand offers a great, 20 year limited warranty on their gas fireplaces which gives you ample time for the life of your product. They offer a wide range of options with their products including liquid propane, natural gas, electronic ignition, Millivolt burners, and blowers. You're sure to find the one that's right for you.\
Monessen
If you're looking for a cost effective yet sleek gas fireplace model, Monessen is the brand for you. The Monessen BUF36-R Vent-Free Exacta Firebox with Refractory Liner offers high flexibility in installation, as you can place this insert into a pre-existing wood-burning fireplace that's been converted with a gas line into your wall.
With zero clearance, the firebox can be installed flush against any surface like drywall or wood, and multiple log sets can be used to adjust the style of the fireplace.
The Monessen brand offers a limited lifetime warranty to original owner on each of their gas fireplaces. The warranty covers the firebox, combustion chamber, heat exchanger, grate and stainless steel burners. Most products come with a few different burner options including Millivolt or Signature Command System.
Everwarm
For a cost effective yet sturdy choice, go with the Everwarm brand. The Everwarm EWVF36 36″ Vent Free Firebox has key elements that make it a great choice for many homeowners.
With a color-matched charcoal finished canopy on the smooth surface face, and mesh draw screens, the clean face look and large viewing area of this firebox will make your fire logs stand out and get noticed.
You can even customize your firebox with different types of log sets to create a particular ambiance or feel for the room.
The Everwarm brand offers the option of a manual valve or a Millivolt valve, as well as the opportunity to add on a blower.
Gas Log Set Brands
Depending on what style of gas fireplace or firebox you choose, you may need to also purchase a log set. Some fireboxes offer the option of which log sets can be purchased with them, but others you can purchase your own separately.
Below are a few of our top picks from our favorite brands.
RH Peterson Real-Fyre
Will your fireplace be in a smaller condo or older home? If you've got limited space you are working with, the RH Peterson Real-Fyre Bedroom Approved Valley Oak Log Set and Vent Free Burner might be just the thing you are looking for.
This log set even includes a decorative log front panel to enhance the realistic look of your fireplace. This log set includes seven log pieces, and is an environmentally friendly alternative to traditional fireplaces.
The RH Peterson brand offers many different styles of gas log sets so you can find the set with the visual appearance you've been looking for. Most of the sets come with the choice of a standing pilot, electronic ignition, or manual burner, as well as different sizes sets to choose from. Many of the sets come with a warranty for as long as you own them (lifetime), but be sure to check your specific set's warranty before purchasing.
White Mountain Hearth
With White Mountain Hearth log sets, you can have the look and feel of the real thing without so much mess or fuss.
The White Mountain Hearth Flint Hill Vented/Vent Free Gas Log Set is a comprehensive choice, as it includes logs as well as your pick of fuel type and burner valve, making this option very customizable. Plus, this log set only requires a minimum firebox depth of 12", giving you maximum flexibility.
The White Mountain Hearth brand offers unique wood styles including Birch. Most of the log sets from this brand include a limited 5 year parts and labor warranty.
Monessen
If you're searching for a combination of superior strength, long lasting beauty, and excellent detail, the Monessen Beachcomber Log Set is the way to go.
Featuring six hand-painted logs of varying sizes (18″, 24″, and 30″), these Natural Blaze burners offer taller, more lively flames that make the fire look much more realistic. These vent-free logs generate consistent, controlled heat without flare-ups or die-downs.
Monessen brand gas log sets are priced a little higher, but the quality is there to back up the price. There are a wide variety of styles and options to choose from so your log set will be exactly what you want.
Everwarm
A cost effective yet beautiful choice, the Everwarm brand offers a couple different log set choices. The Everwarm Palmetto Oak Log Set is refractory cement log set that's durable, long lasting, and makes for a beautiful focal point in your fireplace.
The Everwarm brand also offers a low country timber set which provides more of a rustic feel.
Which brand is best for you?
When it comes to choosing the best brand and option for your gas fireplace, there is no shortage of units to choose from.
By getting a better idea of which kind of features you want, the style that most appeals to you, and the price points that are most within reach, you can select the optimal gas fireplace and log set for your home.
Here at Total Home Supply, we know how important a great selection is when choosing a fireplace for your home. Shop our array of gas fireplace and log set options to find the one that best suits your needs.
Stay cozy!