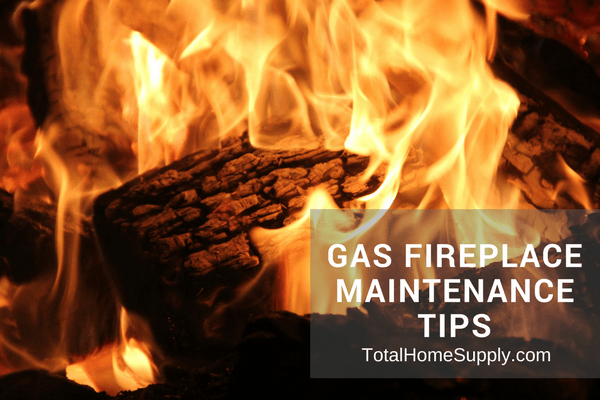 It's well known that gas fireplaces are a convenient and efficient alternative to traditional wood burning fireplaces. However, that doesn't mean that they don't require any sort of maintenance.
Paying attention to things such as gas log maintenance and gas fireplace maintenance are crucial to ensuring your fireplace continues to work as it should. In today's blog post, we'll highlight some gas fireplace maintenance tips, including how to clean gas logs and clean the gas fireplace itself, to help make sure your fireplace continues to work as effectively as possible.
Gas Fireplace Maintenance
Gas fireplace maintenance can be divided into three categories: safety inspection, gas fireplace cleaning, and cleaning gas logs.
Safety Inspection
A gas fireplace safety inspection ensures that your fireplace is working properly and safely. A technician will check to make sure there are no gas leaks in the system, as well as inspect the burner and gas pressure.
Fireplace safety inspections can be completed by a certified HVAC technician. Do not attempt to complete a safety inspection on your own.
How to Clean a Gas Fireplace
Turn off the heat and let cool.
Grab the correct tools including a handheld vacuum, fireplace cleaner, and a toothbrush (or bristle brush).
Clean the different parts and pieces of the fireplace.
This is an overview of the cleaning process, and each detail is explained more below.
Gas Fireplace Cleaning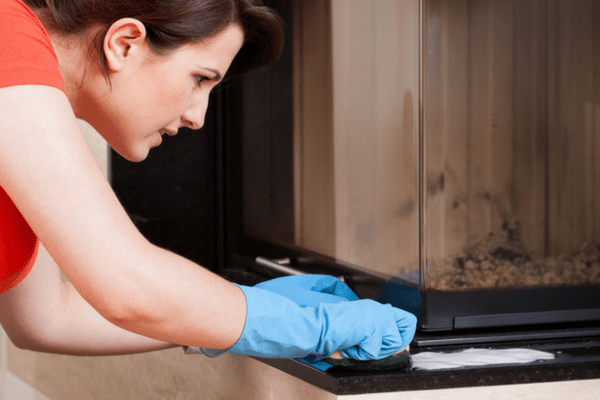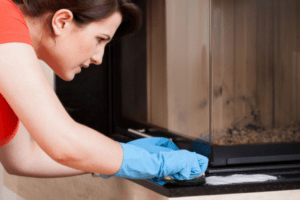 Keeping your gas fireplace clean doesn't just help aesthetically. Cleaning your gas fireplace also helps to improve the safety of your fireplace by eliminating debris buildup, which can affect the performance of your fireplace.
Before you begin cleaning your fireplace, you'll want to turn off the gas. Next, make sure you have a few key products mentioned above on hand.
Your fireplace most likely has a glass covering. After turning off the gas, open the glass cover. You may be able to move the whole thing entirely, or the glass cover may have a hinge style cover that doesn't come off all the way.
Next, clean both sides of the glass cover with a cream foaming fireplace cleanser. Use a soft cloth to spread it around and let it sit for about 15 minutes while it works its magic, then remove it with a different clean cloth. *Note – do NOT use an ammonia based cleanser. Use an alcohol based product instead.
Cleaning a gas fireplace doesn't just involve cleaning the glass cover. You'll also want to remove any debris from the burners to keep your fireplace running smoothly. Do this by running a vacuum cleaner over them, then scrubbing off any remaining debris with a soft bristled toothbrush. Run the vacuum cleaner across the burners one final time to suck up any remaining debris.
Cleaning Gas Logs
Another component of cleaning your gas fireplace involves cleaning gas logs. To do this, again make sure the gas and pilot are shut off and allow time for the gas logs to cool. Open up the fireplace and remove the gas logs, making sure to avoid getting any soot on your carpet or floor. You may want to place them on an old bed sheet as an extra precaution. Take the logs outside and remove the soot from the logs with a paint brush or broom.
Proper Gas Fireplace Maintenance Helps Prolong Your Fireplace
With proper maintenance and cleaning, your gas fireplace and gas logs should last you several years. But as with most appliances, your gas fireplace or gas logs will eventually need to be replaced.
When that day does come, hop on over to TotalHomeSupply.com to browse our gas fireplaces and gas logs. We offer both direct vent and vent-free gas fireplaces, as well as a variety of realistic log sets to improve the aesthetic and warmth of your home.