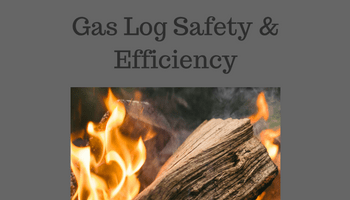 When installed, ran, and maintained properly, gas logs and gas fireplaces are safe to use. Just like any other gas appliance, there are risks when using them due to the gases and fumes that are released. But, proper use are care should remove the risk. The efficiency depends on the type of log and fireplace you're using. Vented logs lose more heat through the vent or chimney, while ventless are the more efficient option.
More and more people are swapping their standard wood-burning fireplaces for gas and electric fireplaces. While there's something magical about the crackle of a wood-burning fire, some may find that it's not worth the effort and maintenance.
Gas log sets offer many benefits to the homeowner who still wants that cozy glow of a fireplace. Not only do gas logs generate more heat, but they're also much safer than wood-burning fireplaces because there's less of a risk of fire. This gives many homeowners peace of mind when deciding how to help heat their homes — and as a bonus, there's no need to worry about chopping wood or cleaning soot!
While gas fireplaces are safer and more efficient than wood fires, it's important to not lose sight of these two factors if you do decide to purchase a gas log set. Here are some ways to make sure your set is as safe and efficient as possible.
Gas Log Fireplace Safety
There are two main configurations of gas logs: Vented and ventless. Vented gas logs rely on an exhaust or venting system to operate, while ventless gas logs function without any sort of venting system. Just like real burning logs, both types of gas logs produce carbon monoxide — a toxic gas that can be lethal — when they burn. Venting and proper use of a gas fireplace can help keep CO at a safe level. Here's how to keep your family safe when using these systems.
Are vented gas logs safe?
Vented gas logs are safer than ventless logs because they use a type of venting or exhaust system to expel harmful gas from your home. To make sure your vented gas logs are working the way they should, it's essential to keep your chimney or flue damper open while the vented gas fireplace is in use. Make sure it's securely propped open to allow for adequate exhaust. A closed flue damper will keep hazardous gas inside your home.
Are ventless gas logs safe?
Vent-free gas logs are safe when used properly. Because they do not rely on an open flue or chimney to operate, there is no room for the gases created to go. Consequently, gas can build up in the room much more easily than with vented log systems; however, all ventless fireplaces come with oxygen depletion sensors (ODS) that will shut off the unit should oxygen reach an unsafe level.
To keep the air quality safe and prevent gas from building up in the home, never operate your ventless gas fireplace for more than an hour without opening a window to allow for airflow. You'll also want to avoid operating these fireplaces for extended periods of time in general. Many units come with a remote control so it's easy to turn on/off to avoid running the system for too long. Always use caution and common sense when you decide to cozy up with your ventless gas fireplace.
Other safety tips
No matter if you have a vented or ventless logs, here are some basic safety tips to keep in mind when using your firebox and logs:
There are different safety features to consider such as safety valves available on different burner types.
Keep flammable objects at least three feet away from the fireplace.
Always inspect building codes to make sure your ventless system meets safety regulations. Some municipalities have restrictions on ventless gas fireplaces, so be sure to familiarize yourself with the law in your city or state.
Keep children and pets away from the heat source.
Make sure you have a working pilot light and gas valve system. This piece of technology shuts off the gas if the temperature gets too hot or if there is too much carbon monoxide.
Always have functioning carbon monoxide detectors (CO detectors) in your home. Replace the batteries twice a year — a good time to check is during the beginning and end of Daylight Savings Time.
With both systems, it's good practice to have your fireplace serviced by a professional technician once a year to make sure it's running properly. A qualified service tech can also spot signs of wear and tear that may compromise your family's safety.
Gas Log Efficiency
Vented gas logs are less efficient than vent-free because much of the heat escapes through the exhaust to the outside. On the flipside, ventless gas logs are much more efficient, since most of the heat stays put inside your home. If you settle on a vented system, you may want to invest in some quality glass fireplace doors for added heat retention.
Are gas logs expensive to use?
Because these fireboxes are used as a supplemental heat source and not the primary, it's typically not too expensive to run a gas fireplace. Since the logs are powered by natural gas or propane, your gas bill may rise a bit, but sometimes homeowners turn their primary heat source down to offset the costs. It's important to note again that these systems shouldn't be run for an extended period of time and aren't meant to be a primary heat source.
Vented vs ventless: Which is right for me?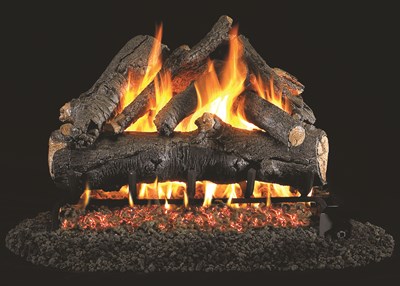 It may make sense for one person to go with a vented system and another with a ventless system. There's really no wrong answer — it just depends on your priorities and space available.
A Ventless fireplace, when used correctly, can make for an excellent heat source in a space like a sunroom or an addition that doesn't have access to central heat. Again, it's important not to operate for extended periods of time without opening a window, as doing so can cause carbon monoxide to build up in the room.
Vented fireplace systems, on the other hand, are not as efficient but are safer.
Top ventless sets
Top vented sets
To find the log set that fits yours needs, take a look at our collection of gas logs. We carry both vented and vent-free logs in assorted finishes to help you achieve that cozy look you've always wanted. If you'd like help locating a unit with specific safety features and high efficiency, our customer support team is happy to assist.