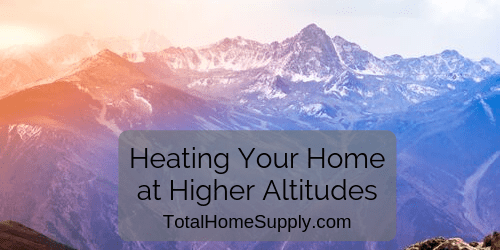 Colorful leaves, autumnal decor, "sweater weather" – what's there not to like about fall? For those who live at sea level, fall might still seem like a distant dream. However, if you live in a high-altitude locale, perhaps you're already well into the fall season. Maybe some snow has already made its way to your doorstep!
If you live at higher elevation and you're in the market for a new heating system, there are a few things you need to consider. This post will touch on some science behind heating at altitude, then we will cover high altitude furnace requirements before diving into the best furnaces to use.
What to Consider
If you live higher up, the chances are you're no stranger to dry skin or shortness of breath. That's because there is less density and oxygen in the air at altitude compared to air at sea level. This dry, thin air is important to note when considering an altitude-friendly heating option. More airflow is required to heat a home at a higher elevation than a home at sea level.
What does this mean? The higher your home, the more powerful of a heating system you'll need. If you install a furnace that's designed to run at sea level, you will likely experience poor performance and overall higher energy bills — unless you modify the furnace for high altitude function. We'll talk about that here in a bit, but first let's discuss heating requirements.
High Altitude Furnace Requirements
So, what exactly is considered "high altitude?" According to National Geographic, it's anything more than 8,000 feet above sea level. However, even if you live in the 2,000 – 6,000 range, you still need to consider altitude when shopping for a home heating system. A 3,000-square-foot home at 2,000 feet above sea level will require a larger furnace than a home of the same size at 300 feet above. When purchasing a heater, be sure to purchase the altitude conversion addition, and if you're above 6,000 feet of elevation, there may be a separate kit needed specifically for heating homes that high up.
High Elevation Furnace Kits
Fortunately, if you live at altitude and already purchased a standard furnace that's designed to run at sea level, you're not completely out of luck. The furnace will just need to be modified in order to run efficiently. To do this, you can typically purchase a high altitude furnace kit, which contains furnace components that are optimized to run at altitude. You can hire a qualified professional to replace the furnace's existing components with altitude-optimized versions in order to improve the furnace's capabilities.
A kit may contain some or all of the following parts:
Pressure switch
Burner orifices
Gas valve springs
Before using a kit to modify the furnace, you must first derate the furnace. "Derate" means to reduce the input rate of the furnace. This typically involves a manual adjustment of the furnace's valve outlet. Most furnaces need to be derated by 4 percent for every 1,000 feet above sea level (but check your manual or consult with a heating professional to be sure).
Furnaces for High Altitude
Instead of modifying your existing furnace, maybe you're ready to buy a brand-new furnace for your home. There are several options when it comes to high altitude furnaces, but the main fuel types are liquid propane and natural gas.
High Altitude Propane Heaters
If you're looking for a super efficient high altitude propane wall heater, the Williams Furnace Company 550823 Forsaire 55000 BTU Top Vent Counterflow Furnace is an excellent choice. This wall mounted furnace is ideal for those who want to save floor space while maximizing heat distribution throughout the home. The furnace pulls in air from the top of the unit, then internally heats the air before pushing it out the bottom of the unit. Because warm air rises, the heat evenly distributes throughout the home for maximum comfort and efficiency.
If your home is smaller in size, the Williams Furnace Company 3003 30,000 BTU Gravity Direct Vent Wall Furnace

is also a great option. This direct vent furnace draws in air from outside to provide clean, consistent airflow to the home. 
Both of these heaters come factory set for elevations up to 2,000 feet above sea level, but high altitude conversion kits can be added on for only $25.
Natural Gas Furnaces
If you're looking for an efficient high altitude natural gas furnace, the Williams 6501A 65,000 BTU Vented Hearth Heater is a fantastic choice. It is a hearth style heater that vents to the outside and features quiet, efficient operation. An optional blower can be purchased to enhance air circulation and maximize heat distribution. Like the other aforementioned Williams furnaces, an altitude conversion kit can be added for $25.
Garage Heaters
If you need to heat a garage, barn, or a warehouse at high elevation, the Reznor UDAP-100 100,000 BTU V3 Power Vented Gas Fired Unit Heater is a great option. With a thermal efficiency of 83 percent, this heater is one of the best options for heating a high-altitude commercial or residential garage. The Reznor UDAP-100 is designed for use up to 2,000 feet elevation — if your garage or warehouse is between 2,001 feet and 6,000 feet elevation, you can adjust the valve outlet pressure to optimize the heater for altitude. If your garage or warehouse is at 6,000+ feet elevation, you'll want to purchase the Reznor DJ20 197117 High Altitude Kit to optimize this heating system.
Next Steps
Whether you're in the market for a new furnace or you want to calibrate your existing furnace for high altitude use, Total Home Supply has you covered. We carry a selection of gas heater altitude kits that can be purchased to modify an existing furnace for high altitude operation. If you're looking for a brand-new furnace, many of our vented gas heaters have altitude conversion kits as add-ons. Note: Furnace installation, modification, and servicing should be completed by a qualified HVAC professional.