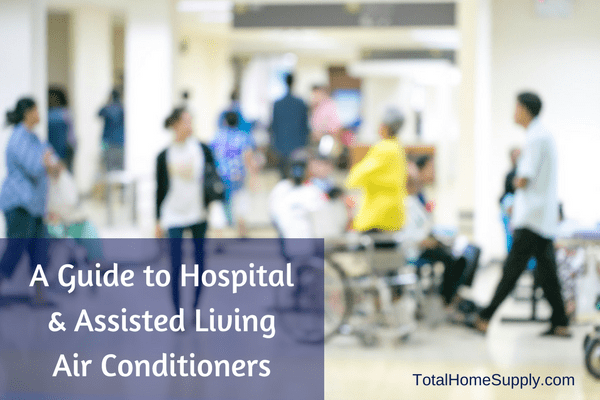 Deciding which AC unit is best for your hospital or assisted living center doesn't have to be tricky.
While there are a lot of factors to keep in mind — such as ease of use, convenience, accessibility, and the comfort of individuals residing within — knowing your options will give you the most comfort for your money and can go a long way towards improving life for employees and patients alike. Not only is it essential to have proper temperature regulation for comfort purposes, but it is also important to restrict airflow between certain departments.
One of the major things to keep in mind is hospital regulations concerning which units are allowed. Microbiological transmission via AC/heat units is a real factor in determining what's allowed versus what's not, and proper heat and cooling methods are important in the prevention and treatment of diseases. Systems like typical central heating — where air is forced upwards through ductwork — are not ideal, as more cross-contamination can occur and odor prevention is almost non-existent.
Cooling Requirements for Hospitals
Outdoor air is generally more free of contaminants than indoor air when it comes to hospitals and nursing homes, which is why PTAC units that pull air from the outside are ideal.
Primary standards for heating and cooling systems in these places need to perform the following:
Provide an acceptable indoor climate for staff and patients.
Remove odors.
Release and prevent build-up of anesthetic gases.
Reduce risk of infection in an operating area — the highest concentration of bacteria comes from the operating staff and their activity during surgery. 15 – 20 changes of air quality per hour is considered the standard to provide the cleanest environment possible and suppress odor. Even a minimal rate of 10 air changes per hour reduces the possibility for air contaminants by 99%.
Humidity control also plays a large role in preventing contamination. If the humidity is too high, bacteria will ride on dust particles that are highly attracted to one another. If the humidity is too low, the environment can be highly suitable for other forms of infection. Generally, the rule of thumb is about 40-65% humidity for hospitals and nursing homes.
Best Cooling Options for Hospitals/ALC/NH
Given all of these requirements, it sounds almost impossible to select and maintain the proper cooling and heating units for your hospital or assisted living center. However, by selecting the proper models and ensuring their functions are able to perform all these requirements can be simple. PTAC units or mini split units are great options, as these allow greater control, contaminant isolation, and provide personalized environments within separate rooms.
Ductless Mini Splits
Mini splits are small ductless systems that require one outdoor compressor/condenser, which can run up to 4 or 8 indoor units. They require one small hole in the wall for installation, and each indoor unit turns any room into a highly-controlled microclimate that can be controlled by remote or Wi-fi. In addition to being able to provide both heat and cooling air, the energy efficiency of a mini split also makes it a great alternative for facilities whose energy needs are higher than the average home or business. Mini splits draw only 50% of the energy required to run a typical central air system.
Things To Keep in Mind With Mini Splits
Mini splits are generally remote operated, but in larger facilities such as hospitals or nursing homes, it's easier to lose the remote than not. Consider having a wired wall thermostat control installed for each room to prevent this.
Mini splits tend to be quieter options then PTAC units. While another purpose of heating/cooling units is to filter out noise from traffic or within the building itself, mini splits are a good option as their noise impact can be a lot lower than other indoor units while still providing enough of a noise barrier for sounds from both within and without the facility.
Changing the air filters on the mini splits regularly can also help prevent high concentrations of bacteria in the air.
PTAC Units
PTAC units, or Packaged Terminal Air Conditioners, also make great cooling or heating options for larger facilities that need stable and highly regulated conditions. Like mini splits, they are ductless units that are simple and quick to install and are able to provide localized environments customizable to each room. Each unit installs directly into a room and is perfect for controlling the environment for a single room, whether it be a hospital or nursing home room.
PTAC units are quiet; the filters are readily accessible and easy to change; and with a little mindful research about energy use, can be cost- and energy-efficient.
Things to Keep in Mind with PTAC Units
PTAC units have either a heat pump or electric heat. In many climates, PTACs that have a heat pump make the best choice, as they are more energy efficient.
Unlike mini splits, PTAC units require a large 42″ wide by 16″ high hole in the wall to install.
The control panels for the PTAC units are featured directly on the unit itself, which means no extra wall thermostats or remotes that could be lost. You do still have the option for wall mounted thermostat or even a total building energy management system.
Depending on the size of the room, you'll require a certain amount of BTUs to maintain the optimum stable conditions. You can also ensure you've got the proper model by checking our BTU chart and calculator.
Purchasing Your PTAC or Mini Split
Mini splits and PTAC units make it easier to maintain proper cooling and heat levels within nursing homes and hospitals, as well as minimize risk of cross-contamination. They're the perfect alternatives to more expensive and less practical heating systems and provide localized temperature and humidity control by pulling clean air from the outside instead of merely recycling indoor air that might carry odors or bacteria.
These factors make them great for any room in your facility, from hospital operating theaters to individual residents' rooms at a nursing home or assisted living center. Shop our mini splits and PTAC units to find the solution that best meets your needs.