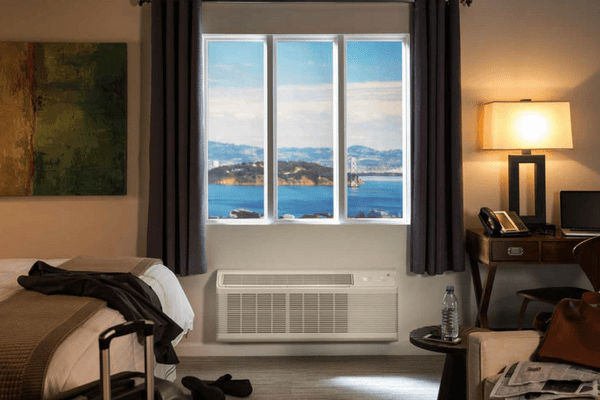 No matter where you live, maintaining the right temperature is critical to both your personal comfort and your energy bills. Get the wrong PTAC unit, and it will either be too hot, cold, drafty or stuffy in your space.
It can be overwhelming to determine what the best size PTAC is, especially if you have a room with special requirements, such as if it is older, poorly insulated, or if the space is particularly large.
However, doing a little bit of homework before you set out to buy can be the key to ensuring you choose the proper unit. Total Home Supply is here to help you make sense of the different elements to consider when looking for the right PTAC to purchase.
We will walk you through the PTAC sizing process and even have a handy calculator that can cut down on the guesswork that goes into finding the right PTAC unit with the proper capabilities.
What is a PTAC Unit?
A PTAC unit is an air conditioner and heater that allows a room's occupant to adjust the temperature controls without affecting other units in the building.
PTACs  are energy efficient, and fit into outer walls via a wall sleeve. Some PTAC units even have built-in heat pumps for added efficiency. Easy to use digital controls are standard so that users can stay comfortable all year long.
What Are PTAC Units Used For?
PTAC units are great for people living or staying in large complexes such as hotel rooms, dorms, nursing homes, and apartments. They're also ideal for additions and sunrooms since they can operate independently without an outdoor unit or ductwork.
Because they offer so much flexibility and versatility, as well as an easy-to-install design, many people choose PTAC units for their heating and cooling needs.
How Do I Find the Right Size PTAC Unit for My Needs?
Finding the right size PTAC unit for your needs doesn't have to be too hard. We've created an air conditioning BTU calculator to make sizing your PTAC unit easier. This calculator will help you determine the British Thermal Units, or BTUs, required for your room. Simply plug in the length, width, ceiling height, insulation, and lowest outside temperature, and the calculator will tell you the BTU/hr required.
BTU is a measurement of the energy required to raise the temperature of one pound of water by one degree. Air conditioners and heaters are made to produce a particular number of BTUs, which is why choosing the wrong one can cause the room to feel clammy and uncomfortable, or stuffy and hot. If a room as high ceilings, or the place is poorly insulated, that can also affect the ability of a PTAC unit to properly heat or cool the area.
The BTU guidelines are not hard and fast. For example, you can assume that in a modern hotel room or comparable space, the unit will cover more area. The levels listed below serve as helpful benchmarks as you analyze the options.
How to Choose the Right Size PTAC Unit
Taking the time to choose the right sized PTAC unit can save you a lot of headache. Avoid making the mistake of purchasing one that is too large.
If you oversize your PTAC unit it will not perform as well, whether that be in terms of energy efficiency or dehumidification. Oversizing can also cut down the lifespan of the unit. Plus, if you buy a heater that's more powerful than what you need, you'll end up sending more than necessary on your heating bill –– something no one wants to do.
Generally speaking, PTAC units are available in four size classes:
| | |
| --- | --- |
| 7,000 BTU | 200-300 sq ft |
| 9,000 BTU | 300-400 sq ft |
| 12,000 BTU | 400-550 sq ft |
| 15,000 BTU | 500-675 sq ft |
If you are in need of an extra-large PTAC unit, Total Home Supply carries two with 17,000 BTU capacity. While they have more cooling capacity, there is no heat pump.
How Can I Buy a PTAC Unit?
Once you've calculated the BTUs for the space in question, you're ready to buy.
Total Home Supply offers a wide array of PTAC units from brands that you know and trust, such as LG, Amana, GE, and others. If you need help deciding, you can feel free to contact us and we would be more than happy to help you through the purchasing process.