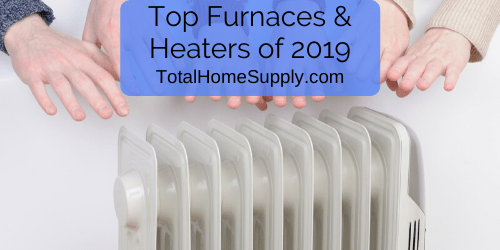 With cold temperatures on the horizon for most of the United States, it's time to start thinking about how you'll heat your home in the upcoming winter months. Maybe it's been years since you last replaced your heating system and it's no longer performing as well as it should be. In that case, it's time for a new furnace.
Before you begin shopping, you might want to know the major brands and best furnaces of 2019. We'll dive into the top systems of the year sorted by category so that you can make a wise purchase for your unique needs.
Best Furnaces 2019
Here are the top 7 furnaces and heaters, handpicked by our very own HVAC specialists, with a more detailed explanation of each below:
Top Mini Split with Heat
LG LMU300HHV 30,000 BTU Configurable Quad-Zone Multi F LGRed Mini-Split Air Conditioner Heat Pump – This multi-zone mini split has both heating and cooling capabilities for excellent year-round performance. As part of the LGRed Series, this model is specifically designed to perform well in cold climates. The LMU300HHV can heat anywhere from two to four zones and is highly configurable with many indoor unit options. This unit is highly efficient compared to most other types of heating.
Best Space Heater – B Vent Gas Heater
Williams Furnace Company 5002522A 50,000 BTU Vented Hearth Heater with Fireplace Front – If you need to heat a single room or space that gets particularly chilly, such as an unfinished basement or sunroom, then a space heater could be your best bet. Our pick for the best space heater 2019 is the Williams Furnace 5002522A, which features a cozy look and feel thanks to its alluring fireplace front. In addition to its warm ambiance, the 5002522A features quiet operation, excellent heat distribution, and is energy-efficient. Because this is a B vent style heater, this model must be installed against a wall and requires a chimney style vent so that it vents to the outside. There's also an optional blower available for purchase.
Direct-Vent Gas Heater
Rinnai EX38CT 38400 BTU EnergySaver Direct Vent Wall Furnace – The Rinnai EX38CT Direct Vent Wall Furnace is a great option for heating large rooms thanks to its 38,400 BTUs of power. It features an energy efficiency rating of 80.3 percent and has a variable heat output that adjusts to the space. With a superior build quality, this heater is built to last and definitely gives you a great bang for your buck.
Best Vent-Free Gas Heater
Empire Comfort Systems BF-30W 30,000 BTU Blue Flame Vent-Free Gas Heater with Thermostat – If you're looking for a more traditional space heater to heat a space like a garage, the Empire BF-30W is an excellent choice. With 99.9 percent efficiency and a durable, easy-to-use design, we think that this unit has the best build quality of all our vent-free heaters. It features blue flame technology, which works by heating the air in the room. This allows the room to warm very quickly. The Empire Comfort Systems BF-30W is available in both natural gas and liquid propane designs and features a thermostat for adjustable temperature control.
Electric Wall Heater
Williams Furnace Company 3144030 Forsaire Electric Counterflow Furnace – If you don't have a gas line, don't worry – the Williams 3144030 Forsaire Electric Counterflow unit offers incredible power and performance thanks to a built-in counterflow system. This heating system works by pulling in air from the top then warming it before pushing it out through the bottom. The end result is efficient, floor-to-ceiling warmth powered by electricity.
Garage Heater/Hanging Heater
Reznor UDAP-100 100,000 BTU V3 Power Vented Gas Fired Unit Heater – For industrial garages and warehouses, there's no better choice than the Reznor UDAP-100 V3 Power Vented Gas Fired Unit Heater. Reznor is by far one of the top furnace brands for garage heating, and with 100,000 BTUs of heating power, this gas option exemplifies the brand's quality. It can be vented horizontally or vertically for flexible installation in any space. With an 83% efficiency rating, this garage heater offers superb quality at a great price.
Choose What's Right for Your Home or Space
Whether you're looking to heat a garage, a single room, or your entire home, Total Home Supply has you covered. We offer options with varying levels of power and fuel types to give our customers the widest variety of products possible. With top furnace brands such as Goodman, LG, Reznor and more, we strive to carry the best of the best. Shop our top furnaces and heaters now and be sure to contact us if you have any questions. Our HVAC experts are here to help you find the right product for your home.