LG mini split  air conditioners offer a wide variety of operating features all controlled by the easy-to-use handheld remote control. This quick video will give you the background you need to use your remote to its fullest.
The remote is the same across most LG mini splits and allows you to control the mode, temperature, fan speed, and more. Using the included mounting bracket you can use the remote like a thermostat or just make sure that you never lose it.
LG Mini Split Remote Function Overview
The manual for the overview of LG mini split controllers is quite simple and easy to follow. Below, we've provided a diagram from LG's manual for easy access.
Temperature: When trying to achieve the perfect temperature for your room, take a look at the MODE button. Repeatedly click on this button until the sun icon appears for heat or the snowflake icon appears for cooling on the remote's screen and use the up-down arrows to adjust accordingly. 
Fan Speed: To adjust your fan speed accordingly, simply follow the diagram below to switch to your desired speed based on the icons.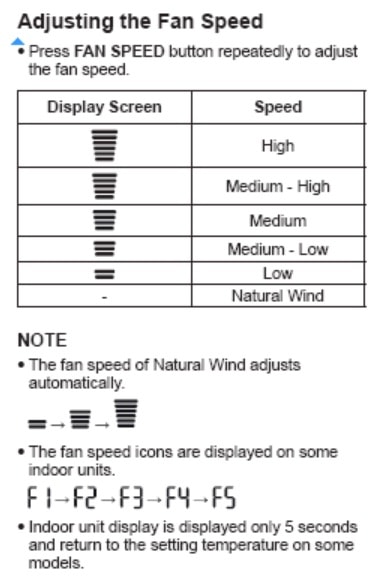 If you want to go more in-depth about the functions of the LG mini split remote, take a close look at the rest of LG's manual. 
Have you lost your remote control and need a new one? We are an Authorized LG Part Distributor and can help you replace it. Simply contact us at 877-847-0050 and one of our trained sales professionals will help you find the remote that matches your system.