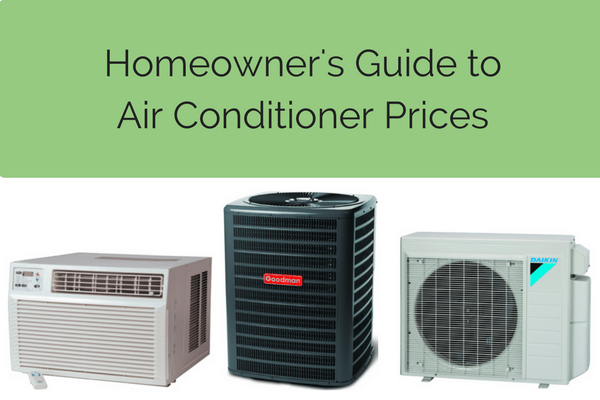 Finding which type of AC and cooling unit is best for your space and needs is one thing. Determining which options fit best within your price range is another. Here we'll break down each cooling method type's pricing ranges, and help you figure out which one works best for you.
How Much is an Air Conditioner Going to Cost?
The price you pay for your cooling unit will depend on which type you pick. For example, having a complete central- or whole-house system will be one of the most expensive air conditioners, while a simple window or portable unit will be the cheapest air conditioner. And of course, within each air conditioning unit type, you'll find variances in price ranges and models. Price will be determined by quality and how powerful the system is, so make sure you do your research to find the best type of air conditioning method to suit your needs.
Efficiency is going to be important when considering different air conditioner type pricing, as the efficiency will affect your energy bills. You'll also want to determine the number of BTU's the unit needs to put off in order to effectively cool your space, and pricing goes up a bit for larger units that require higher BTUs.
For smaller AC units, you'll want to take into consideration whether or not the room is very sunny because you'll need roughly 10% more AC capacity than is considered normal for that room size.
Central Air Conditioner Pricing
While central air conditioning condensers only cost $800-$3,500, the average price range for purchasing a central air conditioning system and having it installed generally ranges from $3,000 to $10,000. This number will fluctuate with the size of the system, as it requires running ductwork and/or having vents installed or updated (if pre-existing) and different contractor's installation rates. Central air conditioner systems are generally recommended for larger homes. This is a more cost-effective way because these systems provide more power and are able to cool a larger amount of square footage.
Average Pricing, Including Installation: $3,000 – $10,000
Window AC Unit Pricing
Window AC units are one of the most cost-efficient ways to cool a single room. Most homeowners can expect to pay anywhere from $170 – $800 for a window unit, depending on the size of the unit that works best for you space. There are some window units with higher BTUs and even heat functionality that can cost upwards of $1k-$3k, though.
This type of AC unit is best for homes that need supplemental cooling systems within a limited space, such as one room, and operate independently of any other system in the home. Going with a window unit tends to be the cheapest AC option and the installation process is easy.
Average Pricing: $170 – $800
Mini Split Pricing
Mini splits are a great way to cool your entire home, and don't require ductwork. One mini split outdoor unit can run several other units in separate rooms in the house. Some mini splits are extremely versatile and can be switched back and forth from heat to cool, making these systems an even more appealing option. The systems themselves can start at around $875 for a decent one and raise all the way upwards of $7,000.
Installation cost of a mini split system is generally pretty simple. Depending on the number of units and various labor rates, you can expect to pay a minimum of $1,000, or a maximum of $2,000 on average for installation of a single zone unit. Mini splits are more efficient, so you'll pay about 25% less per year in energy bills than you would with a central air system. If you're installing a multi-zone unit, keep in mind that will increase installation pricing to around $1000 – $5000, depending on how many zones you have.
Average Pricing, Including Installation: $1700 – $5,000
Through-the-Wall Air Conditioner Unit
Through-the-wall AC units are generally a mid-range price point. They are generally going to cost somewhere between $500 – $1200 for the unit itself. This installation is fairly simple and shouldn't add too much to the price of the cooling unit, so these make a great option for someone who wants a convenient and inexpensive way to cool their home without blocking a window for the summer. If you already have a standard sized through the wall unit, installing a replacement is cheap and easy. It can usually be done for $50-$200. A new installation can be more expensive and time consuming as a hole will need to be made in the wall and a wall sleeve installed. A new installation ranges from $200-$800.
Average Pricing, Including Installation: $700 – $1300
Portable AC Pricing
Portable air conditioning units make a great supplemental cooling source for single rooms, and require no installation fees. The entire unit will generally cost homeowners $400 – $800. Portable AC units aren't really recommended for use other than a supplemental source, so use them in conjunction with a central air system. These units are best used temporarily, not as long-term solutions.
Average Pricing: $400 – $800
Things to Keep in Mind
Prices will vary not only from air conditioner unit type and different installation prices, but also brand to brand. Expect to pay a little bit more for higher quality or more well-known air conditioner brands, like LG, GE, or Goodman. Cheaper brands will also cool your home, but might require a little more maintenance and upkeep than a slightly pricier one.
While it might be tempting to save even more money by installing a mini split or a through-the-wall unit yourself, keep in mind that this is not recommended. The installation process can be more complicated than you may think, and it's best to let a professional handle the job so you can rest assured that it was done correctly.
Many central air systems utilize the furnace fan to distribute the cool air throughout the house. If you have central heating but no AC, you can use the existing ductwork and fans when installing your new AC system.
Older homes with convective heating or baseboard systems tend to not have any ductwork installed. If you're having a central system installed, the materials and labor to install them will be factored into your final installation price. This also would be a great opportunity to consider installing a mini split where expensive ductwork would not be required.
Air Conditioner Price Table
| Type of Air Conditioner | Average Price Range |
| --- | --- |
| Central AC System | $3,000-$10,000 |
| Window AC Unit | $150-$800 |
| Mini Split AC System | $1,700-$5,000 |
| Through-the-Wall AC Unit | $700-$1,300 |
| Portable AC | $400-$800 |
Do the Research Before Purchasing a System
The best AC unit for your home will vary on your needs and your budget. If you've already got an existing central heat system, it might be most cost-effective for you to take advantage of the pre-existing ductwork and fans to distribute the cool air, rather than having a completely separate unit installed. For a nice little supplemental boost of cold air, consider a portable or window unit as a short-term solution.
For more details on specific air conditioner types and which ones would work best for you, visit our site.
China is a major hub of innovation and manufacturing for air conditioners. In recent months many air conditioner prices have been affected by import tariffs placed on units manufactured in China. While Total Home Supply and the manufacturers we represent have tried to absorb as much of the increases as possible, these 25% tariffs have resulted in significant price increases on many air conditioners.