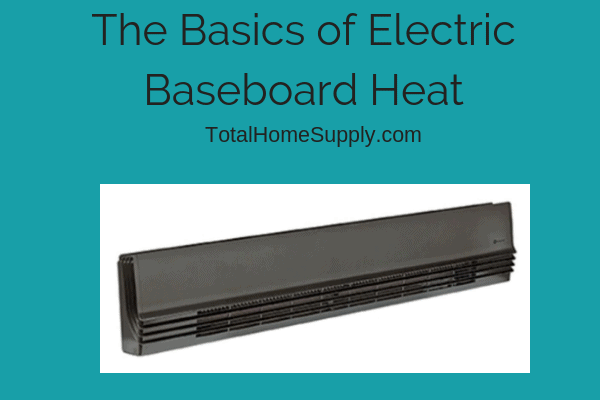 During this time of year, checking the temperature and trying to stay warm by hiking up the thermostat become daily concerns.
Have you ever wondered about what other options are available for staying comfortable during the winter? These days there are many options to choose from that go beyond the norm. One such option you might consider adding to your home is baseboard heating.
In this article, we discuss the different options for baseboard heating, as well as the pros and cons of baseboard heaters.
The 2 Types of Baseboard Heaters
There are two different types of baseboard heating available: electric baseboard heaters and hot water baseboard heaters. Both work on the same principle of individual units that work room by room, but each function differently.
Hot Water Baseboard Heater
As the name suggests, hot water baseboard heaters channel hot water through pipes to each unit which then transfers to the air to heat the rooms.
While baseboard heaters and radiators use hot water to distribute heat, they use different methods to do so. Baseboard heaters use convection, where heat is transferred to air moving through the aluminum fins in the baseboard enclosure. On the other hand, radiators do this by radiating heat, like a wood stove.
Electric Baseboard Heater
Electric baseboard heaters use electric resistance to warm the air inside the unit and push it out. Each unit has a heating element made of electric coils, which heat up. As the air is heated, it rises in the room, while cool air is drawn into the bottom of the heater. Once the air that enters the baseboard is the desired temperature set by the thermostat, typically the unit will switch off.
Some systems even feature a draft-barrier type up-flow air outlet, which is perfect for installing under a drafty window or less insulated section of the room. In this type of air outlet, a shield is created between the glass of the window and the inside air, which helps the unit keep functioning at optimal capacity.
As a standalone unit, electric baseboard heaters do not require any heating ducts, vents or blowers.
Pros and Cons of Baseboard Heaters
Hot Water Baseboard Heater
Pros:
Relatively easy to install –

 

The pipes for the heaters are easy to install alongside existing pipes in the house. They cost less compared to HVAC ducts.

Constant heat – Most hot water baseboard heaters use a closed-loop system, where the hot water flows from the boiler to the individual heaters and then back again. This means the heat remains consistent.
Cons
Requires a boiler – Unlike an electric baseboard heater, the hot water baseboard heater needs a boiler and pipework.

More efficient when running constantly – Because of its closed loop system, the hot water baseboard heater runs more efficiently when it is used continuously and at the same temperature level.
Electric Baseboard Heater
Pros
Even heat distribution – Since it heats from the floor up, there is a more even distribution of the temperature in the room as warm air rises.

Warmer floors – A baseboard system keeps floors warm since it starts at the bottom (your feet will stay warm!).

Easier to install – The electric baseboard heater doesn't need any pipework, only a nearby outlet.

Quiet operation – There are no fans or blowers to push air around.
Cons
Less efficient – Electric baseboard heaters tend to use more power than an electric heat pump.

Takes up space – They tend to take up wall space in desirable areas like under windows, which can limit placement of other furniture like beds, dressers or tables. They should also be kept away from long curtains and drapes, which can impact interior design. 

Dry heat – The warm air produced by electric baseboard heaters result in dry heat, which can lead to loss of humidity and cause dry skin and eyes. This can be resolved with a humidifier.
Baseboard Heating Efficiency
These days, many consumers are looking for efficiency in both cost and energy. While electric baseboard heat boasts 100% efficiency, meaning that all of the electricity used goes to producing heat, it uses a good amount of electricity to do so. So, on the surface, you may save money on the initial purchase, but over the long run, it could be more expensive. For the same reason, it is not a particularly environmentally friendly option either.
You should take into account the fact that baseboard heaters also aren't recommended to cover a large area, so this 100% efficiency rating may drop if used in a bigger room.
Where Baseboard Heating is Ideal
Electric baseboard heat can be a great pick for certain individual spaces but is not necessarily the best option for all setups. For example, this option should not be used to heat an entire home, as the cost of running each individual unit in every room would quickly add up.
Here are a few scenarios where this could be a good solution:
Rooms that tend to get colder than others or perhaps aren't used as often as the main rooms in the home

Spaces such as new additions, sunrooms, attics, and extra bathrooms in homes
How Much Baseboard Heat Do You Need?
Typically an electric baseboard heating system can service an area of about 100 square feet or so. If desired, multiple systems may be purchased to heat a larger room. However, be sure to take into consideration the energy costs involved with heating a large space with baseboard heating, and calculate whether this is the best financial option.
Be sure to explore different types of heating systems before you decide on which one you would like to get. Start with our handy guide that breaks down information on each of the most common types of heating systems and in what types of spaces they work best.
Our Top Electric Baseboard Heaters for 2023
Entry level:
King 3K2407BW 3 Foot 570/750 Watt Electric Baseboard Heater
King's K-Series baseboard heaters are easy to install and attractive to look at. They have a smooth baked enamel casing with bright white finish and rounded edges for safety.
This model measures 3 feet long and uses 208/240 volt electricity. It will provide 570/750 watts of electric heat, depending on the voltage coming into your space. The crush-proof ribbon aluminum finning is compression welded to the heating element, to provide a chimney-type flue for maximum heat transfer. 
Other features include a full length safety cutout, dent resistant die form cover, and King's SureStop high temperature-limit technology that shuts power off to the heater in an abnormal event.
This model is also available in 120 Volt 3K1207BW.
Premium:
Ouellet Sublime Electric Baseboard Heater
This modern 240/208V electric heater features a new, polished design that will blend discreetly in any space. Sublime baseboard heaters feature a "draft-barrier type upflow air outlet" which is perfect for installing under a window. The advantage of this type of air outlet is that a film or shield is created between the cold glass of the window and the indoor air.
This model boasts a slim body that is just under 3″ deep and rises about 7″ high. It is available in white (BL) or metallic charcoal (CM), and in standard and low watt density models. In addition to these 240/208V models, 120V, 208V and 277V models are also available. Simply choose the color, length* and standard watt or low watt density for this 240/208V heater.
Also available for the Sublime baseboard heaters are factory installed controllers. A double-pole bi-metal thermostat is available for the Sublime 240/208 Volt with a standard control knob or tamper-proof.
Choose the best heating option for your home
There are many choices out there when it comes to heating your home, or a specific room or space therein. It is important to weigh out the different options and their particular benefits and drawbacks, from cost and energy efficiency to space and safety.
The electric baseboard heater option is attractive to many homeowners because of its ability to evenly disperse warm air throughout a room from top to bottom. No more cold feet with electric baseboard heating. Especially for extra bedrooms, new additions, and attics, electric baseboard heating can deliver the targeted zonal warmth when and where it's needed.
However, you should be sure you are not attempting to heat too large of a space with this setup, as one unit isn't designed for rooms or spaces much larger than 100 feet. So if you do choose this option for a larger area, you'll have to purchase more than one unit. If you aren't certain this is right for warming up your space, be sure to examine other options or consult an HVAC professional.
Are you ready to start warming up your home this winter with an electric baseboard heating system? Total Home Supply has you covered. Stop by and browse our selection of baseboard heaters and figure out which one might be the best fit for you.