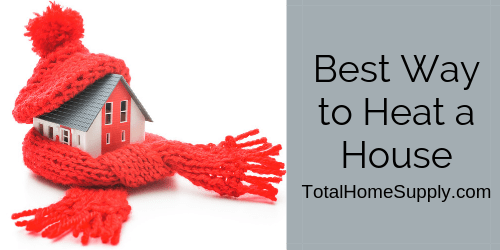 There are a lot of things that can (and do) drive up the cost of owning a home. When you're in need of updating, fixing, or getting a new heating system, it can be one of those costly projects.
It's important to understand everything about the heating system you buy so you can be sure it's the best option for your home, all while keeping important pieces like budget and coverage area in mind.
Below is a list of things you need to consider to help you find the best way to heat your home. In this article, we'll be exploring whole home heating options, and not single room options.
Home Heating Considerations
If you're replacing a heating system in your home, or never had one to begin with, here are a few key things you'll want to consider.
BTU needed
Where the heating system will go
Climate in your area
Basement or attic
Energy efficiency
BTU needed
Knowing which BTU you'll need for your home will allow you to be sure that you are purchasing a unit that will supply enough heat. A unit that is too big can cycle on and off too frequently, which means less efficiency and more wear and tear on the unit.
On the other hand, a unit too small will cause it to work continuously, which will also lead to it breaking down and may mean your space isn't being heated properly. You'll find unwanted costs with this too.
Where the heating system will go
Is there room for the heating system inside, outside, on the roof? You'll want the unit to be out of the way but easily accessible in case of repairs. The unit also needs to remain unblocked, free of anything that might restrict any fans or cooling elements it has.
Climate in your area
Climate will greatly affect your home heating needs and costs.
Constant weather changes, which happen in a good portion of the country (particularly the north), can put strain on your heating unit. You'll need a system that can handle these fluctuations. If you're in an area that experiences extreme cold temperatures, you'll need to keep that in mind as well.
Basement or attic
If you have an attic or basement space, you'll want to know right away if you're planning to fully heat these spaces. If you plan to heat your attic, you'll want to ensure that the attic is insulated properly, but also has adequate ventilation. You'll also want to inspect the roof of your home to make sure that it's in good shape and sealed. If you have a basement, keep in mind that air from below will rise so heating this space could be a good option.
Energy efficiency
Energy efficiency is an important factor to most who are in the process of buying a heating system. Finding a system that will run in your home with high efficiency will help decrease costs in the long run.
Remember that choosing the right unit for the size and relative factors of your home will greatly affect the efficiency of any unit, whether it's an "energy efficient" heating system or not.
Home Heating Options
When it comes to heating your home, there are a lot of options. Each is suited to a particular type of space, and here are a few to consider:
Gas furnace standard forced air
Mini split with heat
Vented gas heaters
Baseboard heat
Heat/cool AC unit
Which one is right for your home?
Gas furnaces- standard forced air
A gas furnace is a great option for heating an entire home- also known as central heating. This system will pull cold air from the home, passes it through an air filter, and blows the air into a handler to be warmed. Once the furnace's heat warms the air, it passes it through the air ducts throughout your home.
This process provides the most even distribution, with the largest square footage coverage area. This means it is good for both small and large homes. This is a great option for a home that already has ductwork installed. The heat for the whole home can be easily controlled from a central location with a thermostat.
Here's a popular gas furnace option.
Mini split with heat
A mini split with a heat pump is a ductless heating option that is great for heating a home, room, or office. The system includes an indoor and outdoor unit with compressor and condenser.
Because these units are small and ductless, they are easily installed and provide a flexibility and efficiency that other units cannot provide.
If you purchase a multi zone system, you can heat your entire home by positioning wall units strategically. This is a great option when it comes to heating basement and attic spaces, too. Overall, ductless mini split systems are a top recommendation for many homes.
Here's a great option for a mini split system.
Vented gas heaters
Vented gas heaters come in varieties, including space heaters, wall mounted furnace, top vent wall furnace- to name a few.
Direct vent heaters are installed on an outside wall and draw air from the outside, and in turn, vent to the outside after distributing warm air to your home.
Some of these furnaces have a large coverage area, especially if the home has a lot of open space. You can also install as many as you need throughout the house. The coverage space of the more powerful vented gas heaters makes this type an option to consider.
Here's a popular vented gas heater option.
Other ways to warm up
Baseboard heating is most common in older homes, and known for less efficiency- though they can be great if you're only heating a small space or don't want to heat all of the rooms of your home. This type of heating can also be installed simply to provide an extra bit of warmth throughout the home.
Heat/cool AC units are typically window units. They are not the most efficient option especially if not installed correctly, but for a smaller home they can work. The major benefit is they provide both heating and cooling options.
How to Choose a Heating Option
The best heating options for your home can be found by doing the proper research and figuring out what would work best for your specific situation.
Ask yourself these questions before making the final decision:
Is my home new or old?
Do I have the right ductwork in place?
Do we already have a central heating system in place? Does it work for us?
Does my current heating source need to be replaced entirely or is it having problems working correctly?
Do we want to heat the whole house at once, or are we leaving the basement or attic out?
How big is our space?
What BTU is needed?
There may not be a best way to heat a home, but asking the right questions will save you energy and hassle, and protect you from unwanted costs. It's up to you, as a homeowner, to choose which heating source best fits your home and your needs.
Check out all of our heating options here at Total Home Supply.