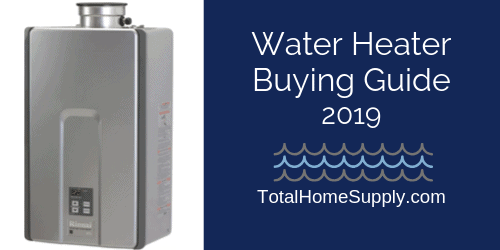 Hot water is a luxury that many of us take for granted. If your water takes a long time to heat up, or if it is quickly depleted and you're left shivering in a frigid shower, you likely understand the value of having hot water on demand. We're here to guide you through the best water heaters of 2019 so that you can be well on your way to warmer, more comfortable mornings.
Types of Systems
Before you purchase a unit, it is important to understand the different types of hot water heaters available. There are two things to consider here.
The first thing to determine is whether you want a tankless water heater or a traditional storage tank unit. Tankless have the advantage of providing hot water on demand and are more energy-efficient, but they can be a bit more expensive upfront. Storage tank water heaters are good for large families that use several showers at once and have a low upfront cost, but they're less energy efficient and offer a limited supply of hot water in a given time period.
The second thing you'll want to decide is fuel type for the water heater. The three main fuel types are natural gas, liquid propane, and electric. There are also systems that connect to a boiler.
When shopping for a unit, you will want to consider other factors such as cost, efficiency, and the size of your household. It's also very important to purchase an appropriately sized system for your needs. Our water heater sizing guide is a handy resource for finding the right size needed for your home.
Now that you have a better understanding of the different types available out there, we'll narrow down the best water heaters of 2019 by category.
Best Water Heaters of 2019
Here's our top choices for water heater systems:
Below we go into detail about the benefits of each of these systems.
Best Tankless Water Heater System
Rinnai RUR199i 9.8 GPM Sensei+ Condensing Tankless Hot Water Heater with Built-In Re-Circulation Pump for Indoor Installation
This is the most efficient, top rated tankless water heater we carry. It has all the bells and whistles for someone who is looking for maximum efficiency and performance. Available in both natural gas and liquid propane fuel types, the Rinnai RUR199i offers 199,000 BTUs of power and a hot water flow rate of 0.26 – 9.8 GPM, making this a great option for using three to six water fixtures (showers, washing machines, sinks) simultaneously.
Budget Tankless System
Rinnai V75i High Efficiency Non-Condensing, 7.5 GPM Tankless Hot Water Heater for Indoor Installation
For a tankless water heater, the Rinnai V75i is an absolute steal for the price. Ideal for a home with two to three bathrooms, this heater provides 180,000 BTUs and a flow rate of 0.26 – 7.5 GPM. The Rinnai V75i is ideal for simultaneous use of two to four water fixtures at a time, making this a great option for a smaller household. The Rinnai V75i is perfect for those who want the efficiency of a tankless system without the high upfront cost.
Best Storage Tank Water Heaters
Natural Gas, Basic Tank Type
Bradford White RG250T6N 50 Gallon Tall Atmospheric Vent Water Heater Natural Gas
The Bradford White RG250T6N is one of the best gas water heaters of 2019. It's well-built, made in the USA, and features a classic storage tank design. This 50-gallon natural gas storage tank system provides 40,000 BTUs of thermal power and features a First Hour Rating of 89 gallons. This means it delivers 89 gallons of hot water in an hour of use if the tank is fully heated to begin with. With features like a corrosive-protection lining and an efficient heating system, the Bradford White RG250T6N is a budget-friendly option that doesn't compromise quality.
Power Vented Tank Type
Bradford White RG2PV75H6N 75 Gallon, Power Vent Water Heater, Natural Gas
If you're looking for a workhorse of a system for a larger household, you've found it. The Bradford White RG2PV75H6N delivers highly efficient performance for high-demand households. Its power vented design is more efficient than atmospheric vent water heaters, and it features an input of 76,000 BTUs. The Bradford White RG2PV75H6N features a 90 degree recovery rise in about 82 minutes. This means that when cold water enters the tank, it will take about 82 minutes for it to rise 90 degrees. For large families who want an efficient storage tank system, it doesn't get any better than this U.S.-made system.
Basic Electric Storage Tank
Bradford White RE240S6-1NCWW 40 Gallon Upright Electric Water Heater – 240 Volt/4500 Watts
Electric storage tank water heaters are inexpensive, making them a great option for those who don't want to front the bill for a tankless. The 40-gallon Bradford White RE240S6-1NCWW features a First Hour Rating of 55 gallons and a 90 degree recovery rise of about 21 minutes. Like other Bradford White options, this model is made in the USA and well-built.
Heat Pump Electric Storage Tank
Bradford White RE2H50S6-1NCWT 50 Gallon AeroTherm Heat Pump Water Heater
Though higher in cost than basic electric storage tank systems, heat pump electric water heaters are much more energy efficient — in fact, the Department of Energy states that they are two to three times more efficient than standard electric units. Unlike standard systems, which generate heat directly, heat pump heaters work by drawing in heat from the surrounding air and storing it in the tank. The RE2H50S6 is Energy Star Qualified and features four operating modes: heat pump, hybrid, electric, and vacation mode. This gives you flexibility and control over your hot water usage. This model features a 90 degree recovery rise of about 21 minutes.
What Brand of Water Heater is Most Reliable?
We believe that Rinnai and Bradford White are the best water heater brands, and each brand has its own unique benefits. A water heater is one of the most important home appliances you'll purchase, and it's best to replace yours every 10 to 15 years. That being said, you want to make sure whatever systems you purchase gives you the quality and performance you expect.
Rinnai
Rinnai manufactures state-of-the-art systems and leads the way in tankless design. The brand has superior quality standards, making sure that all products meet industry standards and undergo rigorous testing before they make their way to customers' doorsteps. Rinnai water heaters feature an array of advanced technology to help improve efficiency and customer satisfaction.
Bradford White
With a reputation for durability and quality, Bradford White's storage tank water heaters also feature industry-leading technology and innovation. All Bradford White systems are made in the USA, which serves as a testament to the brand's commitment to quality. The brand is known for its quality performance, energy efficiency, and superior design.
What is the Average Cost to Replace a Water Heater?
The average cost to replace a water heater depends on the design. Tankless are more expensive than storage tank. Tankless water heaters range in price from $729 to upwards of $2,000. On the other hand, storage tank systems vary widely in price due to the tank size. Typically, the larger the tank, the more expensive the product. Smaller storage tank water heaters (i.e. less than 19 gallons) range in price from $270–$570. Larger storage tank systems (i.e. 40 or more gallons) typically fall in the $690–$2,000.
However, keep in mind that efficiency and technological advancements can also impact the cost of storage units. Expect to pay more for higher end products compared to the more basic options.
Choosing a System for Your Home
Doing the dishes, taking a shower, doing laundry — all of these basic everyday things demand hot water. If you're in the market for a new water heater, we hope that this information helps you determine the best system for your home. Shop our selection of hot water heaters and rest assured that we'll be here to assist you every step of the way.