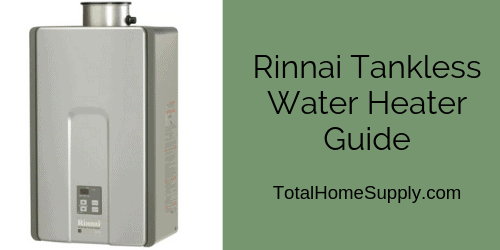 Rooted in values of Harmony, Spirit and Truth, Rinnai sets itself apart from the pack in the water heater industry by its commitment to a core three-pronged philosophy: "Foster people with a rich sense of humanity", "Set aims in accordance with our philosophy", and "apply thinking backed by the fundamentals of science." It aims to weave these values into all of the products it produces.
For over a century, Rinnai has been delivering the best in tankless water heaters with sophisticated, efficient performance and is showing no signs of slowing down.
The Rinnai North American distribution center can be found in Peachtree, Georgia. The brand continues to expand and innovate in the water heater field and is working to incorporate locally sourced components into their products.
This company has been around since 1920 when it was founded by Hidejiro Naito and Kanekichi Hayashi. Rinnai has over 30 million tankless water heaters installed worldwide.
This brand stands on more than its reputation alone. Find out why millions of homeowners trust Rinnai for their water heating needs.
Why Should You Choose Rinnai?
You may have heard about some of the benefits and drawbacks of storage versus tankless water heaters. For example, they are typically higher efficiency, with advanced technology included. Rinnai tankless water heaters have a temperature controller that sets a specific output temperature and have an activation flow rate as low as 0.4 gallons per minute.
Rinnai products also set themselves apart by their versatility, with gas type convertible and replaceable parts. This flexibility allows you to adjust and update your device in accordance with your specific needs and doesn't box you in.
If you are concerned about safety, Rinnai has many safety devices for your protection:
Function lock
Freeze protection
Scale build-up detection
Flame rods
You can have peace of mind knowing that they've built in many components for your protection.
Tankless water heaters last on average twice as long as their storage tank counterparts, making these options great picks for making your dollar stretch further. Because these types of water heaters work by processing and heating the water continuously, they use less energy and don't break down as quickly.
Although tankless water heaters can be lower capacity, they can connect to other units if you find yourself with a sizing issue and in need of more hot water. Don't count them out if you have commercial capacity needs!
Types of Rinnai Water Heaters
Rinnai offers several types of water heaters depending on what your needs are, including non-condensing, condensing, outdoor and indoor installation, commercial options, and different fuel types.
Non-condensing water heaters
A non-condensing tankless water heater works by turning on the cold water tap, allowing it to flow into the tankless heater. There, the flame is activated and the water warms as it travels through the copper coils in the heat exchanger and enters your pipes, and finally into the given appliance. The flame adjusts accordingly based on the desired temperature.
A non-condensing hot water heater will push the hot gases through the vent to the outside. Typically non-condensing water heater units have efficiencies around 80%, meaning around 20% of the heat gets wasted. For this reason, non-condensing water heaters are not as cost prohibitive.
Condensing water heaters
Like the non-condensing water heater, condensing ones work much the same way. Cold water from the tap enters the tankless heater to activate the flame in the condensing water heater. The water pre-heats while passing through the stainless steel heat exchanger and continues to warm up throughout the rest of the process.
The differences with a Rinnai condensing unit is a condensation trap and drain built into the unit, different venting systems, and a secondary heat exchanger.
Indoor Installation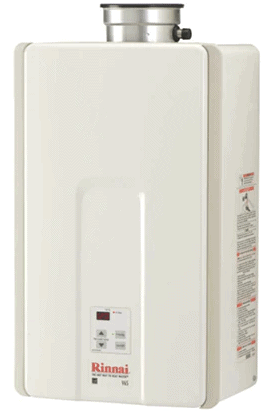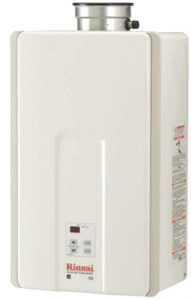 One of the great features of tankless water heaters is their space efficiency, with many units being the approximate size of a carry-on.
For indoor installation, this feature is especially key. Indoor installation uses concentric venting, where one pipe allows for fresh outside air in, and the other allows the exhaust out for optimal performance and space saving.
Outdoor Installation
In many units, the choice of indoor/outdoor installation is not interchangeable and must be chosen at purchase. The main reason that many people like outdoor installation of water heaters is that they do not require venting, which can be an added cost.
Outdoor installation is not recommended for locations with extremely hot temperatures or where they may be exposed to power lines, for safety reasons.
Commercial
Do you own a business or other large space where you would like to deliver hot water efficiently to multiple spaces? There are options for you.
Rinnai commercial units for outdoor installation are a great choice for these situations. With an endless supply of water, these systems work great for multi-family homes, small businesses, schools, and other similar locations.
Things to Consider Before you Buy
One of the main things you want to think about before investing in a Rinnai water heater is what you will be using it for. Do you need it for a vacation home or for everyday use? Will multiple appliances be using hot water at the same time? Will multiple visitors be staying at your house often?
Keep the purpose and capacity specifications in mind when looking for your hot water heater. Calculate the maximum flow rate and BTU range to help you narrow down the size you should be looking for.
If you aren't sure which one is best for your needs, consult a professional prior to purchase.
Could Rinnai be the Right Fit for You?
There are many reasons why a Rinnai on demand water heater might be exactly what you are looking for. If you have been wanting to go for a tankless option, why not choose a brand that has a century's worth of credit and proof of its products' capabilities?
Total Home Supply is a Rinnai dealer and we carry many of their products. You can browse them all here!
If you need a little more direction in choosing your Rinnai product, contact the customer service department here and we can advise.