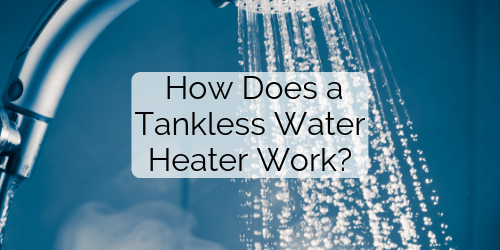 Whether you're getting ready to take your morning shower, wash some dishes, or scrub your hands, you want your hot water to work.
For those wanting a fast and efficient water heater, a tankless option may be worth considering.
It can be hard to choose the right large appliance for your home with so many options available. Given the cost of such items, it's a good idea to investigate the different kinds available before taking the plunge. This is true for water heaters.
Storage is one main distinction you'll see when comparing across types of water heaters. There are storage, also know as tank water heaters, versus tankless ones. Tankless water heaters, which are also called instantaneous or demand type water heaters, dispense hot water as needed.
Depending on the type of home you own, your budget, and your water usage, one type may be a better option over another. If you've been interested in potentially installing or switching to tankless (or you're open to learning about them!), find out more below.
How Does a Tankless Water Heater Work?
Tankless water heaters work by heating the input water right when hot water is turned on, so there is no storage tank needed. Once the hot water tap is switched to on, the cold water enters the unit to be warmed to a certain temperature and released. With this system setup, these heaters are able to deliver an ongoing supply of hot water. This means when you need hot water, you don't have to wait for the storage tank to fill up with enough water to use.
However, the flip side is that tankless systems can have a decreased flow rate as compared to storage models.
Because of this lessened output capacity, smaller tankless models can only serve one to two water sources at once. Generally, the hot water rate for tankless water heaters is about two to five gallons per minute depending on the model. This could mean if you have a large family or host visitors often, more than one tankless water heater may be needed for your household. Consider how often you have multiple water sources being used at once before making the switch.
To increase the capacity of your tankless system, install two tankless water heaters together to share the output. Alternatively, some individuals install separate tankless units for appliances with especially high levels of water consumption.
Benefits of a Tankless Water Heater
If you like to take a long shower a tankless water heater may be what you need. You have an endless supply of hot water. While you may not be able to run 4 showers at once, you can run 1 or 2 for as long as you like without ever worrying about running out of hot water.
Beyond getting hot water on-demand, many people who opt for a tankless water heater are motivated by energy efficiency. According to the US Department of Energy, tankless heaters can be 24 to 34% more energy efficient than their storage counterparts.
Another draw for tankless units is their increased longevity. While a storage water heater may last 10 to 15 years, most tankless water heaters last over 20.
While the sticker price of tankless may be an initial deterrent, the energy savings and added lifespan of the water heater's life could help offset the higher cost.
Different Types of Tankless Water Heaters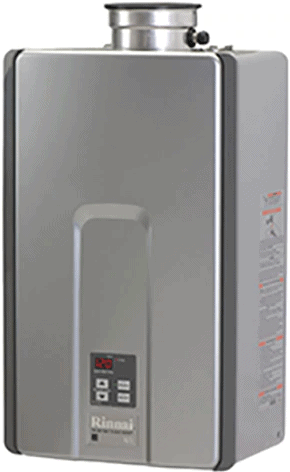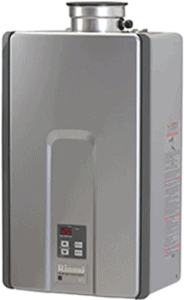 All tankless water heaters are not created equal. Depending on the kind you end up getting, you may see differences in performance and energy efficiency.
There are a few other factors you should consider when comparing demand water heaters, including fuel type, installation location, venting, and commercial or residential types.
Fuel Type – Powering a tankless water heater can be done with natural gas, propane, or electricity to name a few. Natural gas water heaters

can be found throughout the United States, and can often be a more economical option. However, a

liquid propane

tankless water heater may also be preferable, depending on the options and costs available. Both natural gas or liquid propane can be used in many systems, so be sure to choose the

fuel type that you need.
Outdoor vs indoor installation – Are you in the process of building a new home or planning to install your new water heater in your current home? The answer to this question may affect whether or not you would like to go with outdoor or indoor installation. As the label suggests, the main difference in these models lies in where they are installed. For new homes, an indoor unit is more preferable

, as it can be built into the infrastructure of the home and will not have to withstand the elements.

Conversely, water heaters added to an existing home could be installed outdoors

, since they require fewer plumbing adjustments and less venting.

Venting – Tankless hot water heaters use special venting to transfer the exhaust gas to the outdoors to dissipate. Since tankless heaters blow the air horizontally, there is more versatility around where they can be installed. Certain venting designs can also offer safety benefits. For example, a concentric vent containing both intake and outtake pipes ensure the vent is cool to the touch. Be sure to consult a professional about which venting option is right for you and your space.
Commercial vs residential – Tankless units vary in type and capacity. Those used for a business or office space

and those installed in a home environment have certain differences.

Commercial units often use multiple tankless units to accommodate greater capacity, while residential models

are designed for lower rates of usage. If you aren't sure if your situation qualifies as commercial or residential, talk to an expert before buying.
Make the Switch to Tankless
There are many reasons why people decide to make the switch from a storage water heater to a tankless. Whether you've got a small space to deliver hot water to or want to cut down on your energy costs every month, a tankless water heater may be the right move for you.
With added longevity and performance, tankless water heaters justify their slightly higher price point. Before selecting a model, consider which fuel type, venting style, and classification best fit your situation.
Here at Total Home Supply, we want to help make the water heater purchasing decision an easy one. If you still aren't sure which heater would work best for your space, feel free to contact us to get started. One of our representatives will be happy to help answer your questions.
Ready to start shopping? We've got water heaters in many shapes, sizes, and options.
Browse our tankless water heater selection today!