The cold season is a busy time for shopping for thermostats. Whenever fall and winter comes, the thermostat becomes one of the indispensable parts of daily life, alongside snow tires, sweaters, and a steaming cup of chocolate.
Fortunately, Daikin has you covered. In this product feature, we take a look at one of the most popular thermostats on the market today, the Daikin One+ Smart Thermostat.
What is a Smart Thermostat?
A smart thermostat is a thermostat that can be controlled with a smartphone, tablet, and other devices that are connected to the Internet. Smart thermostats allow you to:
Remotely control the thermostat from any cloud-connected device

Do so anywhere in the world, as long as you have an Internet connection

Program schedules and and routines

Integrate it as part of a smart home system.
Some smart thermostats are also supported by popular voice assistants like Amazon's Alexa, Google Assistant, and Apple's Siri. This allows them to be controlled by voice, in addition to integration with the home automation ecosystem of these vendors.
What is the Daikin One+ Smart Thermostat?
The Daikin One+ DTST-ONE-ADA-A smart thermostat is an intelligent home air controller from Daikin, one of the top HVAC brands. It is designed to operate with Daikin's wide range of HVAC systems, and offers full-two way communications support.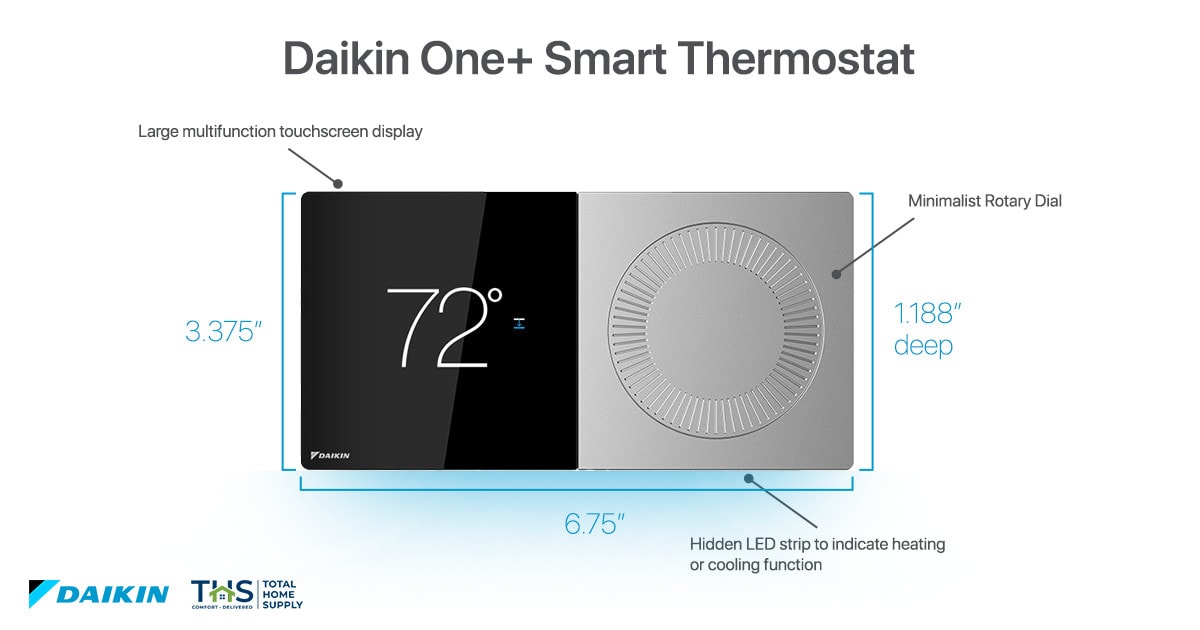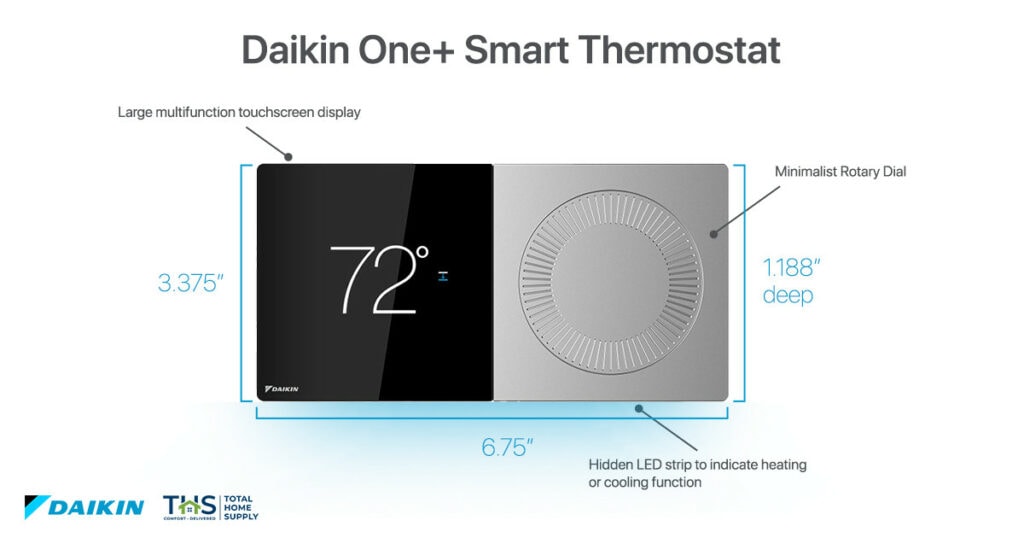 Externally, the Daikin One+ comes in a sleek modern design in black and gray color. It has a large high-resolution LCD screen, complemented by a minimalist rotary dial for manual temperature control. At the bottom, a hidden LED light bar shows the system status, with a soft red glow for heating and a muted blue glow for cooling.
Digging into the settings, the Daikin One+ allows you to control:
Indoor units mode (auto/heat/cool/off)

Set points (dual or single set points)

Fan speeds

Louver position, for wall-mounted and ceiling cassette units.
Daikin One+ Smart Features
As a smart thermostat, the Daikin One+ boasts the following features over traditional thermostats:
☑ WiFi connectivity
The thermostat can be controlled from a smartphone, tablet or computer using the Go Daikin app, available for iOS, Android, and PC. This allows you to remotely control the thermostat from the comfort of your couch or even the other side of the world, as long as you have Internet!
☑ Smart home integration
Daikin supports both Amazon Alexa and Google Home automation, and it can be controlled by Alexa or Google Assistant.
☑ Intelligent Energy Management
You can create home/away schedules, as well as weekday/weekend schedules. 
☑ Auxiliary device support
The Daikin One+ includes two dry outputs for auxiliary devices such as an auxiliary heater, humidifier or dehumidifier.
Daikin One+: A Human Touch
Beyond building a smart thermostat, Daikin's engineers designed the Daikin One+ with a human element. The thermostat is designed to be convenient, easy to use, and easy to diagnose when needed.
Smart geo-fencing
One of the best features of the Daikin One+ is the smart geo-fencing. The thermostat recognizes its location and sets up a virtual "fence" around your house.  
Using the location services on your phone, it is able to detect whenever you're at home or whenever you leave. This means the system can start itself when it detects you arriving home, and automatically set it to Away or Off mode once you leave the vicinity. No more wasted bills, or wondering if you forgot to switch off the thermostat before going out!
Easy diagnostics
Should the Daikin One+ have an issue, error messages and maintenance notifications are also displayed on both the thermostat as well as the phone or tablet app. 
Rather than being an incomprehensible error code, these messages are displayed in an easy to read, natural language format (English, French or Spanish), allowing users to easily understand what the problem is, and conveniently get in touch with Daikin's support.
How Can the Daikin One+ Help Save Money?
The Daikin One+ can help reduce energy consumption by cooling and heating the home only as needed, thanks to smart features like routine learning and scheduling. Your mini splits are only switched on as required, and then turned off automatically or placed on standby mode once the desired temperature is reached.
Smart geofencing works in the same way, by turning on your heating or cooling just before you arrive, and turning it off when no one is home. This provides worry-free comfort, convenience and efficient use of energy.
All of these features help save money by minimizing energy wastage, reducing utility costs, and prolonging the life of your mini splits.
Daikin One+ Compatible Units
The Daikin One+ is compatible with many Daikin single zone and multi zone indoor units without requiring an adapter. These include:
Emura Wall Units (FTXR**TVJU)

Slim Duct Concealed Ceiling Units (CDXS/FDXS**LVJU)

Floor Mount Units (FVXS**NVJU)

Wall Mount Units (CTXS/FTXS**LVJU; FTX**UVJU; FTXG**HVJU)
For other Daikin indoor units not on the list, the One+ thermostat requires an S21 connector.These include:
9,000 and 12,000 BTU FTX and FTK**NMVJU units (requires the interface adaptor KRP067A41E) 

15,000, 18,000 and 24,000 BTU FTX/FTK**NMVJU units (requires interface adaptor KRP980B2E)
The Daikin One+ is not compatible with 17 Series indoor wall units, and those that use a P1P2 connection (such as FDMQ Ducted Ceiling units, FFQ Vista Ceiling Cassettes, SkyAir units) for now. This is a planned update for this thermostat which would be "pushed" via OTA at a later date.
Daikin One+ Specifications
| | |
| --- | --- |
| Product Name and Model: | Daikin One+ DTST-ONE-ADA-A |
| Installation Type: | Wired |
| Type: | 24V |
| Programmable: | Yes |
| Use with Heat Pump: | Yes |
| Use with Gas/Oil: | No |
| Use with Electric Furnace: | No |
| Width (in.): | 6.75 |
| Depth (in.): | 1.188 |
| Height (in.): | 3.375 |
About Daikin 
Founded in 1924 in Osaka, Japan, Daikin is one of the leading brands for high quality air conditioning solutions for residential, commercial and industrial applications, with a presence in over 170 countries and boasting 100 production facilities worldwide. Daikin's mini split air conditioning systems offer excellent performance and high energy efficiency in elegant and stylish packages. An extensive product lineup utilizes Daikin technology for lower costs and environmental impact, utilizing inverter technology and R32 refrigerant.
Total Home Supply carries a wide range of Daikin products, from single to multi-zone mini split systems  as well as parts, optional components and accessories. Visit our Daikin lineup today!