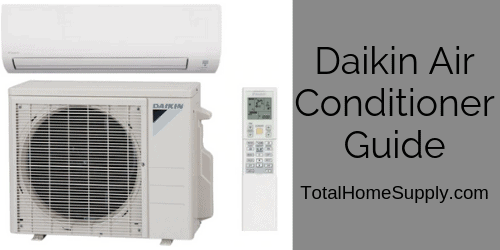 As seasons come and go, those in the heating and cooling market develop new technologies designed to keep us comfortable.
With nearly a century of ongoing work in the air conditioning manufacturing industry, Daikin Industries, Ltd. has proven that it is here to stay.
Founded in 1924 by Akira Yamada, this multinational company is headquartered in Osaka, Japan and has operations in several continents. Daikin is widely known as the inventor of variable refrigerant volume systems and has developed new innovations in the split system air conditioning industry.
If you are looking into purchasing a mini split system, Daikin HVAC products have a history of quality and cutting edge technology that make them stand out from the pack. Learn more about the Daikin brand and what they bring to the table to see if their mini split and other units may be the perfect pick for you.
Features of Daikin HVAC Products
Daikin has built a reputation over the years of high-quality products that are sleekly designed with cutting edge technologies with excellent warranties to boot. No matter what features are important to you, Daikin products have much to offer across the board –– quite literally. Here are a few features of their products that stand out:
Their mini split wall units have two-area sensor controls that, upon sensing movements, set the temperature to the desired default settings. Conversely, when it detects no movement, it will set to energy saving mode. Pretty smart. (Did we mention that they are also energy star rated?)
Versatility comes standard with Daikin products, with the Comfort Control App, which allows you to control the temperature from anywhere.
Cutting edge inverter technology that comes standard in many Daikin products works to create even air distribution by adjusting the power when needed –– all with quiet operation, which adds an extra layer of comfort and peace to your space.
Daikin Mini Split Air Conditioner Systems
Daikin offers many different types of mini split systems, including multi-zone, single zone, dual systems, and area-specific units. For this reason, this brand can deliver the right products for many different needs.
Multi-zone mini splits
Got a sprawling home? Office space with multiple rooms?
If you need to control the temperature of multiple rooms at once, a multi-zone mini split can be a great choice with no need to install ductwork. Daikin split systems are high quality and offer many features that are sure to suit your cooling, and possibly heating, needs. A multi-zone system typically consists of an outdoor unit, and then a certain amount of indoor units to cool and heat the spaces that you want. Daikin mini splits come in a wide range of BTUs, with many different indoor unit types to choose from.
Daikin multi-zone mini splits and indoor units are equipped with the latest technology to assist in efficiently making your space as comfortable as possible.
Single zone systems
Maybe you need a mini split unit for a specific room during a particular season, such as a sunroom in winter or attic in the summertime.
For these instances, a single zone system can be the perfect fit, as they allow you to only use (and pay for!) the temperature control in a particular space. Daikin single zone systems operate quietly, and come with inverter technology which helps to reduce temperature fluctuations.
Given their lower capacity, single zone systems can be a very budget-friendly option to get started with a Daikin air conditioning system.
Air conditioner / heating systems
Many of us live in variable climates, where it is helpful to have multiple temperature controls at the ready. Dual systems that include both cooling power and a heat pump offer flexibility for rooms with different needs throughout the year. Daikin has no shortage of split systems that offer both cooling and heating options.
Indoor units
Perhaps you already know that your Daikin product will need to be installed in a particular location within your space, such as a wall, ceiling, or floor. Daikin offers different types of indoor units that may be purchased by themselves but must connect to an existing mini split system (they won't work on their own). So, if you have been wanting to add onto or expand your temperature control, browse through Daikin's selection of indoor units.
Emura wall units are a popular option when it comes to hooking up additional units to your current mini split network. These units have a sleek design as well as the 2-Area Intelligent Eye mentioned earlier, that controls the unit based on room activity.
However, your space considerations may make it more sensible to go for a floor or ceiling model instead. If you are unsure which type is right for you, consult an HVAC professional.
Commercial Units
Do you have a business or office space that requires a high-capacity unit to get the job done?
If you are looking for a commercial grade product ideal for little shops, restaurants, and small office spaces, indoor units with low sound levels and higher level BTU capacities may do the trick. Daikin offers commercial systems that include features such as 24 hour timers, auto restart after power failure, and self diagnosis with digital display.
Another similar system such as this one assists in controlling the air temperature, and is ideally installed in areas with false ceilings.
Things to consider before you buy
Before you buy a mini split air conditioner, there are several things that you will want to consider.
First, determine what BTU capacity you will need from the size of your space. This calculation will help you narrow down which ones are in the right range for your needs.
Other considerations may include whether you would like a residential or commercial unit, as well as whether you will need both heating and cooling.
Of course, your budget for such a purchase is also an important thing to account for.
Find a brand that you know will deliver high quality products.
Taken together, these elements can help you narrow down the available options.
Could a Daikin System Be Right for You?
If you have been searching for the right mini split for your home or other space, consider checking out the options available from Daikin. For decades, people have trusted Daikin as a premium choice for mini splits, and for good reason.
Start browsing our wide array of Daikin products today. You just might find the perfect fit.
Here at Total Home Supply, we are committed to helping you find the right unit for your needs. If you need help deciding which one is right for you, feel free to contact us so that we can point you in the right direction.