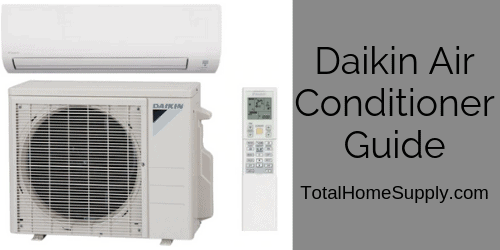 As seasons come and go, those in the heating and cooling market develop new technologies designed to keep us comfortable.
With nearly a century of experience in the air conditioning manufacturing industry, Daikin Industries, Ltd. boasts a rich history and proven expertise when it comes to air conditioners and mini splits.
Founded in 1924 by Akira Yamada, this multinational company is headquartered in Osaka, Japan and has operations in several continents. Daikin is widely known as the inventor of variable refrigerant volume systems. The brand is also notable for birthing new innovations in the split system air conditioning industry.
If you are looking to purchase a mini split system, Daikin HVAC products have a time-tested history of quality, while packing cutting edge technologies that make them stand out from the pack. Learn more about the Daikin brand and their trusted, reliable line of mini split systems.
Daikin AC Unit Features
Daikin has built a reputation over the years of high-quality products backed by excellent warranties. No matter what features are important to you, a Daikin AC unit has much to offer across the board –– quite literally. Here are some features of Daikin products that distinguish them from competitors:
Their mini split wall units have

two-area sensor controls

that, upon sensing movements, set the temperature to the desired default settings. Conversely, when it detects no movement, it will set to energy saving mode. Pretty smart. (Did we mention that they are also Energy Star-rated?)

The Comfort Control App allows you to control the temperature from anywhere, even when not at home. This allows you to turn on the AC before getting home, ensuring you get a comfortingly cool welcome upon your arrival.

Advanced inverter technology enables Daikin AC units to adjust the power as needed, instead of going full-blast all the time. This results in increased energy efficiency, higher utility savings, and longer operational lifespan for the Daikin AC unit. 
Daikin Mini Split Systems
As a market leader, Daikin offers many different types of mini split systems, including multi-zone, single zone, dual systems, and area-specific units. Whatever size and capacity you need, Daikin carries the right mini split.
Multi-zone mini splits
Do you have a sprawling home, or an office with multiple rooms that need to be cooled?If you need to control the temperature of several rooms at once, a multi-zone mini split makes for a great choice. It allows you to provide a cost-effective cooling solution without having to install ductwork. A multi-zone system typically consists of an outdoor unit, combined with a flexible number of indoor units to cool and heat the spaces that you want.
Daikin's high-quality multi-zone split systems come in a wide range of BTUs, with many different indoor unit types to choose from.
Recommended Daikin Multi-zone Mini Split:
Daikin 5MXS48TVJU 48000 BTU Class Configurable Five Zone Heat and Cool Split System
This multi-zone outdoor unit can support two to five indoor units. It features a newly designed drain pan for better drainage with less ice and water build-up under the unit, especially helpful for Northeastern states with colder climates. The drainage system has 10 drain holes and built-in slopes to facilitate draining. In addition, the PCB board is specially manufactured with enhanced cold climate parts. 
Also new on the 5MXS48TVJU is Daikin's Intelligent Defrost Mode. This mode allows the outdoor unit to optimize the duration and frequency of defrost operation based on the last cycle of the system. This maximizes operation without loss of heating during the defrost mode for additional indoor comfort.
Single zone systems
Maybe you need a mini split unit for a specific room during a particular season, such as a sunroom in winter or attic in the summertime.
For these instances, a single zone system can be the perfect fit, as they allow you to only use (and pay for!) the temperature control in a particular space. Daikin single zone systems operate quietly, and come with inverter technology which helps to reduce temperature fluctuations.
Given their lower capacity, single zone systems can be a very budget-friendly option to get started with a Daikin air conditioning system.
Recommended Daikin Single-zone Mini Split:
Daikin FTX12AXVJU / RX12AXVJU 19 Series 12000 BTU Class Heat Pump 19 SEER Single Zone System
The Daikin 19-Series provides energy efficient, comfort control for one space. This particular unit boasts 10,900 BTUs of cooling while the heat pump offers 13,500 BTUs of heat, with an EER of 12.5 and a SEER rating of 19.
Features include Econo modes, a mold-resistant washable air filter, auto-swing (up/down vertical flow with manual horizontal left/right adjustment), auto fan speed, night set mode, dry function, fan only and on/off timer. The system has 4 fan speeds plus TURBO Mode for enhanced quick cooling.
The indoor units on the new 19-Series also include Blue Fin Protection on the coil to help ensure the condensate reaches the drain pan more easily, as well as an indicator light to let you know which mode you are in: cooling, heating, or fan only, when the system is on. The system can be connfigured with an optional WiFi adapter for smart home integration.
Daikin Air Conditioners / Heating Systems
Many of us live in variable climates, where it's helpful to have multiple temperature controls at the ready. Dual systems that include both cooling power and a heat pump offer flexibility for rooms with different needs throughout the year. Daikin has no shortage of split systems that offer both cooling and heating options.
Recommended Daikin Air Conditioner with Heating Function:
Daikin 4MXS36RMVJUA 36000 BTU Class Configurable Quad Zone Heat and Cool Split System
The Daikin MXS multi-zone series combines inverter technology and heating functions with a flexible array of indoor units in different BTUs, from 7,000 up to 24,000 BTUs depending on the unit type. Depending on indoor units you choose, it can achieve energy efficiency levels of up to 17.7 SEER, up to 9.2 EER, and up to 12.2 HSPF. Total comfort control with added savings!
This is accomplished with the use of a variable speed compressor with inverter technology, which allows for a space-saving design and quiet operation. It also uses Reactive Temperature Monitoring that allows users to set the room temperature, while the system automatically adjusts the output required to reach the desired temperature levels. 
This specific model is rated for 36,000 BTUs of cooling capacity and must be connected to a minimum of two indoor units. A third or fourth unit does not have to be added right away – one or both can always be added at a later date. The system will adjust and allocate the required BTUs needed in each area up to the total of 36,000 BTUs.
Indoor units
Perhaps you already know that your Daikin product will need to be installed in a particular location within your space, such as a wall, ceiling, or floor. Daikin offers different types of indoor units that may be purchased by themselves but must connect to an existing mini split system. So, if you have been wanting to add onto or expand your temperature control, we also provide selection of indoor units for your Daikin outdoor unit.
Emura wall units are a popular option when it comes to hooking up additional units to your current mini split network. These units have a sleek design as well as the 2-Area Intelligent Eye mentioned earlier, that controls the unit based on room activity.
However, your space considerations may make it more sensible to go for a floor or ceiling model instead. If you are unsure which type is right for you, consult an HVAC professional.
Commercial Units
Do you have a business or office space that requires a high-capacity unit to get the job done?
If you need commercial-grade cooling for small shops, restaurants, and office spaces, indoor units with low sound levels and higher level BTU capacities may do the trick. Daikin offers commercial systems that include features such as 24 hour timers, auto restart after power failure, and self diagnosis with digital display.
Recommended Daikin Single-zone Mini Split for Commercial Application:
Daikin FBQ42PVJU / RZR42TAVJUA 40500 BTU Class SkyAir Commercial DC Ducted Concealed Ceiling Cool Only 16.0 SEER Single Zone System
The innovative SkyAir system is designed to quietly blend into the ambiance of shops, restaurants, small offices or home environments. The outdoor unit is for use with Daikin 42,000 BTU wall mount, ducted, cassette and ceiling suspended indoor units. Indoor units include SkyAir FAQ, FBQ, FCQ, FHQ and FTQ.
This system includes the outdoor inverter compressor unit as well as the indoor DC Ducted Concealed Ceiling Unit. The indoor units feature low sound levels, while the outdoor unit is designed to last and comes with an Anti-corrosion Treatment for the outdoor heat exchanger fin. It has an External Static Pressure (ESP) rating up to 0.8″ W.G, and comes with a digital display and self-diagnosis functionality for pain-free operation.
Recommended Daikin Commercial Mini Split with Heat Pump:
Daikin FTQ18TAVJUD / RZQ18TAVJUA 18000 BTU Class SkyAir Cooling / Heat Pump Commercial Vertical Air Handler 15.5 SEER Single Zone System
If your commercial or office space requires both cooling and heating, Daikin also has you covered. The Daikin FTQ18TAVJUD / RZQ18TAVJU 18000 BTU system includes the outdoor inverter compressor unit as well as the indoor Vertical Air Handler. This system will operate in the cooling mode when outdoor temperatures are as low as 23°F up to 122°F and will heat with 100% efficiency when outside temperatures are as low as -4°F with no electrical heat (when paired with the comparable RZQ heat pump model compressor up to 3 tons).
This system uses Daikin's Vertical Air Handler System. The unit is installed completely out of view and air is directed through ducts or venting, making it ideal for spaces with existing duct work, as duct work can be reused from old central air installations. 
Compared to a traditional gas furnace/AC system, a vertical air handler system is cost-effective and can be installed as horizontal left, horizontal right, upflow, or downflow installation configurations. It is designed for zero clearance installation, leaving only 24″ clearance in the front of the unit for service and maintenance.  
Things to consider before you buy
Before you buy a mini split air conditioner, there are several things that you will want to consider.
First, determine what BTU capacity you will need from the size of your space. This calculation will help you narrow down which ones are in the right range for your needs.

Other considerations may include whether you would like a residential or commercial unit, as well as whether you will need both heating and cooling.

Of course, your budget for such a purchase is also an important thing to account for.

Find a brand that you know will deliver high quality products.
Taken together, these elements can help you narrow down the available options.
Is a Daikin System Right for You?
If you have been searching for the right mini split for your home or other space, consider checking out the options available from Daikin. For decades, people have trusted Daikin as a premium choice for mini splits, and for good reason.
Start browsing our wide array of Daikin products today. You just might find the perfect fit.
Here at Total Home Supply, we are committed to helping you find the right unit for your needs. If you need help deciding which one is right for you, feel free to contact us so that we can point you in the right direction.