3 Types of Fireplaces to Explore This Winter
Winter may not be everybody's favorite season, but it's arguably the coziest. And what could be cozier than a warm fire in the comfort of your own home?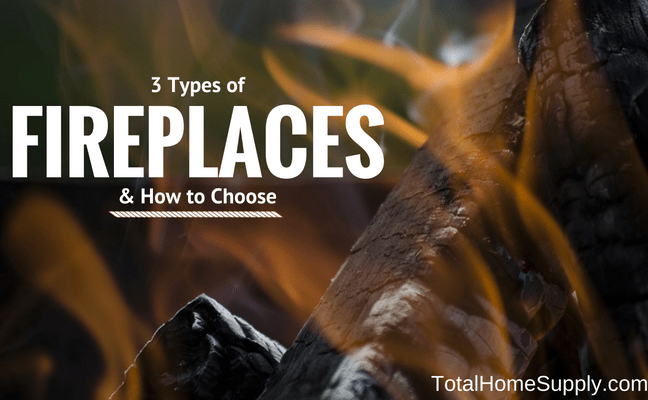 Traditional wood-burning fireplaces are great for heat and ambiance, but many people are turned off by the mess and frustration that comes with them. Gas and electric fireplaces can offer terrific alternatives, but there is still a lot to consider when making such a purchase. What kind of fireplace would best reflect what you want out of a heating/lighting unit, and which model would best suit the existing interior of your home? Let's discuss the features of the three main types of fireplaces and highlight the pros and cons of each.
Wood-burning Fireplaces
A timeless favorite, wood-burning fireplaces have been warming homes throughout the ages. Along with heat, wood-burning fireplaces offer a certain ambiance that's equally as captivating as it is cozy. Plus, some people can't get enough of the smell of a wood-burning fireplace!
Although wood-burning fireplaces have stood the test of time to provide comfort and warmth for centuries, they do come with some drawbacks.
When the fireplace burns wood as fuel, the wood emits carbon monoxide and other toxins in the form of smoke, which is expelled from the home through a flue or chimney. Consequently, much of the heat gets lost in the process, making wood-burning fireplaces the least efficient of fireplaces.
On top of losing heat through the flue, wood-burning fireplaces require a lot of upkeep. You'll need to make sure you have plenty of wood on hand to warm your home, which means either chopping it yourself or going to the store to buy firewood. When the fire is burning, you'll have to pay close attention to maintain its warmth by stoking and adding wood to the fire. You'll also need to keep an eye on the fire to make sure it doesn't get out of hand and cause a house fire.
Since wood-burning fireplaces demand so much maintenance and attention, many families choose to forgo them and opt for a gas or electric fireplace instead.
Gas vs Electric Fireplace
Though fundamentally different as night and day, gas and electric fireplaces actually have quite a few shared benefits between them.
Both gas and electric fireplace units offer a safer alternative to wood-burning fireplaces, producing heat and ambiance without the threat of dangerous sparks jumping out of the hearth. Gas fireplaces produce minimal emissions compared to wood-burning fireplaces, while electric fireplaces do not produce emissions at all.
Furthermore, because gas and electric fireplaces do not rely on burning wood, they are able to provide consistent heat for as long as you want or need, not just for as long as the logs remain burning. A simple On/Off switch, for both fireplace types, also significantly cuts down on the time (and frustration) it often takes to ignite a wood-burning fireplace.
Gas Fireplaces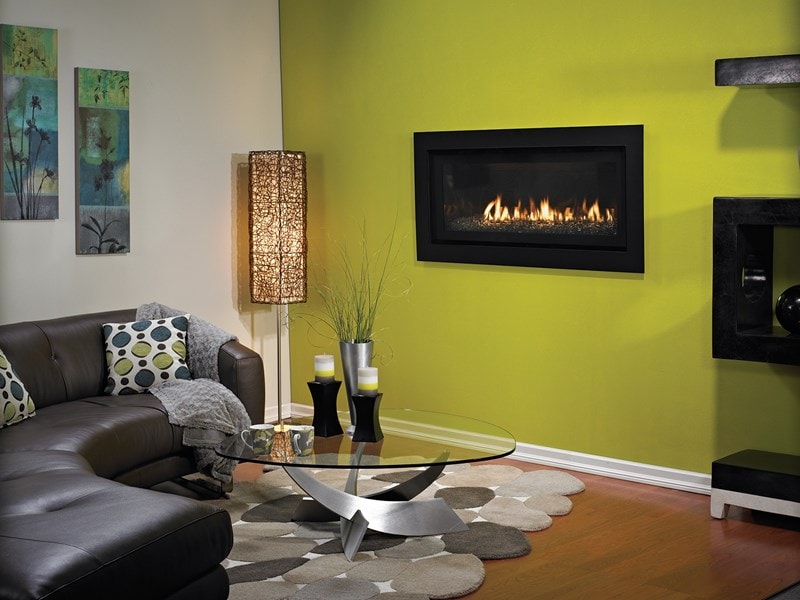 The true pyro's alternative to a wood-burning fireplace, the allure of a gas unit, first and foremost, is the flame. With such a wide variety of gas logs available, choosing a unit that reflects the aesthetic design of your existing interior and also fits your budget is entirely do-able. But if you take a closer look at the selection of gas fireplaces offered at Total Home Supply, you will notice there is something else to consider: Do you need a vented or a vent-free fireplace? Vented and vent-free gas logs vary in safety and efficiency, so it's important to take both factors into consideration when shopping for a gas fireplace.
Vented logs are favored by those looking for visual authenticity above all else. They produce tall, radiant flames that reflect the look of a real wood fire. Though vented gas logs do produce heat, they do not act as an efficient heat source. Because vented logs use more gas than vent-free units, a significant amount of the heat must be vented through the chimney. Thus, it is advised that a secondary heat source be used in addition to a vented log unit.
Vent-free gas logs are ideal for consumers primarily looking for a supplemental heat source. Certainly a more aesthetically pleasing addition to your existing interior than a conventional heater would be, vent-free logs use less gas than vented units for a smaller flame, but better heat. As with all gas heating units, however, there are codes that govern where vent-free products can be used and how many BTU's they can burn within the home. This information can be found on the product page at the time of purchase.
Some log sets, like White Mountain Hearth's 24″ Sassafras Gas Log Set, are available in both vented and vent-free configurations.
Regardless of which type of gas fireplace you choose, it's wise to have your fireplace serviced annually by a qualified HVAC professional. This will help keep your family and home safe and ensure optimal performance from your fireplace.
Price range:
Vented gas fireplaces range in price from about $1,000 to $3,000, while vent-free gas fireplaces are a bit less expensive (ranging from about $750 to $1,500).
Electric Fireplaces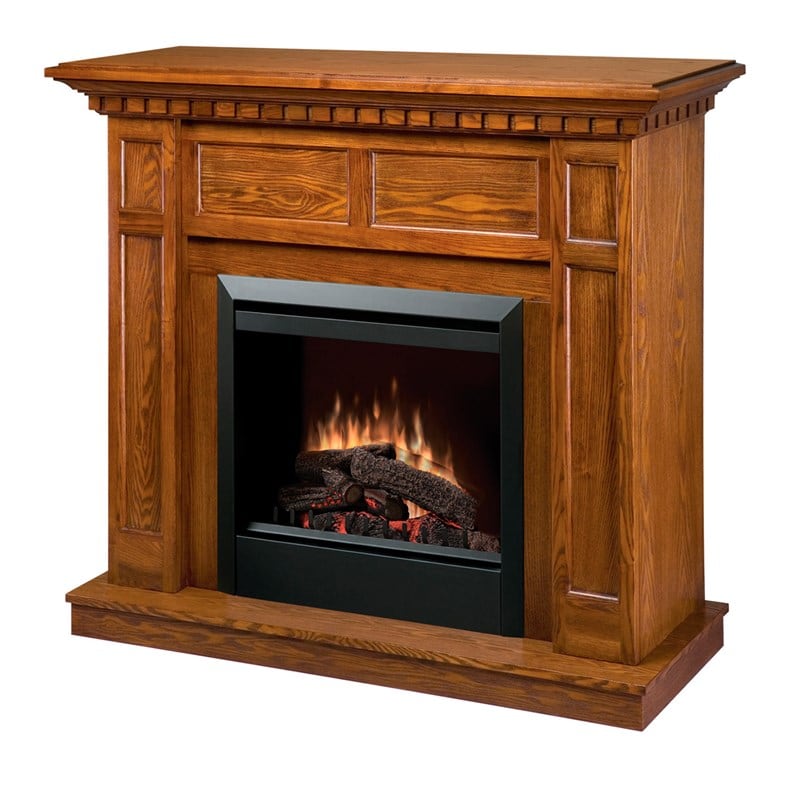 Electric fireplaces are no stranger to the skeptics who wonder how great a fire-less fireplace can actually be. There are many terrific benefits of owning an electric fireplace. When comparing the difference between gas and electric fireplace units, however, there are two major distinctions:
The flame. Using an innovative LED light system coupled with strategically configured reflective mirrors, electric fireplaces create a remarkably realistic illusion of a true fire without the mess or the hassle of a wood-burning fireplace, and without the hazard a real flame.
The option to enjoy a fire with or without heat. Because the flames are just reflected light, the heating component may be switched off separately, allowing you to enjoy the beauty of dancing orange flames all year long.
It's important to note that electric fireplaces should be used as supplemental heat sources, since they don't offer as much heat as gas fireplaces. However, there are some other advantages to owning an electric vs gas fireplace:
Electric fireplaces are more efficient. Because electric fireplaces do not rely on any sort of venting to operate, all the heat generated stays in the room.
Electric fireplaces require less maintenance. With an electric fireplace, there's no need to worry about cleaning up ashes or sweeping the chimney. The only maintenance you'll need to perform is the occasional light bulb change.
Electric fireplaces are safer and more eco-friendly. No open flame and zero gas emissions make these fireplaces the safest and greenest option.
For further customization of the fireplace's aesthetic, our electric fireplaces come featured with either a set of sculpted logs or a glass ember bed. The glass ember bed option, as seen in Dimplex's BLF50 Synergy 50″ Wall-Mount Landscape Electric Firebox, creates a captivating contemporary feel that's perfect for dining rooms and restaurants, while the logs give off a rustic vibe ideal for family rooms and vacation homes.
Electric fireplaces do not require a pre-existing hearth for installation, as many electric fireplace units may be purchased with a mantel. Or, perhaps you would like to save floor space and opt for a wall-mount electric fireplace instead. No matter your vision, we're sure to have a style you'll love.
Price range:
Electric fireplaces are typically much more affordable than gas fireplaces. They range in price from about $99 to $2,500.
Summary
While wood-burning fireplaces have their place in the world, they don't make much sense compared to gas and electric fireplaces. If you're looking for a clean, safe and efficient heat source, consider adding an electric or gas fireplace to your home this season. You'll be able to enjoy a reliable source of heat without sacrificing the ambience that comes with a cozy fire.
If you have an existing wood-burning fireplace, you can convert it to a gas fireplace for as little as $239 with a product like Everwarm's 18″ Palmetto Oak Log Set.
Take a look at more of our featured fireplaces at TotalHomeSupply.com, or contact us for more information on our specific models. Stay warm!