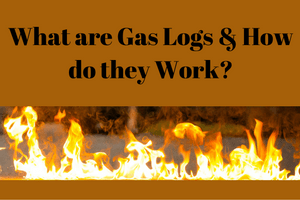 If you've always wanted that cozy glow of a fire but not the hassle of a wood-burning fireplace, a gas log fireplace may be right for you. Gas logs offer all the ambience and warmth of a real, wood-burning fire without the mess and maintenance. Although they look like real wood, gas logs are usually made of ceramic, which enables them to withstand high temperatures. They can be fashioned to look like virtually any kind of wood, from handsome oak to rustic sassafras to beachy driftwood.  We'll discuss how gas logs work and cover the two types of gas log sets available to help you better understand your options before making a purchase decision.
Why are these logs a good choice for the home?
There are many benefits of using a gas log fireplace as opposed to a real wood-burning fireplace. Among them include:
Less maintenance and mess – With gas logs, there's no need to hire a chimney sweep to keep your chimney clean. You also don't have to worry about keeping the hearth free of dust and soot, and perhaps best of all? There's no need to chop wood!
Safer – Because there is no open flame, gas fireplaces are much safer to operate than their wood-burning counterparts.
Warmer – Gas fireplace logs produce more heat than standard fireplaces while retaining more heat, making them more efficient than standard wood-burning fireplaces.
How do gas logs work?
Gas logs are available in two different fuel types: liquid propane and natural gas. Liquid propane gas logs burn at a much hotter temperature than natural gas logs but require a liquid propane tank to operate. Natural gas logs, on the other hand, work with a natural gas line, making them an option for many homeowners who already rely on natural gas appliances.
There are two different styles of gas logs: vented and ventless. The type of logs you'll need depends on several factors, including appearance, efficiency and whether or not you have an existing fireplace.
Vented gas logs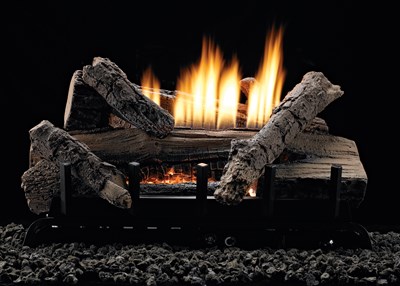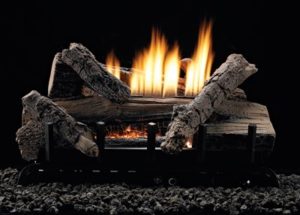 When it comes to a realistic looking fire, vented gas logs are your best bet. They deliver large, yellow flames that resemble exactly what you'd see in a wood-burning fireplace without all the hassle and mess. Additionally, vented gas logs can be installed in an existing fireplace, making it easy for those who want to make the switch from a traditional, burning wood.
Just like a wood-burning fireplace, vented gas logs create carbon monoxide — therefore, they must operate with an open chimney or flue damper to properly exhaust the fumes. The downside of this is that most of the heat escapes, making these types of gas fireplace logs not as efficient as their ventless counterparts. In addition, vented gas logs require more fuel to operate than vent-free gas logs, so if you're looking to save energy, they may not be the best option for you.
Pros: Vented gas logs look more realistic than ventless logs, making them ideal for those who value ambience.
Cons: Vented gas logs are less efficient than ventless logs and require more fuel to operate.
Ventless gas logs
While ventless gas logs are typically more expensive than vented gas logs, they distribute heat more efficiently throughout the room. Because they do not rely on vents to operate, vent-free logs are much better at keeping heat where it belongs: Inside your home. They also don't use as much fuel as vented gas logs.
Ventless gas logs do not require a functioning chimney for installation, making them ideal for that old firebox you're not sure what to do with or newly constructed homes. All you need is a gas line and you're good to go.
The downside of ventless gas logs? They don't look as pretty as vented logs, but this may not be an issue if you value efficiency over appearance. Also, if your room is well-sealed and insulated, moisture can build up and create condensation — although a little bit of humidity may be ideal if you live in a dry area!
The last thing to keep in mind about ventless gas logs is that they cannot be installed in a bedroom unless they're 10,000 BTUs or less. If you're looking to add heat to your bedroom, consider a ventless heater instead.
Pros: Ventless gas logs are more efficient than vented gas logs and use less fuel. They also do not require a functioning chimney to operate.
Cons: Ventless gas logs do not look as good as vented gas logs.
How to install gas logs
To install gas logs, a gas fireplace system must be set up by a qualified gas equipment professional. Once that's complete, you can install your gas logs yourself by following the included step-by-step instructions. Make sure you wear gloves while handling the logs, as they can cause skin irritation.
All of the gas logs we carry here at Total Home Supply come with their own specific set of instructions. Be sure to follow all instructions carefully to keep yourself and your home safe. If you have any questions regarding our gas logs or other heating products, don't hesitate to contact us. We're ready to help put you on the path to a warmer, cozier home.