If you're in the market for a new gas fireplace, you've probably noticed that there are two types of gas logs from which to choose: vented and vent free. While they may look alike on the surface, there's actually a big difference between them. Knowing in advance which you need for your fireplace will save you plenty of time in the long run.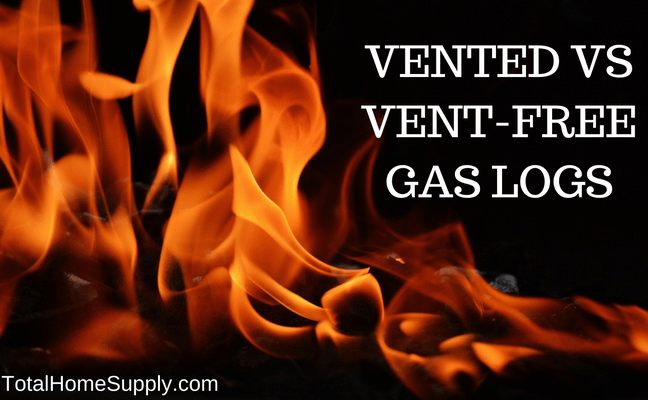 We explore the perks that come with owning a gas fireplace, the types of log sets available, and explore their unique benefits and differences.
What is a Gas Fireplace?
A gas fireplace produces flames powered by natural gas or propane and works as a supplemental way to heat a space and as a decorative feature in the room. These systems make a great alternative to a traditional wood-burning fireplace. While real wood fires are valued for their cozy allure and nostalgic fragrance, they're not the most efficient of heat sources.
For those who want the look and feel of a realistic flame, a gas fireplace or firebox may be your best bet. These days, there are plenty of realistic looking gas log sets that look strikingly similar to real wood, with beautiful flames that dance and provide excellent heat output, just like a real fire.
The main appeal of a gas unit, of course, is it's hassle free! No ashes to clean up, no wood to chop and no chimney to sweep — with minimal maintenance, you can enjoy your fire without worry. All you need is a gas line and you can have a fire at the flick of a switch.
Another appeal is safety. Because there's no uncontrolled flame, there's less of a risk of your fireplace igniting your belongings and causing a house fire.
Vented vs Ventless Gas Logs
Gas fireplaces come in two configurations: vented and ventless. Vented gas logs produce carbon monoxide emissions so your fireplace must have a chimney or flue. Ventless logs do not put off these emissions so no chimney or flue is needed, and the heat is more likely to stay in your space. Each type of fireplace requires its own type of gas logs to function safely and correctly. Learn more about the difference below.
Vented Log Sets
If you adore the look and feel of a real, wood-burning fire, you'll love vented gas logs. These sets can be installed in an existing fireplace, making them perfect for homeowners who are looking for something more efficient than a wood-burning fireplace.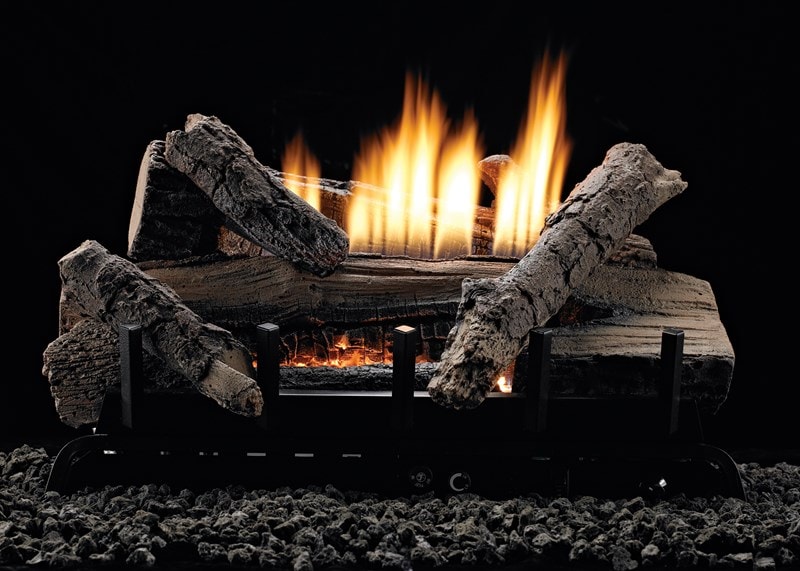 Just like a traditional wood-burning fire, vented gas logs produce carbon monoxide emissions. For this reason, they require a chimney or flue to operate. You must remember to open the damper each time you use your unit to allow for proper venting. If you don't have an existing flue or chimney, vent-free gas logs may be the better option for you.
Because they require a chimney or flue to operate, some of the generated heat will inevitably escape from your home. This, along with their high fuel consumption, makes vented logs less efficient than their vent-free counterparts, but more efficient than traditional wood-burning fireplaces.
A huge appeal of vented gas logs is their appearance. They offer more of a realistic looking flame than ventless, making them all the more attractive for those who may be reluctant to part with their wood-burning fireplace. You can purchase them in practically any wooden finish to complement your home's unique style. From traditional oak to stylish birch, the possibilities are virtually endless.
To keep your family and your home safe — and to make sure your logs properly do their job — it's wise to have a professional technician service your vented gas fireplace once a year.
Will vented gas logs heat a Room?
Vented log sets will help keep a room warm, but they typically aren't used as the only heat source. This also depends on the size of the room. The logs will certainly help heat a smaller space, but for larger areas it could take a while for the fireplace to warm things up, especially due to the loss of heat through the chimney
The bottom line: Vented gas logs are ideal if you value ambience over efficiency, or if you have an existing wood-burning fireplace that you want to convert to gas.
Ventless Log Sets
If you're looking to add a supplemental, efficient heat source to your home, you may want to go with a vent-free gas log set. Unlike vented, these logs do not require a chimney or flue to operate, allowing more heat to stay in your home. The increased amount of heat means vent-free gas logs are much more efficient than vented sets.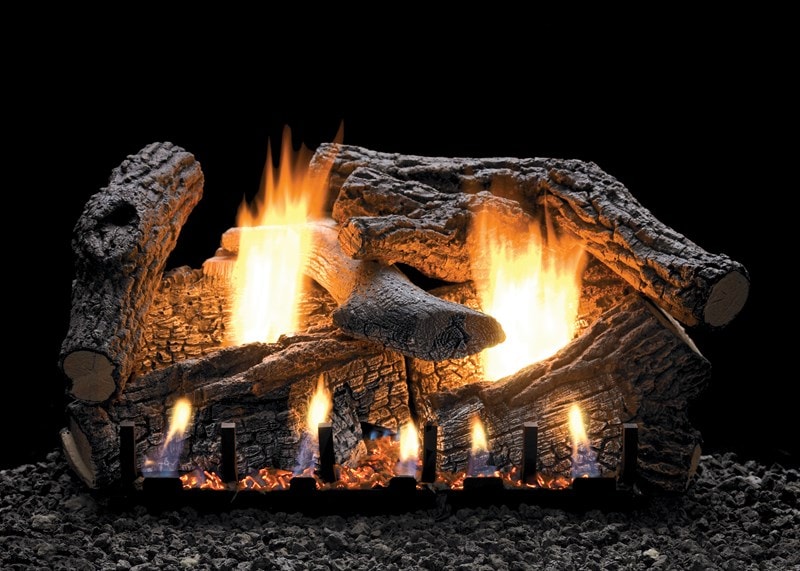 What you gain in efficiency, you sacrifice in appearance. The flame on most ventless sets don't look as realistic or aesthetically pleasing as vented sets. However, the vent-free gas logs we offer at Total Home Supply look just as beautiful as their vented counterparts. We have them available in finishes such as Whiskey River and Sassafras to make your home all the more cozy this winter.
On top of being more efficient, vent-free gas logs are also less expensive. All you need is a gas line and you'll be well on your way to a warmer and cozier home.
Just like other gas appliances, it's important to operate and maintain your ventless unit safely and correctly. They do produce gases and there's nowhere for the gases to go, so follow the instructions and don't operate the unit for longer than recommended. It's also wise to have your vent-free gas firebox serviced on an annual basis.
Are ventless gas fireplaces safe?
Ventless logs don't use a chimney or flue so the gases that are produced have nowhere to go. However, ventless fireplaces come with oxygen depletion sensors that will shut off the unit if oxygen reaches an unsafe level. It's also recommended that these units aren't ran for long periods of time, and a door or window be opened if the unit has ran for longer than an hour.
The bottom line: Ventless gas logs are ideal for homeowners who value efficiency over ambience. They're also great for those who are looking for a secondary vs a primary source of heat.
Can You Use Ventless Gas Logs in a Vented Fireplace?
You can use ventless logs in a vented fireplace. If you do use a vent-free logs, you won't have to open the damper since these logs don't require venting. Even though the chimney can remain closed, you will still lose some of the efficiency and heat from using this type of set in a vented fireplace.
Summary
So, are vented or ventless gas logs better? It all depends on your needs, but vented sets have a more realistic flame and can be used in an existing real wood fireplace, while ventless logs are more efficient.
A gas fireplace makes a great alternative for homeowners looking for a supplemental heat source that also provides a beautiful ambience. Browse through our selection of both types of log sets and find the perfect, cozy addition to your home.