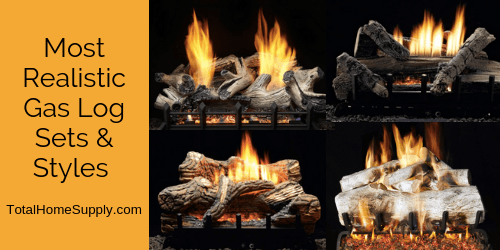 If you've already opted to get a gas fireplace for your home, you are in good company. Many homeowners are choosing gas fireplaces for their home for both convenience (no tree chopping required!) and visual appeal.
When it comes to choosing a log set for your fireplace, there's more than simply picking vented or ventless. You should take some time to choose the set that best fits the ambiance you are going for, from rustic and traditional to sleek and modern. In working with our clients, we have found that more realistic looking log sets tend to really catch the eye and stand out as an attractive visual centerpiece.
Below we will take a look at a few of our favorite realistic gas log sets as well as the different wood styles used, and layouts.
Most Realistic Gas Logs for Fireplace
As you will see when you shop for log sets, there are many choices available to you. Many people prefer sets that look real so they can capture the full comfort of a fireplace. Here are a few that we recommend.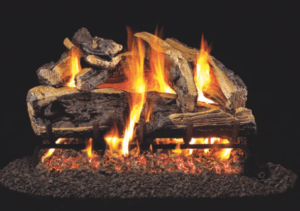 Rugged Oak Log Set
The RH Peterson Real-Fyre Charred Rugged Split Oak Log Set features split logs, bark, and ends that are painted to look like the strong boughs and branches from red oak log samples, giving you strength and beauty in one place.
Not-So-Traditional Low Country Timber Set
With the Everwarm Low Country Timber Log Set, you can pretend like you did the hard work of chopping down a tree and bringing it inside (without all of the sweat normally required for such an activity!).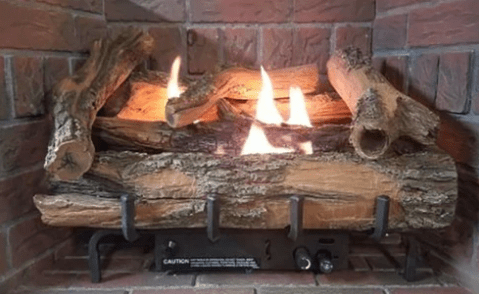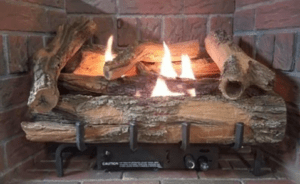 Different Wood Types
Apart from the different brands you may come across, many log sets can also be classified by what type of wood they are patterned after.
Oak –– A Popular Choice
Why mess with a classic? For a beautiful, natural look, the light, reddish tones of the oak tree have become a favorite for wood furniture and log sets alike.
Aged Oak
For a more modern, edgy feel, and aged oak log set can be just the thing. With a softened, grayish color scheme in comparison to normal oak, you can class up your log set with this elegant pick.
Sassafras
With distinctive bark and thick, gorgeous logs, a Sassafras log set that will remind you of an outdoor camping trip.
Low Country Timber
Get a distinctive, weathered look for your log set with low country timber. With a beautiful blend of interior wood and chipping bark, you'll be sure to have visitors doing double takes to see if it's real.
Driftwood
You don't have to live near the ocean to appreciate the Monessen Beachcomber Log Set, an option that allows you to bring the natural beauty of beach driftwood into your home. Plus, you can add Natural Blaze burners which provide taller, more lively flames to add to the realistic look.
Kentucky Wildwood
Channel your inner Southerner with a Monessen Kentucky Wildwood Refractory Log Set, which combines a rustic look with fine-tuned, hand-painted details.
Birch
The RH Peterson Real-Fyre Mountain Birch Designer Log Set brings a little bit of nature indoors, as the logs are modeled after real samples, with hand painted details that add to their beauty.
Other Factors to Consider
Before you jump into making your choice, there are a couple more factors to keep in mind in your log set shopping.
Charred Vs. Not
You'll see in your search that some log sets are charred while others are not. For a more realistic look, charred logs give off the appearance of a longer burning fire. This simple detail can add a touch of coziness and charm.
Log Layout
Beyond the actual look of the particular logs themselves, you will also want to choose a log setup that has the right aesthetic you are looking for as well.
Below are a few of the common ways that you will see logs laid out in different sets, and the look and feel that each design evokes.
Lots of logs – Want your fireplace to look just like the real thing? A set with many logs can give the appearance of a real campfire you might make outside.
Fewer logs – For a cleaner, more spacious look, a log set with only a few logs could deliver a natural look while allowing more open space for the flames to appear.
Split logs – Some types of wood look particularly great when split, allowing a peek inside at the tree's inner wood. Split log sets can add an extra addition of natural allure.
Laid out naturally – Real doesn't always mean perfectly placed! An alternative to the more manicured log sets, a natural layout creates a relaxed and natural ambiance.
Stacked – Clean and simple. A stacked log set has a clean and orderly setup for a more modern look.
Get the Perfect Gas Log Set for Your Home
When it comes to choosing the right gas log style for your home or other space, getting the design that matches your decor or desired look is a top priority. If you already have a gas fireplace and are looking to replace your current log set, there are many styles available.
If you are really hunting for the most realistic gas fireplace logs, going with one of our picks above may be just the shortcut you are looking for.
Ready to find the set for your home? We've got you covered.