How to Install & Light Gas Logs in Your Fireplace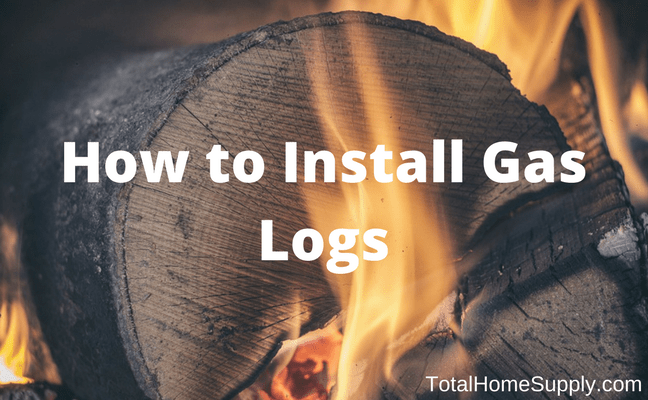 Looking for an efficient alternative to wood-burning fireplaces? Gas logs are the answer for those who want to add a realistic fire to their home without all the mess and stress.
Gas logs look like real wood logs but instead are made of ceramic, which is resistant to high heat. In addition to the logs themselves, each gas log set also features a burner and (optionally) a thermostatic valve, which supplies the flame.
Gas log sets are available for both vented and ventless gas fireplaces. Some, like White Mountain Hearth's 18″ Flint Hill Log Set, work in both vented and ventless configurations. It's important to purchase the correct type of gas log set for your fireplace to ensure it works properly.
While we always recommend professional installation, a skilled do-it-yourselfer can get the job done. Here's how to install and light your gas logs like a pro.
How to Install Gas Logs
Every gas log set sold at Total Home Supply comes with its own set of installation instructions. Therefore, this will serve as a general overview for installing your new gas logs. Please follow all installation instructions for your specific log set.
There are a few important things you should keep in mind before you begin the installation process:
Never handle gas logs with your bare hands! Always wear gloves.
Make sure you properly position the gas logs according to your specific instructions.
Shut off the gas before installing your gas logs.
Remove the Old Log Set
Begin by removing the old log set. Put on some work gloves and remove the logs from the burner, then dispose of them accordingly. You'll also want to remove the old grate for disposal. Finally, disconnect the old burner from the gas line and discard it.
Clean the Fireplace
Next, you'll need to clean the fireplace before installing your new gas logs. This will ensure proper performance and also help limit gas emissions. Clean the fireplace thoroughly by sweeping and vacuuming any remaining debris.
When all that's said and done, you're ready to begin the installation process.
Install Your New Gas Logs
1. Install the burner
Attach the gas line to your burner. Be cautious of leaks — you can spray your hoses and fittings with soapy water to check for these. If you see any bubbles form, you have a leak. Seal off any leaks you find with Teflon tape.
2. Install the grate
Next, install the new grate by following the included instructions. Most models require you to secure the grate in place with screws.
Once your burner is connected to your gas line and your grate is installed, you're ready to install the gas logs.
3. Install the base
Whether it's embers, rock or glass, you'll first need to insert a base layer to cover the burner tubes. This base material should come included in your gas log set.
4. Install the gas logs
How you install your gas logs depends on the type of gas fireplace you have. If you have a vented gas log set like the RH Peterson Real-Fyre 24″ American Oak Log Set, you can arrange them however you like. If it's vent-free, however, you'll have to arrange them in a specific fashion; look for instructions in your installation manual.
Once you've finished installing the gas logs, you're ready to light them!
How to Light a Gas Fireplace
Before lighting, make sure to check for any smell of gas. If you do smell gas, do not light anything, use an electrical switch or use your phone inside the house. Leave your house to call your gas provider for proper instructions, or, if your gas provider is unavailable, the fire department.
If you do not smell gas, you can proceed to lighting.
1. Open the bottom louver assembly.
2. Set the regulator switch to "OFF"
3. Gently push in the gas control knob and turn it clockwise to "OFF"
4. Wait 10 minutes or so for any gas to clear out. Again, check for any smell of gas before lighting the gas logs.
5. Find the pilot, which is located near the burner.
6. Turn the gas control knob to "PILOT"
7. Push the knob all the way in and hold it.
8. Push the ignitor button (if applicable) until the pilot lights. If your unit does not have an ignitor button, you'll need to use a match to light the pilot.
9. Continue to hold the control knob for about one minute. The pilot should remain lit.
10. Turn the gas control knob to "ON"
Once your pilot light is lit, you'll be ready to enjoy a cozy fire on demand.
Conclusion
Installing a gas fireplace log set may be relatively easy for you if you're a seasoned DIYer. If you start to feel overwhelmed at any point during the installation process, don't hesitate to contact our professionals and we'll help walk you through the installation process.
Be sure you have the number of your gas provider handy in case you need their assistance, too. Safety should be your first and foremost priority when installing gas logs.
Ready for a cozy, efficient heat source? Shop our vented and ventless gas logs today!