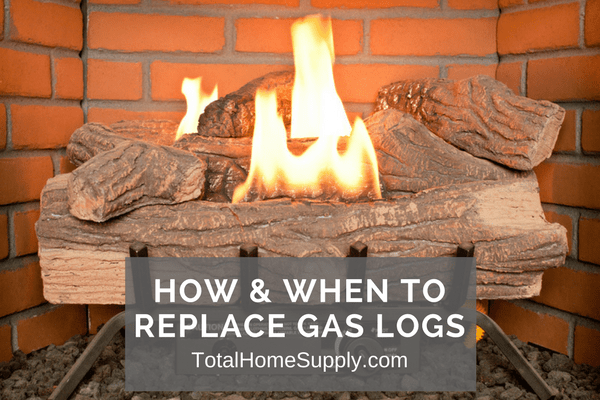 So you have a gas log fireplace, and you absolutely love it. From the efficiency to the aesthetic, you feel as if your gas fireplace offers all the benefits of a real, wood-burning fireplace, without all the hassle. Life is good!
However, like any home appliance, gas fireplaces require routine maintenance. If you're wondering do gas log wear out, the answer is yes. While you certainly won't be replacing your gas logs as often as you would with real firewood, there comes a point in time where they'll need to be swapped out with replacement gas logs. The good news is, when this happens, you don't need to replace your entire fireplace setup. Swapping out just the logs can give your fireplace the reboot it needs both in terms of performance and aesthetic.
But how long do gas logs last? In this blog post, we'll talk about when to replace gas fireplace logs and how to replace them when the time comes.
How Long Do Gas Logs Last?
So, when exactly should you replace your gas logs? The answer depends on some different factors, including:
Material: Gas logs are usually made of ceramic, which allows them to withstand very hot temperatures. Log sets that use cement logs will fade in appearance over time. Depending on use, they can begin to lose their appearance in 2-3 years.
Type of gas logs: A well maintained vented log set with ceramic logs will last a very long time, in some cases 10 or more years. A well maintained ventless log set with ceramic logs can also last a long time, but, if heavily used, will begin to wear in 3-5 years.
The short, concise answer is — the higher the quality and the less you use your fireplace, the longer your gas logs will last. However, even with regular use, a high-quality gas log set should last you for a few years or more.
So, how do you tell if your gas logs are high quality? Made in the USA is a good indicator of a quality set of gas logs. Additionally, you'll want to pay attention to the material. Ceramic is durable and able to stand up to the hot temperatures of a fireplace.
A gas log replacement project also gives you the option to change up the style of your fireplace. There's a wide variety of gas log styles available, so changing them out gives you the chance to transform the overall look of your setup.
If you'd like to use your gas fireplace without logs, you also have the option to use fireplace glass instead. This will require a burner pan that is made for fire glass.
How to Replace Gas Logs
The replacement process for gas logs varies depending on the model you'll be installing. However, in general, the process looks somewhat like this:
Turn off the gas.
Remove the old logs from the fireplace. You may want to wear protective gloves to keep your hands clean and protected.
Remove the grate. Your grate is likely secured in place with screws, so be sure to have a screwdriver on hand to remove those and then the grate.
Disconnect the burner and gas line.
Clean out your fireplace. This will ensure a safe installation process of your new gas logs.
Connect the new log set's gas line to the burner.
Secure the burner and grate. Again, you may need to use a screwdriver or other tools to do this — check your log set model for specific instructions.
Inspect the log set for leaks. This is very important! Don't skip this step. To test for leaks, turn on your gas supply. Then, use a spray bottle to spray a small amount of water and soap on the gas line connection. If bubbles form, you'll know there's a leak. Tighten the connection or replace the gas line altogether.
Install the gas logs. Again, be sure to look at your instructions for specifics on how to place your gas logs on your burner and grate.
Best Gas Log Sets
The cost to replace gas logs varies depending on the size, material, and brand. Typically, log sets can cost anywhere from just over $100 to over $1000. The average sets cost somewhere in the $400-$700 range. We've pulled some of our popular sets below.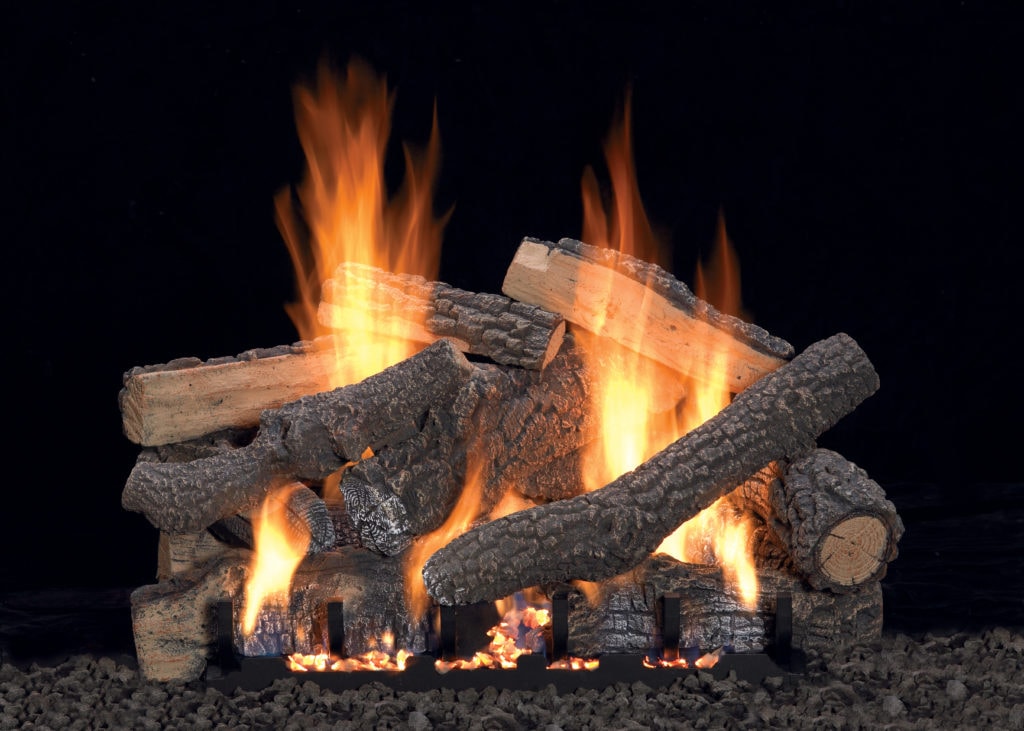 The White Mountain Hearth Ponderosa Log Set offers an authentic-looking burn and is available in three sizes to accommodate a variety of fireplace sizes.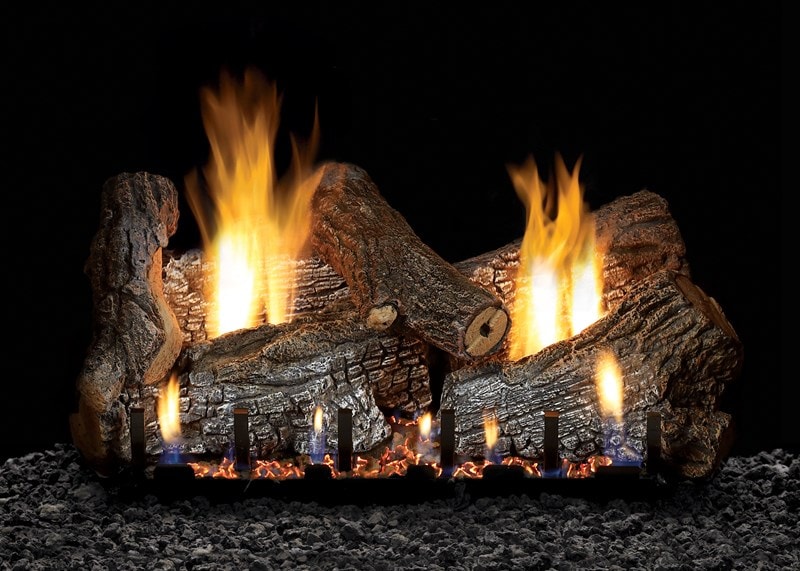 The Sassafras Log Set from White Mountain Hearth also offers a realistic aesthetic and comes in three sizes: 18″, 24″, and 30″.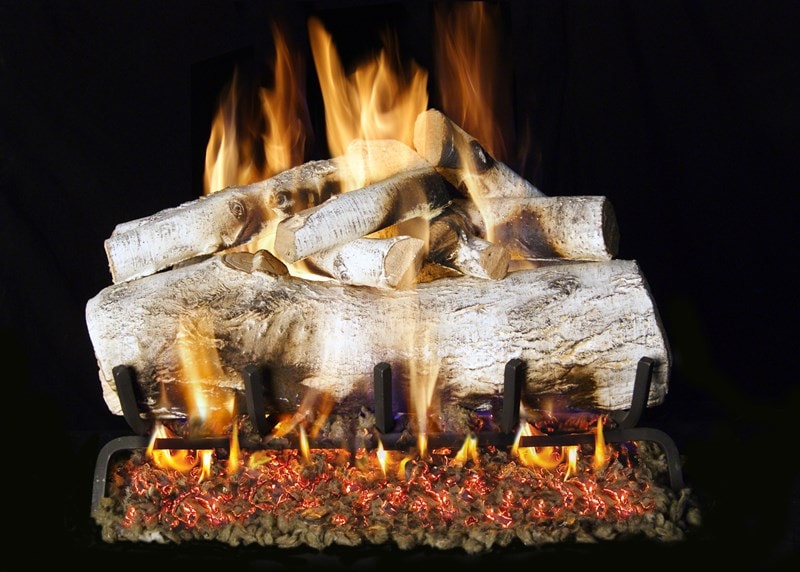 The RH Peterson Real-Fyre Mountain Birch Designer Log Set can be customized to meet your specific needs. Choose your log size, fuel type, vented burner and valve type and you'll be well on your way to a warmer, cozier home.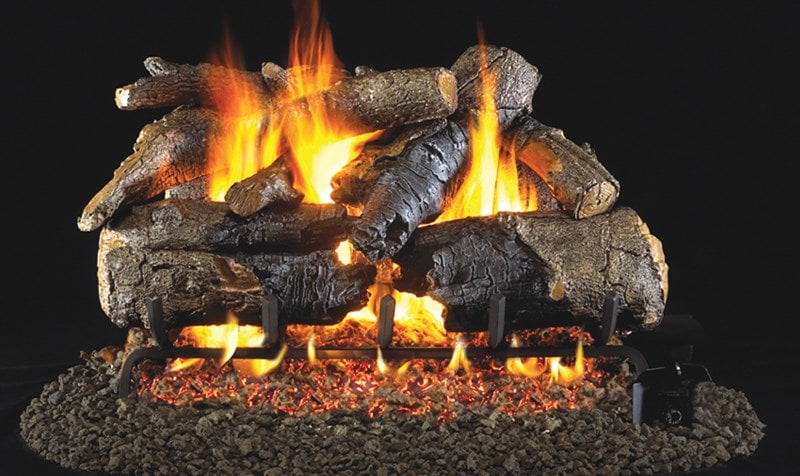 Similarly, the RH Peterson Real-Fyre Charred American Oak Log Set is totally customizable, but offers more of a charred appearance.
Replacing & Installing
Replacing gas logs can be a daunting task, so it's important to pay close attention to the step-by-step instructions that come with your specific log set. If you feel uncomfortable installing gas logs yourself, contact a trusted professional for assistance. And as always, our trained specialists are ready to answer any questions you may have. Contact us today to speak with our team about our gas log sets.