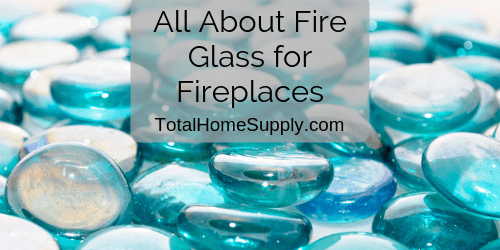 Fire and ice. That's the image that drove the country towards the trend of fire glass. The ambiance that it puts off is more modern, as the flames appear to dance over the surface rather than engulf the hearth and consume the wood that fuels it.
Though classic clears and blues, such as icy topaz fire glass, are popular, there are several different colors (i.e. emerald, koi), each with their own ambiance and ability to match your décor.
What is Fire Glass?
Fireplace glass is made of tempered glass that is tumbled and polished to create little pebbles that are resistant to high heat. This glass will not burn, melt, explode like regular glass could, soot, or smoke no matter how long you use it. It is also resistant to discoloration when use with natural gas.
Tempered glass is safety glass, processed by chemical or thermal treatments. This type of glass is typically used for such items as windows and computer screens.
Unlike regular glass, it is completely safe to use in both indoor and outdoor fireplaces and pits.
How does fire glass work?
The safe tempered glass that is chemically or pressure treated to make it resistant to high heats, so it can safely sit in flames without melting or producing any toxic fumes. The pebbles are placed directly over the burners, and the flames snake through the gas in the stones or go around and coalesce at the center, making it look as if the flames are dancing on top.
Because they retain a lot of the heat from the flame and radiate it outward, there is an increase of heat output by about four times than the average gas fireplace.
How to Use
To use, place the pebbles right on top of the flame with even distribution in a burner pan specifically designed for the glass, or in an outdoor fire pit or fireplace. You can use the glass in an electric or gas stove, but not with real burning logs.
There are a lot of fun ways to use fire glass. Majority of the time glass is used to replace fire logs as well as to cover up the area surrounding the spickets in gas fireplaces. Some people have purchased black fire glass to surround fake logs- making it look like a shimmering ash.
Many like to use the pebbles for outdoor fire pits, or table top fire pits that rest in bowls. The colored stones add a pop of color to the backyard, and make for a fun environment. They can even be moved around (if you're using the bowls).
Apartment complexes, bars, restaurants, and hotels also use them in their outdoor fireplaces to present a look of sophistication.
Do you need a specific burner to use?
You do need a specific burner when you are using glass in your fire feature. You cannot use fire glass in a real wood burning fireplace, mostly because it would be much more difficult to clean and is more likely to damage the stones.
Natural gas will provide the cleanest burn for fire glass, and allow the stones to remain clean, untainted, and undamaged. You can still use propane, but the stones may end up turning colors since the propane produces a residue that will cling to the stones.
How to Clean Fire Glass
Overall, fire glass is easy to maintain and is known for being hassle-free. But over time you may notice some dinginess, especially if you are using propane as your fuel source.
The first step to cleaning fireplace glass is to shut down the gas supply and wait for the glass to cool completely.
Next, remove the glass from the fire pit or fireplace. Putting it directly into a bucket will make the whole process easier.
Fill the bucket with warm, soapy water. You can use dish soap, as there is no specific cleaning product needed. Stir using a scrub brush.
Don't use an alcohol or chemical based cleaner since those substances are often flammable.
How much fire glass do I need for my fireplace?
If you're asking yourself this question, here are the key points to keep in mind:
A 10 lb. package of is recommended to fill the burner pan of a standard 18 inch burner pan.
On each fire glass product there will be a chart that lets you know how many pounds are needed.
There are different sizes, shapes, and colors of fire glass – including pebbles, nuggets, and gems.
How deep should fire glass be?
A depth of 1 ½ inches above the burner works perfectly well for fire glass, but it also depends on the design of your fireplace.
Generally, you do not need more than 2 inches deep of fire stones. Anything more than that might prevent the flames from rising over the stones.
Best Fire Glass Color to Use
Now this will entirely depend on you and your personal preferences since each color option will give a different vibe. But there are some things you might want to consider:
Color of furniture that will be surrounding it
Style of your furniture
Desired look- more modern or more rustic (if you want to mimic the look of real ash)

The lighter colors have a shine, and can be quite reflective, which can be used for an exotic or chic design
The darker colors will look more classic or rustic
There are many color options to choose from, including, but not limited to:
Caribbean blue
Emerald
Sapphire
Ruby red
Koi
Black pearl
Whatever color you choose, fire glass is a great modern, decorative option. It can provide a way to cover up unsightly burners, and add a sophistication and color to your living room or backyard. If you're looking to dramatically alter to look of your fireplace or fire pit (or are interested in fire logs) Total Home Supply has everything you need.