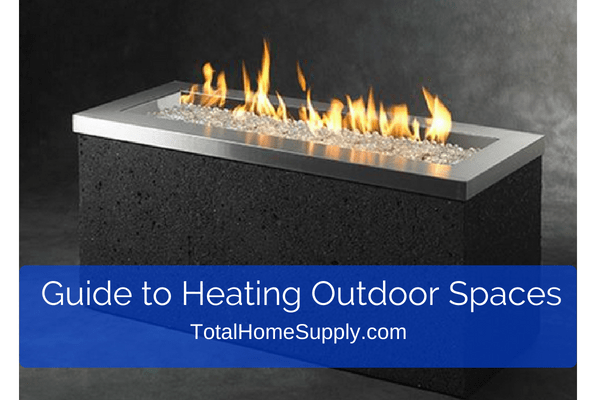 You work hard to make the outside of your home look nice.
Whether it's a beautiful garden, lush landscaping, decorative lighting, or keeping your porch, patio, or deck pristine, there are many ways to make your home's exterior look presentable and enjoyable.
But outdoor leisure areas typically go unused during one period of the year: winter. Even if you live in a relatively warm climate, there are some times when making your outdoor spaces comfortable is a must. Without a heat source, you end up not getting as much use out of the space that you spent so much time beautifying.
Fortunately, robust outdoor heating options exist. By putting in a heat source outside, you can continue to enjoy your yard, garden, or patio even in the colder months of the year. This way, you get much more bang for your buck, as you can then use your space all year round rather than just in the summer and springtime.
Here we will take a look at some of the best outdoor heater options, as well as the benefits and drawbacks of each type.
Outdoor Heater Options
There are three main types of outdoor heaters, based on fuel source:
Gas heaters – natural gas or propane

Electric heaters

Fire pits or fire tables
Gas heaters
Perhaps one of the most common options that people choose for an outdoor heating solution is a gas or propane heater.
Many people select this solution since gas heaters are relatively budget-friendly and effective at warming an outdoor area. The typical propane or natural gas outdoor heater is able to warm a space of around 200 square feet. But those aren't the only reasons why gas heaters make great additions to backyards and patios.
Now, portable gas heaters are becoming more popular, giving you the convenience of being able to adjust where you need the heat. This can be a great option if you've got a large space, but don't need to heat all of it at once. Add as many portable gas heaters to your area as needed, and move them around based on where your company is congregating to ensure everyone feels the warmth. 
There are also hanging heaters that are somewhat of a more permanent option. They aren't as easy to move around, but are also an effective way of heating an outdoor space.
Propane or gas heaters come with controls so that you can select the heat output of your liking. For added convenience, many gas heaters can also hook into your home's natural gas line, so you don't have to worry about refueling.
However, gas heaters do have their drawbacks, as they do not add much to the ambiance of your outdoor space (although they are becoming more aesthetically appealing) and often require a decent amount of maintenance. Also, it is not the most environmentally friendly option.
Pros:
Low price tag

Relatively inexpensive fuel 

Adjustable heat to warm small to large spaces
Cons
Not as aesthetically pleasing as other options

Not as eco-friendly 
Electric heaters
With an electric heater, you can achieve optimal temperature with little work. Simply plug in, flip a switch and start heating up. This convenience factor is important for many people who consider electric heaters for their outdoor spaces, as there is no need to worry about complex installation, which can be a headache.
Consistency is another great benefit of electric heaters –– they can maintain the same level of comfort even when temperatures drop low. Plus, they are generally very quiet and do not emit any emissions and are not hazardous to use.
With their flexibility in design, the right electric heaters can be found no matter what aesthetic you are wanting to create, whether you're going to tuck it away in a corner, or make it part of your decor. Plus, their upfront cost is much cheaper compared to gas options.
The amount of space one heater can cover is also usually less with electric heaters in comparison to gas. On average, one electric heater will warm up about 65 square feet of space. If you're looking to heat a larger area, buying multiple electric heaters is an option.
You will probably notice your electric bill rise if you use your heater frequently, as this is a drawback to using electric heat.
Pros:
Cheaper upfront cost

Easy to install, just plug in
Cons
Not as efficient

Not ideal for larger spaces
Fire Pits or Fire Tables
Remember your childhood days of roasting marshmallows and telling ghost stories around the fire? You can recreate that same fun and ambiance with a fire pit or table, while also providing a source of heat outdoors.
This option is great for people who want to occasionally relax and enjoy their outdoor space, but don't need to count on heating up a large area. With a fire pit, you can build a fire when you want to, and simply put it out when you don't. There is very little maintenance or hassle with these.
Perhaps the best part of fire pits and tables is the ambiance –– the firelight creates an added beauty to your outdoor space that your family and friends will be sure to enjoy. Plus, many fire pits and tables come in sleek and elegant designs that can also serve as an attractive addition to your landscaping, too. The table options offer a beautiful place for friends and family to sit around and enjoy each other's company, while also serving as a place for food and drinks.
On the flip side, a fire pit or table is also limited in how much heat it can give off, and does not cover near the square footage as a gas or electric heater. It is generally better for entertaining and recreation than for everyday heat use. For the most part, those who are sitting around the fire will be the only ones to feel the warmth. Also, if you are leery of open flames, because of small children or pets, this might not be the best pick for you.
Many tables and pits require a separate purchase of what you will 'fill' the fire with. You can go with a classic log look, or there are other options including colored gems, glass, or stones.
Pros:
Most aesthetic option

Usable for outdoor cooking

Doesn't require gas or electricity
Cons
Requires open flame

Least efficient for providing warmth
Outdoor Heater Options by Design
Fuel-powered heaters also come in three variations:
Freestanding
As the name suggests, these use a stand and have the added benefit of being mobile or portable. However, they are not aesthetically pleasing.
Wall-mounted
These are secured to the wall, thus hiding gas or power lines. They require installation and are not movable.
Ceiling-mounted or hanging
The most inconspicuous type, these are ideal for patios and verandas. 
What to Look for in an Outdoor Heater
Fuel type
An electric outdoor heater may be used if the outdoor area is small and has a nearby socket. Homes with a natural gas line or propane tank may opt for a gas or propane outdoor heater.
A fire pit or fire table requires wood, so this is only advisable for rural areas or locations with a convenient supply (and proper storage) of firewood. Because of its open flame, the fire pit or fire table also needs to have sufficient distance from the home and other combustible structures. 
BTU 
The outdoor heater should be large enough to warm the intended outdoor space and expected number of users. Electric heaters are ideal for smaller spaces, while larger areas require a gas or propane heater.
Heater controls
Outdoor heaters either have a built-in control, or come with a remote control. Premium units come with zone controls for greater control, while smart models offer Wi-Fi connectivity that allow smartphone or tablet control via the maker's app.
Materials
Most mounted units use aluminum to lower cost while offering adequate corrosion resistance. Homes in harsher climates can benefit from outdoor heaters that use stainless steel, which is more durable and weather resistant. Those in coastal areas should look for marine-grade 316 stainless steel to guard against rust and corrosion from the salt air.
Altitude
Altitude plays a role in determining your outdoor heater. If you live higher than 8,000 feet above sea level, the air is less dense, which makes heaters less efficient. This means you need a more powerful outdoor heater to compensate for the lower air density. If you live in a high elevation, you will need an outdoor heater specifically rated for high altitude use.
You can check out the USGS Elevation Finder to determine the altitude of your location.
Recommended Outdoor Heater Options
No one's patio or deck should have to be closed up just because the seasons are changing.
Fortunately, there are many different heating solutions for outdoor spaces that can help you keep the temperature comfortable, no matter what time of the year it is.
Generally speaking, there are three common choices when it comes to outdoor heating: gas heaters, electric heaters, and a fire pit or fire table. Gas heaters are perfect for consistency, while electric heaters are very safe and easy to use with very little maintenance. For more of an occasional use for entertaining and ambiance, a fire pit or table can be a fun and affordable option.
Here's our top picks for each of the different heating solution types:
Natural gas outdoor heaters:
Rinnai RSE2S50BN 50,000 BTU Overhead 2-Stage Gas Heater – Natural Gas
Rinnai's infrared patio heaters are available in either 35,000 or 50,000 BTUs, in either Natural Gas or Liquid Propane, and either Stainless Steel or Black. This 50,000 BTU model is available as either a single stage or two stage heater. Up to 4 such heaters can be hooked up to a single switch for heating larger outdoor areas.
The heater is made with 316 Marine Grade Stainless steel for improved rust resistance. It is high altitude ready up to 2,000 ft, and can be mounted to a post, pole, from the wall or up in the ceiling.
Bromic Heating Tungsten Smart-Heat 500 Series Gas Heater
Bromic's Tungsten Smart-Heat™ series features an easy pivot arm bracket for directional adjustment of the heat output. This radiant gas heater has an output of about 43,000 BTUs, capable of heating about 200 sq. ft. or a spread of about 16′ x 13′ from the heater.
It features a patented direct ignition system which eliminates the need for a standing pilot. The screen design combined with ionization technology ensures effective heating, even in winds of up to 8 mph. With the addition of an optional ceiling pole, you can mount two gas heaters back to back at a minimum mounting height of 8'2″ from the floor.
Propane outdoor heater:
Bromic Heating BH0110004-1 Platinum Smart-Heat 500 Series Gas Heater – Liquid Propane
Bromic's Platinum Smart Heat 500 Series uses five infrared panels for a wider heat dispersion. This particular model is capable of 39,800 BTUs and can cover approximately 200 square feet of outdoor space. 
The heater is made to withstand outdoor elements and ensures a consistent output, even in winds of up to 11 mph. A new wireless control allows for seamless integration with your smart home.
Electric outdoor heater:
Bromic Heating BH0320003 Platinum Smart-Heat 2300 Watt Electric Heater
The Platinum Smart-Heat™ electric heater offers a slim, low clearance opportunity for open or semi-enclosed outdoor spaces. This 2,300 watt heater can radiate heat in an area that is about 65 sq. ft. or a space that is about a 10 ft x 6.5′ from the heater.
The highlight of this electric heater is its stylish design, with clean lines and a black tinted glass ceramic face. The black glass helps to minimize any excess light emitted from the heater and helps to spread the heat evenly across the front. With Wi-Fi compatibility, you can seamlessly integrate remote heating with your smart home or control the heater from your smartphone or tablet.
The overall size of the Platinum Series is also sleek. From the front of the unit to the back is a mere 8″ while the face is only 2″ deep. It offers three installation options: wall mounted, ceiling mounted or even recessed/flush mounted, using an optional Ceiling Recess Kit.
Regardless of how you choose to heat your patio or outdoor area, Total Home Supply has what you are looking for. Shop our selection of outdoor heat and fire choices to find the one that's right for you!