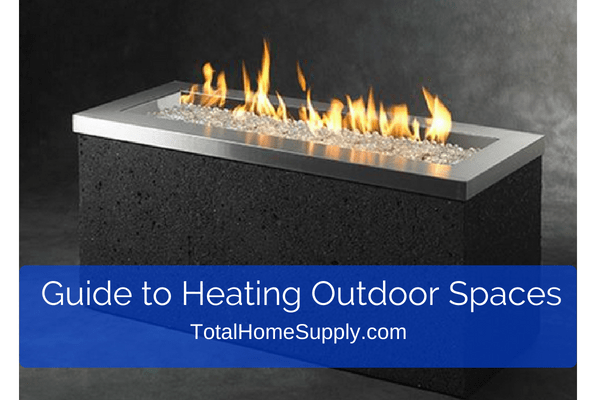 You work hard to make the outside of your home look nice.
Whether it's by creating a beautiful garden, installing lush landscaping, putting up decorative lighting, or keeping your porch, patio, or deck pristine, there are plenty of ways to ensure that your outside space is presentable and enjoyable to those who use it and pass by.
But most people with outdoor leisure areas run into a problem come the colder months of the year: temperature. Even if you live in a relatively warm climate, there are some times when making your outdoor spaces comfortable is a must. Without a heat source, you end up not getting as much use out of the space that you spent so much time beautifying.
Fortunately, there are many options to choose from to remedy this issue. By putting in a heat source outside, you can more easily enjoy your yard, garden, or patio when entertaining guests, playing outside, or simply relaxing. This way, you get much more bang for your buck, as you can then use your space all year round rather than just in the summer and springtime.
Here we will take a look at some of the best ways to heat outdoor spaces, as well as some benefits and drawbacks of each.
Outdoor Heaters
Here are some of the best outdoor heating options:
Gas heaters – natural gas or propane
Electric heaters
Fire pits or fire tables
If you've never selected a heater for the outdoors before, don't worry. We've broken down some of the most important information about each one so that you can shop around with ease and clarity.
Gas heaters
Perhaps one of the most common options that people choose for an outdoor heating solution is a gas or propane heater.
Many people select this solution since gas heaters are relatively budget-friendly and effective at warming an outdoor area. The typical propane or natural gas outdoor heater is able to warm a space of around 200 square feet. But those aren't the only reasons why gas heaters make great additions to backyards and patios.
Now, portable gas heaters are becoming more popular, giving you the convenience of being able to adjust where you need the heat. This can be a great option if you've got a large space, but don't need to heat all of it at once. Add as many portable gas heaters to your area as needed, and move them around based on where your company is congregating to ensure everyone feels the warmth. There are also hanging heaters that are somewhat of a more permanent option. They aren't as easy to move around, but are also an effective way of heating an outdoor space.
Propane or gas heaters come with controls so that you can select the heat output of your liking. For added convenience, many gas heaters can also hook into your home's natural gas line, so you don't have to worry about refueling.
However, gas heaters do have their drawbacks, as they do not add much to the ambiance of your outdoor space (although they are becoming more aesthetically appealing) and often require a decent amount of maintenance. Also, it is not the most environmentally friendly option.
Electric heaters
With an electric heater, you can achieve optimal temperature with little work. Simply plug in, flip a switch and start heating up. This convenience factor is important for many people who consider electric heaters for their outdoor spaces, as there is no need to worry about complex installation, which can be a headache.
Consistency is another great benefit of electric heaters –– they can maintain the same level of comfort even when temperatures drop low. Plus, they are generally very quiet and do not emit any emissions and are not hazardous to use.
With their flexibility in design, the right electric heaters can be found no matter what aesthetic you are wanting to create, whether you're going to tuck it away in a corner, or make it part of your decor. Plus, their upfront cost is much cheaper compared to gas options.
The amount of space one heater can cover is also usually less with electric heaters in comparison to gas. On average, one electric heater will warm up about 65 square feet of space. If you're looking to heat a larger area, buying multiple electric heaters is an option.
You will probably notice your electric bill rise if you use your heater frequently, as this is a drawback to using electric heat.
Fire pits or Fire tables
Remember your childhood days of roasting marshmallows and telling ghost stories around the fire? You can recreate that same fun and ambiance with a fire pit or table, while also providing a source of heat outdoors.
This option is great for people who want to occasionally relax and enjoy their outdoor space, but don't need to count on heating up a large area. With a fire pit, you can build a fire when you want to, and simply put it out when you don't. There is very little maintenance or hassle with these.
Perhaps the best part of fire pits and tables is the ambiance –– the firelight creates an added beauty to your outdoor space that your family and friends will be sure to enjoy. Plus, many fire pits and tables come in sleek and elegant designs that can also serve as an attractive addition to your landscaping, too. The table options offer a beautiful place for friends and family to sit around and enjoy eachother's company, while also serving as a place for food and drinks.
On the flip side, a fire pit or table is also limited in how much heat it can give off, and does not cover near the square footage as a gas or electric heater. It is generally better for entertaining and recreation than for everyday heat use. For the most part, those who are sitting around the fire will be the only ones to feel the warmth. Also, if you are leery of open flames, because of small children or pets, this might not be the best pick for you.
Many tables and pits require a separate purchase of what you will 'fill' the fire with. You can go with a classic log look, or there are other options including colored gems, glass, or stones.
Heat Your Outdoor Space The Right Way
No one's patio or deck should have to be closed up just because the seasons are changing.
Fortunately, there are many different heating solutions for outdoor spaces that can help you keep the temperature comfortable, no matter what time of the year it is.
Generally speaking, there are three common choices when it comes to outdoor heating: gas heaters, electric heaters, and a fire pit or fire table. Gas heaters are perfect for consistency, while electric heaters are very safe and easy to use with very little maintenance. For more of an occasional use for entertaining and ambiance, a fire pit or table can be a fun and affordable option.
Here's our top picks for each of the different heating solution types:
Regardless of how you choose to heat your patio or outdoor area, Total Home Supply has what you are looking for. Shop our selection of outdoor heat and fire choices to find the one that's right for you!