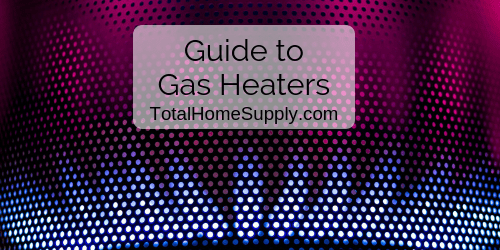 As summer months start to give way to the fall and winter seasons, it is time to start thinking about flipping the switch in your home from cold to hot.
In other words, there is no time like the present when it comes to preparing to heat your home during the cooler months of the year.
There are many different types of heaters to choose from. Depending on your home's particular needs and the desired fuel source, one option may be preferable over another. Many people opt for gas heaters, which are typically fueled by liquid propane or natural gas, for their homes or other spaces.
These units are not one size fits all –– there are many kinds with different features designed for different living spaces and needs.
Here, we will break down a few different gas heater types, how they work, and what spaces they are suited best for. Knowing this information before you buy can help you make an informed decision.
Types of Gas Heaters
Vented heaters
Wall furnaces
Vent-free heaters
Blue flame
Infrared or Radiant
As the name suggests, gas heaters differ from their counterparts by their fuel type. While gas heat options rely on natural gas or liquid propane, others are powered by electricity, or at times, a combination of the two.
Even within this category, there are various subcategories from which to choose. Below are a few of the most commonly purchased gas heaters.
Vented heaters
Vented heaters are dynamic machines that can run on either natural gas or liquid propane fuel sources, and typically used inside the home to heat spaces from 300 square feet to 3000 square feet. While they tend to be on the more expensive side, vented heaters may often be a one-and-done solution. They come in different options such as wall or space heaters.
Wall furnaces
A subset of vented heaters, wall furnaces are installed between the studs of the wall itself and a room's drywall. They work by drawing in cool air from the bottom, heating it, then expelling it from the top. Wall furnaces are often utilized for home additions, apartments, or smaller homes.
Vent-free heaters
Do you have a sunroom or other space that requires a little extra heating TLC? Vent-free gas heaters are fantastic auxiliary heat sources, with the option of choosing between blue flame and infrared or radiant heat. Vent-free heaters are usually available in gas, liquid propane, or dual fuel setups. They usually cover a space of about 200 to 1200 square feet.
Blue flame
A blue flame heater functions by ultimately warming the air in the room where it is installed, and not the objects. Ideal for insulated spaces, blue flame heaters may take slightly longer to do the job, and are a more energy efficient option. These economical units typically operate around 99.9% efficiency. These units typically have a blower to help spread the warm air throughout the space.
Infrared or Radiant
In contrast to blue flame heaters, infrared heaters use electromagnetic radiation to heat objects in the home. That means the heat is directly transferred, allowing for warmth to be achieved much quicker. However, for this same reason, infrared heaters require some additional safety precautions, as furniture, clothing and children should be kept at a reasonable distance from the heater itself, especially in the case of a malfunction.
How do Gas Heaters Work?
On a high level, gas heaters and furnaces work by lighting a series of burners in the combustion chamber. When the pilot light is lit or the igniter sparks, the resulting heat travels into the heat exchanger, which pushes the air through and raises it to the desired temperature. The blowers then send the air out through the ducts and into different rooms, or through the system into the one room it is heating.
In these types of furnaces, either natural gas or liquid propane serves as an aid to lighting the aforementioned burners. Some furnaces are equipped with the capacity to use either type of fuel.
Popular Gas Heaters
There is no shortage of choices when it comes to picking out a gas heater. Below are a few of our top picks:
Rinnai EX11CT 11000 BTU EnergySaver Direct Vent Wall Furnace – Are you looking for something to heat a small to medium sized room that also has advanced technological features? The EX11CT has a built-in programmable thermostat with two timer settings and wi-fi capability, for comfort control from afar. With an EnergySaver Direct Vent Wall Furnace, modulating technology optimizes the unit's efficiency. This unit can be either a liquid propane or natural gas heater.
Rinnai EX38CT 38400 BTU EnergySaver Direct Vent Wall Furnace – With a whopping 38,400 BTU capacity, this Rinnai gas heater unit is a great choice for large rooms. Installation can occur anywhere along an outside wall. The EX38CT also offers several venting installation options, with two time settings and wi-fi capability. A built-in humidifier tray is also included to cut down on the air dryness, which can be a major issue during the summer months.
Get the Best Gas Option for You
If you are in the market for a new heater, you might consider getting a gas-powered heater. Understanding how the different types work, what features each offers, and what spaces they are typically recommended for can help you make the best decision for you family and your space.
For a large purchase such as this, it is best for homeowners to go in prepared. Start shopping with Total Home Supply –– we have a variety of excellent gas heaters available for purchase.
Happy heating!