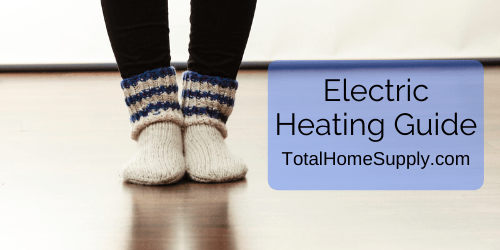 Want to heat your home without all the maintenance and concerns that come with a traditional gas furnace? Electric heating might be the right choice for you. With benefits such as quiet operation, minimal maintenance, and no gas emissions, it's no wonder why electric heaters appeal to so many homeowners. If you're thinking of installing one in your home, keep reading to learn more about how electric heaters work, the types available for homes, and the most efficient options.
How Do Electric Heaters Work?
As the name suggests, electric heat is heat that is generated by electricity.
Electric heaters work by generating an electrical current and converting it into heat. However, there are many different types of heaters, all of which work a little bit differently from one another. For example, radiant electric heaters work by using infrared radiation to directly heat the objects in the room (similarly to sitting in front of a fire or standing in the sun), while convection style electric heaters work by drawing in cold air and pushing warm air outward into the room. Depending on your needs and budget, one style might be better than others, so it's important to do your research and reach out with any questions you may have.
Homeowners choose to use electric heat over gas heat for a multitude of reasons, but some of the most common reasons include lower upfront cost than gas furnaces, quiet operation, zero gas emissions, and low maintenance.
Types of Electric Heaters
Electric Wall Heaters
If you don't want a big, hulking unit taking up precious floor space, an electric wall heater may do the trick for your home or business. We have both horizontally and vertically configured electric wall heaters, so that you can select a product that's right for your specific needs. There are several types available that all work a little differently. For example, an electric radiant wall heater works similar to the sun by directly heating objects and the air in the room. On the flip side, an electric counterflow heater works by using a blower to pull in air from the top and warming it before pushing it out through the bottom of the unit. This allows the warm air to rise and circulate throughout the room.
Mini Split with Heat Pump
A mini split with a heat pump offers excellent efficiency and versatility. With the ability to heat up to eight rooms or "zones," a mini split system with a heat pump can be used year-round thanks to its combined heating and cooling capabilities. The best part? You can set the temperature for each room or zone to cater to every family member's comfort level.
Heat/Cool AC Units
If you want an easy-to-install heating solution that you can use year round, then a heat/cool air conditioner may meet your needs. Ideal for smaller spaces such as apartments, studios, and bedrooms, heat/cool AC units are available in a variety of configurations, including window, PTAC, and through-the-wall units. Our heat/cool units range from 5,000 to 25,000 BTUs and can heat and cool spaces up to 900 square feet in size.
Radiant Floor Heat
Radiant floor heat offers the ultimate luxury of heated floors. Because heat rises, radiant floor heat doesn't just heat your floors – it's an effective way to heat the rest of your home as well. Radiant floor heat mats are installed underneath your home's tile, stone, engineered wood, marble, or laminate floors and come in a variety of sizes and voltages to meet your specific needs. These mats can be installed throughout your home and connect to a thermostat to operate. Please note that radiant floor heat mats should be installed by qualified professionals only.
Baseboard Heat
Baseboard heaters deliver high efficiency heating on a per-room basis, meaning that the homeowner can control each room's or "zone's" temperature individually. Baseboard heaters use a convection heating system, which means they draw in cool air from the bottom and push out warm air from the top. Because baseboard heaters are typically installed under windows, which naturally let cool air into the home through the glass, their convection heating system is highly efficient. Another benefit of baseboard heaters is that they are relatively quiet. These heaters can be installed throughout your home for efficient, comfortable electric heating that makes everyone happy.
Garage Heaters
Whether you're interested in heating a commercial garage, workshop, or warehouse, electric garage heaters are a great way to heat your space easily. Our electric garage heaters work by pulling in air from the top, warming it, and then pushing the warm air out the front. Thanks to their size and power, we even have options that are great for commercial use. We carry 2 kilowatt all the way up to 20 kilowatt models.
Popular Electric Heaters
Summary
With a lower upfront cost than most gas heaters, quiet operation, and innovative technology, it's easy to see why electric heating is so appealing. When it comes to choosing an electric heater, it's important to look at all your options and determine the best type for your specific needs. Whether you're heating a small room or an entire home will impact what you purchase, and it's essential to find a solution that fits your demands and budget.
Ready to start shopping? Browse our electric heating solutions to see all the different options we offer. As always, if you need more information or assistance in making the right purchase, contact us and our trained HVAC specialists will be happy to assist you.