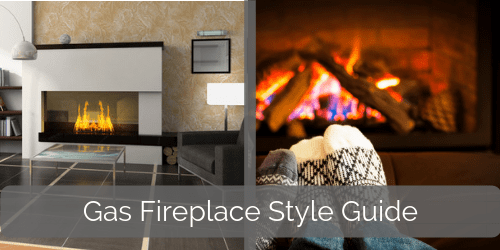 Is your home prepared for the cooler weather?
As we round the corner on the colder months of the year, it is a great time to start thinking about heating your home. If you often find yourself wanting an extra bit of warmth during this time of year, a gas fireplace might be the perfect option.
Not only do gas fireplaces provide warm air and a cozy ambiance, they also come in many different styles so that you can compliment the decor of your home. Read on to find out more about why this might be an optimal way to add both flair and warmth to a space.
Gas Fireplace Styles
One of the great things about gas fireplaces is their versatility; they come in many styles so that you can select one that's the right look and feel for you. There are also different customizable features such as doors, louvers, liners, logs and more so you can further pinpoint your style.
Classic Style
For many people in the market for a gas fireplace, the classic option is a perfect fit.
A square shape that can be installed into a wall with a gas line or blended into an existing fireplace, classic fireboxes are what you might typically picture when you think of a fireplace. Traditional style gas fireplaces are seen more often in households because they are the most popular style. Since they are often installed in mantle areas, with charred log sets that look real, it is easy to bring the cozy fireplace feeling into your home.
The classic look and feel will make you want to curl up with a book in front of a crackling flame.
Contemporary or Modern Style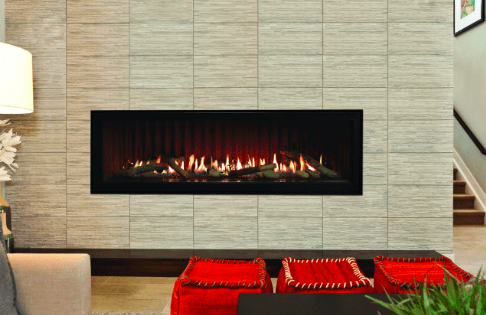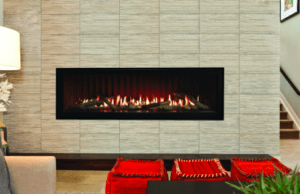 Looking to add a contemporary or high end look and feel to your living space? A modern gas fireplace has all the same features of a classic, but with a sleek design.
These fireplaces and the flames themselves are often longer in width, and have more unique features. One option is a double sided fireplace, so that you can see the fire in two different rooms, as it shows on both sides of the wall.
In other versions, glass pieces are used instead of wood, or multiple gas log sets are placed side by side for a wider, more dramatic effect. Another great option for smaller places is a gas fireplace with a flat and shiny front piece, which brings a little modern flair to a more classic design.
These contemporary style gas fireplaces are certainly gaining popularity as homeowners want to add a bit of warmth to their home but with a more polished feeling.
Cast Iron Style
Perhaps your home decor is all about unique and rustic elements.
If that is the case, an old-fashioned looking cast iron fireplace could be just the options for you. As a free-standing unit, you can get that traditional look in classic matte black or switch it up a little with mahogany wood. The logs typically come with the unit and are made to look like natural burning wood.
This call back to older days is sure to be a charming addition to your home.
Gas Fireplace Design Ideas
No matter what style of gas fireplace you decide to go with, you'll want to integrate it with the current decor of your home.
How to make your fireplace look more classic
Aiming for that classic look? Here are a few ways you can achieve it.
One option is to build a wooden mantle around the fireplace so that it looks more authentic. Decorate the mantle with natural colors and pieces like wood, leaves, flowers, and dark colored candles.
Similarly, you can also get a rustic looking log set, which can dramatically change up the feeling the fireplace gives off.
Accent your gas fireplace with a brass antique fireplace tool set to really achieve the look you're aiming for.
How to make your gas fireplace look more modern
If you're wanting more of a contemporary aesthetic, there are plenty of ways to make that happen, too.
Install a nice flat screen tv above the long fireplace, for one simple design trick. The long, sleek TV will compliment the fireplace design.
Decorate the surrounding mantle with sleek and simple artwork to provide some extra visual appeal to the area. Or use different height decorations including a mix of tall pieces, to accent the fireplace.
As mentioned earlier, use colored glass pieces in the actual gas fireplace instead of log sets, for a very modern feel.
Use your imagination, but don't overdo it –– with a modern look, sometimes less is more.
Choose the best option for your home
Which type of fireplace is right for your home?
If you aren't sure, start by figuring out which room you'd like to add the feature. Whether it's your living room, sunroom, den, or other space, you'll want to think about the style of the room already, and how you can make the look and feel of both fit together.
If you decide that a gas fireplace is the best option, play around with changing up the color, louver, liner, shape, log type and more to achieve the feel you're after.
Here at Total Home Supply, we are all about options –– browse our wide selection of gas fireplaces styles to find the one that's perfect for you.