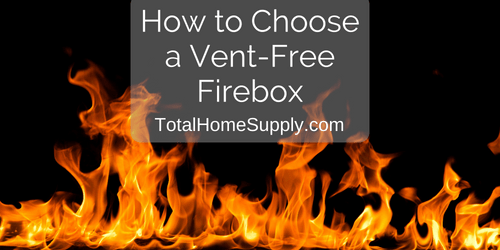 Ah, the fireplace.
For years, this cozy, crackling area has been a place to gather friends and loved ones to sit and chat while enjoying the warmth of a flickering flame.
However, some traditional gas fireplaces have their drawbacks –– from maintenance, to cleaning, and safety concerns.
One option to circumvent these concerns is a vent free firebox. These devices can fit into an existing masonry fireplace, or be installed on their own. With the ability to customize the look, and without vent requirements, a firebox might be the perfect choice for those looking for classic coziness without all the headache.
Here we'll break down what you need to know about choosing a vent free firebox, and point you in the direction of a couple of our favorites, too.
How to Choose a Vent Free Firebox
As with any new appliance you're considering purchasing for your home, it can be tough to know what to really look for when shopping for and comparing options. At Total Home Supply, we believe you should know what's required and what's optional so that you can be sure you're buying exactly what you need for the product to work, and anything else you're looking to add-on.
Below are some common options that you get to pick for your firebox, as well as some guidelines for determining which one is best for your home.
Size
Depending on your situation, you may have some flexibility with the size of firebox you would like, or it might be constricted by the size of the fireplace where you are installing it.
It is important to note that there are two sizes listed: the framing size and the visible size. The framing measurement will help you determine if the firebox will fit in the designated area, while the visible size tells you what will actually be displayed. It's important to understand the framing size requirements when purchasing because the firebox may measure small enough to fit in a space, but may require more room when it comes to the framing measurements.
You'll want to be aware of the following framing dimension requirements:
Visual Details
Your vent free firebox will not just be a functional addition to warm your living room, but also a beautiful visual centerpiece for your home.
You can choose the color and look that best matches your home decor, from modern to old-fashioned or rustic options. You can also choose the visual look of the logs, which we will discuss in more detail further down this post.
Burner Type –– Required
After you've determined the size, now it's time to choose a burner. Here are a few of the most common choices available and a little information on each:
Millivolt – A millivolt burner uses a standing pilot light and can be operated manually at the burner or controlled with a remote (remote sold separately).
Variable flame – With a variable flame, you can control the height of the flame through a hi/lo manual knob, or with a remote control (remote typically included).
Intermittent pilot – An intermittent pilot light turns on the fire electronically. Once the pilot light has been confirmed, the electronic unit allows the burner to open (remote typically included).
If you aren't sure which burner you need, speak with a professional before purchasing the fireplace to understand which would be best for your situation.
Liner – Required
At the back of your firebox, you'll see a liner. Sometimes, a refractory liner comes included, but otherwise you can choose the liner design from many types, including, but not limited to:
Brick
Limestone
Stainless Steel
Polished Black
If the option of choosing is not available, the firebox should come standard with a liner, but if the option is given, then it's required to choose.
Logs –– Required
To round out the look and feel of your vent free firebox, you'll also need to choose a gas log setup.
Logs usually come in different aesthetic appearance and tree types, such as American Oak or Birch. Depending on how realistic you want the logs to look, you can opt for more clean or more charred pieces.
You'll also want to be aware of the log set size. Most fireboxes will only give you the option to choose the correct log set size when purchasing online, or give you a couple of different size options, but if not, then you must be aware of the size that will fit in the firebox.
Decorative Doors –– Optional
Do you want your firebox to match the style of your home?
Consider getting some decorative doors for it. With many different facing options, you can be sure to make your firebox fit in your living room decor.
Decorative Louvers –– Optional
Louvers are sets of flat strips or angled slats that can be placed on a firebox to increase air circulation and add visual appeal to your firebox. These are an optional addition, but can increase the overall visual appeal of the firebox.
Frame –– Optional
If you are installing your firebox into a wooden style mantel, you may want a frame. Frames can be a great way to ensure that your firebox fits properly into the allotted space and make it look nice.
Blower Kit –– Optional
Some fireboxes also come with the option to add a blower kit. A vent free firebox with a blower helps to circulate the warm air around the room the fireplace is located. This useful add-on helps increase the reach of the warmth that your fireplace provides.
A Couple of Our Favorite Fireboxes
While there are a plethora of great options out there to choose from, there are a couple fireboxes we carry that caught our eye.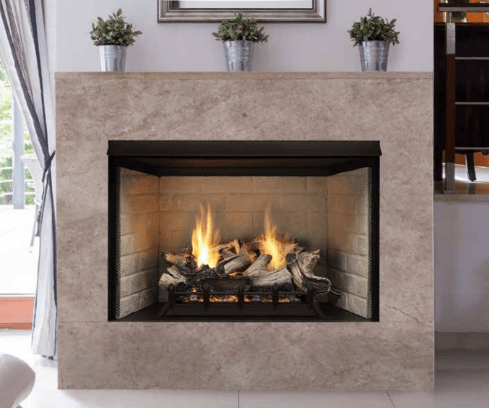 Monessen BUF36-R Vent-Free Exacta Firebox with Refractory Liner
With a Monessen firebox, you can get flexibility and style all in one. This vent free firebox with choice of logs can be installed into your wall or into a pre-existing wood burning fireplace that's been converted with a gas line.
It comes with a refractory liner for that traditional fireplace look, and can be installed flush against any surface such as wood or drywall.
White Mountain Hearth VFD32FB0F Deluxe 32 Breckenridge, Vent-Free Firebox with Flush Face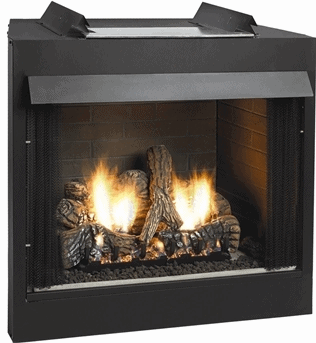 For tighter spaces, this firebox from Mountain Hearth is a great bet. As a smaller firebox, it can be placed in multiple areas with ease, and is certified for installation in a vented fireplace.
Pick Out the Perfect Vent Free Firebox for You
When it comes to choosing a vent free firebox, there are many options. However, before you dive into shopping, it is key to know what you really need and what you don't.
Whether you're going all out or just looking for the bare minimum, Total Home Supply has you covered. Check out our available options to see which one might be perfect for your home.
Stay cozy!