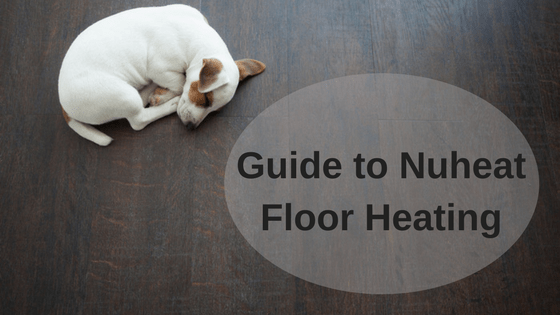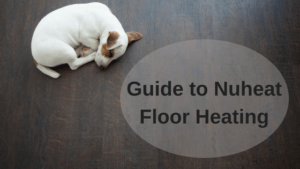 When it comes to house heating, radiant floor heat is arguably one of the best methods. Technologically speaking, radiant floor heating systems are much more advanced, efficient, clean, and consistent than standard gas furnaces or electrical forced air systems. There's little to no maintenance, no gas leaks to worry about, and no noise. Instead of having to constantly re-adjust your thermostat settings and worry about moving mechanical parts that might break down, floor heating systems have one setting and provide even, radiant heat. No more stepping out of bed onto ice cold floors in the morning or random cold pockets of air in your home.
If you're interested in a new heating system that costs less to run, distributes fewer allergens, and provides more consistent heating overall, definitely consider Nuheat underfloor heating technology.
Why Radiant Heat?
Radiant heat works so well because it heats the surface in which it's been installed directly, via infrared radiation. Since heat rises, having the radiant heat source installed directly in your floor is highly beneficial. Radiant heating mimics the way sunlight heats air and utilizes the natural movement of heat that passes directly into the room from the floor. Once the temperature is set, it provides an even distribution of warmth throughout the space. It is as warm head height as it is at foot height, so there are no random pockets of cold air or drafts to slow the system down.
Radiant heat is also a great system that allows you to heat each room according to its level of use — no more closing off rooms in the house to avoid precious heated air escaping from common areas.
Whether you're planning a remodel or looking to install a new cost-efficient heat system in your home, Nuheat offers some of the best radiant floor heating around.

All About Nuheat Floor Heating
Nuheat Radiant Flooring Heat Mats are some of the best radiant heat options around. Due to their design, Nuheat floor mats are extremely cost-efficient. Although it's connected to your electricity, using Nuheat as a supplemental heat source in a few rooms or throughout your home as a primary heat source won't jack up your electric bill. Even with frequent use, this system is inexpensive to use, and comes with a 25-year warranty if installed by a certified PRO installer.
A simple thermostat system makes it easy to adjust your preferred temperature setting once and not have to worry about repeatedly turning your heat system on and off to reach the optimum indoor temperature. With the added bonus of no mechanical parts that could break down and no potential for carbon monoxide poisoning or pilot light failure, Nuheat is the perfect all-around option for whole or partial home heating.
Nuheat Radiant Floor Heating Mats are designed to be installed beneath any tile, stone, laminate, or engineered wood floor, making them the perfect solution for any home. Made of heating wire sandwiched between porous and highly durable fabric, each mat is ⅛" thick and features consistently spaced wires that conduct the radiant heat and reduce any irregularities. Available in a variety of sizes, each mat emits 41 BTUs or 12 watts of heat per square feet, making Nuheat one of the most cost-efficient heating methods. A 10-ft lead that connects to the thermostat comes with each mat, and with wireless technology and a corresponding thermostat app, you can control your Nuheat system from your phone in your pocket. No more cold pockets of air, no more ice-cold floors, and no more high energy bills.
Pros: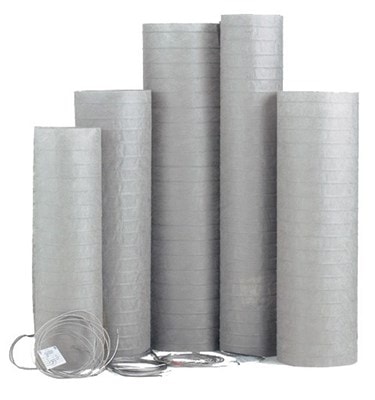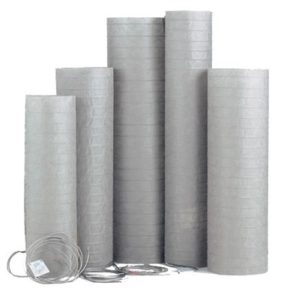 Radiant floor heat is the most efficient and comfortable way to keep your house warm in the winter, and comes with even more great benefits:
There's no duct system in which to lose warm air, and lower your heating efficiency.
Due to lack of blown-air systems required to heat, Nuheat heating mats won't kick up and distribute any allergens so that everyone can breathe easy.
Also limits distribution of dust and bacteria that are common with central heating systems.
Consistent temperature throughout the heated space.
No more cold feet!
No drafts.
Little to no maintenance and repairs.
No moving parts to break down and replace.
Each room can be heated according to its rate of use — no more closing off vents or rooms to keep heat from escaping the common areas.
Versatile – perfect for supplementing any other whole-house heat systems or as the primary heat source.
Perfect for installing during any renovations or home updates.
Also easily installed even without a renovation or update project planned.
Cons:
If you don't have a direct line in the room you're wanting to install the Nuheat mats, installation could be a bit pricey, as you'll need to have a line put in and then the Nuheat installed.
Cannot be retrofitted.
Nuheat Floor Mat Installation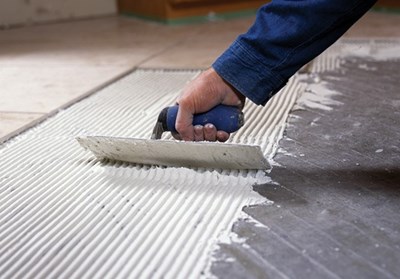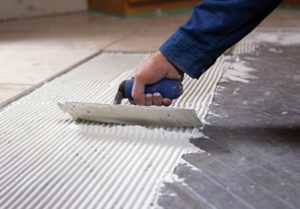 If you're looking to complete the installation yourself and already have a dedicated line to hook the mats up to, then you're good to go. Installation then only requires that you have the proper number of mats for the square footage of the room(s) you're heating and an external thermostat to install and regulate. And due to its versatile nature, Nuheat floor mats can installed beneath a wide range of floor types, making them the perfect heating solution for any home.
Nuheat mats can install horizontally or vertically — essentially, it's up to you to determine the best mat coverage for your room and how you want it laid out. NEVER cut a Nuheat mat to size, as this will irreparably damage the mat and render it unusable. If your room has a unique footprint or design, Nuheat can also make a custom-shaped mat fit to your specifications. Some of our most common sizes of Nuheat mats include:
25 sq ft – 5ft x 5ft– perfect for a small bathroom – $344.85
80 sq ft – 8 ft x 10 ft – perfect for larger bathroom – $726.75
200 sq ft – 20 ft x 10 ft – perfect for kitchen – $2050.10
Before installing Nuheat heating mats yourself, make sure to read the installation instructions thoroughly and assemble the proper tools. Depending on the size of your room, installation could take a few hours, or up to a few days to complete. If you have any questions along the way, call Nuheat's customer service helpline to troubleshoot any aspect of the process.
However, if you aren't sure whether the room is equipped with a line, you'll probably need an electrician to come install the mats for you.
Troubleshooting Nuheat Floor Heating Problems
Sometimes, no matter how high tech and seamless the Nuheat system, a few common problems are still encountered. Here are a few issues you could run into and how to fix them:
Red Light on the Thermostat is On or Blinking – This could indicate that the Ground Fault Circuit Interrupter (GFCI) has been triggered. If the light is solid red or a slow blinking pattern, press the On/Off button to reset the GFCI. If the red light is blinking fast, this indicates that there's a ground fault in the heating system. You'll need to call an electrician to test the system with a digital multimeter and verify the wiring.
Thermostat Screen is Blank – A blank thermostat screen could mean several things. Make sure the unit isn't simply turned off by pressing the On/Off button on the right side of the thermostat. The screen will take several seconds to turn on. If that is not the issue, determine that there is power being directed to the thermostat by pressing the GFCI button. If the red light turns on, this means the thermostat is receiving power. If the light remains off, check the circuit breaker on the electrical panel to make sure it is ON or contact an electrician to check the wiring. If there is power flowing to the unit and attempts to turn it on are still unsuccessful, this could indicate a faulty faceplate, and you'll need to call Nuheat to help you troubleshoot. After verification, a new faceplate will be sent out with installation instructions.
Constant "Thermostat is Offline" Message – This issues could be fixed simply by restarting your router, so turn your router off and back on. Double check that the router is connected to your WiFi and proceed.
Thermostat is Under or Overshooting the Target Floor Temperature – The target temperature you've set will be the small number on the home screen of the thermostat. If you've just installed and begun to use your Nuheat system, this issue could simply indicate that the thermostat is still "learning" the heating or cooling characteristics of your floor. It will take about 3-5 days of uninterrupted heating and cooling for the thermostat to learn these characteristics. A sudden change in temperature due to weather could also be the problem, and the system simply needs to catch up. If you've been using your Nuheat Radiant Floor Heating system for awhile and this issue pops up, it could mean that the Temp Display and Temp Control settings are in different modes or settings. The Temp Display allows you to choose to display the floor or ambient air temperature in the room. This is the large number on the thermostat screen. The Temp Control offers the ability to control the floor heating system using the floor or ambient air temperature in the room. The recommended setting is to set BOTH to floor temperature, as this will allow the system to use the floor temp to heat/not heat the floor.
You can view the complete Nuheat troubleshooting guide here. If issues still persist or you're running into problems that aren't listed, please contact Nuheat Customer Care at 1-800-778-WARM (9276).
Summary
The benefits of using Nuheat can save you a lot of money every year when the weather gets cold. No more high heat bills, and no more heat being lost to cold, poorly insulated rooms. Radiant floor heating is also highly beneficial for your health — no more clouds of dust, bacteria, and allergens swirling through the air and into your lungs.
If you're looking to add cost-effective supplemental heat sources to your home, or interested in an easy-to-use, allergen-free, and highly beneficial heating system, look no further than Nuheat Radiant Heating Floor Mats. Total Home Supply offers everything you need to get started with your new heating system today, and we're there to help guide you through every aspect of the process. Just give us a call and we'll be happy to help you with your new heating system.