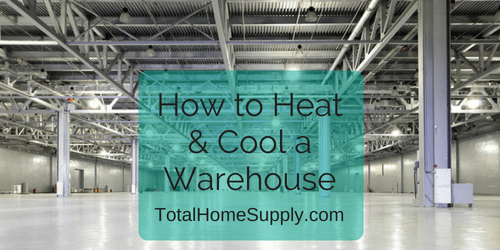 Owners and operators of warehouse spaces can all agree that temperature control is a big challenge. Why are warehouses so difficult to both cool and warm?
There are several challenges to temperature control in warehouse spaces. Among them include:
Tall ceilings
Large open spaces
Garage doors that frequently open and close, allowing air in from outside
Ventilation quality and/or cracks and drafts can affect the heating and cooling as well
Apart from making sure that all items in the warehouse are kept in good shape, temperature control is also a concern for your employees. If your workers are uncomfortable in the warehouse because it is too cold or hot, it may affect employee retention and even break health and safety regulations. In addition, poor temperature control could cause malfunctions in the machinery or affect the integrity of your products.
Although there are many challenges when it comes to heating a large space such as a warehouse, it is not impossible. Start with the proper HVAC system and you'll be on your way.
Here we will take a look at several options for heating and cooling a warehouse.
How to heat a warehouse
Here are some of the warehouse heating strategies we'll cover:
Installing a gas unit heater
Installing an electric unit heater
Installing an air curtain
Using an industrial fan to help even out air
One of the first things that you must determine for warehouse heating is the size in square feet of your space. From there, you need to determine how powerful of a heater or other device you need to get. The number of BTUs can be a helpful guide when comparing different units.
Unit heaters
Among the heating options for a warehouse are unit heaters, powered by either gas or electric.
Gas
Gas fired unit heaters can heat large spaces such as garages and warehouses, and they are both affordable and effective. These units may be a great choice for warehouse owners who are looking for a more cost effective option for their warehouse.
Electric
Another popular option for heating warehouses is electric unit heaters. While these units are a lot more expensive than gas unit heaters to operate, they have some long-term advantages.
Electric heaters require less extensive installation, last upwards of 20 to 30 years, and are safer than gas units, as there is no risk of a chemical leak.
Air curtains
One option less commonly considered, but extremely helpful in creating a heating and cooling solution for a warehouse are air curtains, or special fans used to keep a space temperature controlled and protected from contamination. They work similarly to a double window pane, as they create a barrier between two areas by taking in conditioned air, and then forcing it straight down onto the floor.
Since warehouses often have garage doors or other sections of the space that are open to the elements, air curtains can be a great way to eliminate leaks, keep your space contaminate free, and save you money.
Total Home Supply carries many different air curtain options, such as the Mars LoPro 2 Air Curtain, that might be perfect for your warehouse heating needs.
How to cool a warehouse
Here are the warehouse cooling strategies we'll cover:
Installing a commercial AC unit
Using an industrial fan to keep air moving
Even if your warehouse is located in a cooler climate, there are likely still times of year when you need the option to cool your warehouse, and you'll want to be prepared with the right tools to make it happen.
Much like when determining your best warehouse heating option, you should take the size of your warehouse into consideration before narrowing down how powerful (BTU) your air conditioner needs to be.
Commercial AC units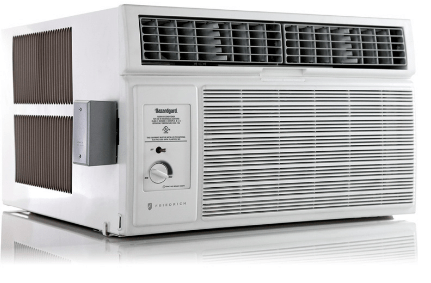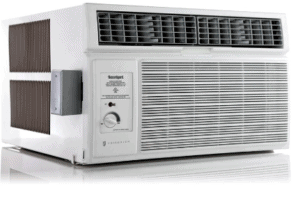 Overall, the most commonly used option for cooling warehouses are commercial air conditioners. These units are specially designed to cool large spaces efficiently.
Plus, commercial ac units are safe to operate even in locations that deal with chemicals or other flammable materials.
While we carry many different options for warehouse cooling, you might consider checking out the Friedrich Hazardgard Series Air Conditioner, which is specifically designed for spaces with toxic or flammable liquids and gases.
Industrial ceiling fans
If you aren't sold on your warehouse needing an air conditioning unit, you might opt to install an industrial ceiling fan instead. As hot air in the warehouse rises, an industrial ceiling fan can help redistribute and recirculate the air to make the space more comfortable.
While many people use these fans for cooling, they can also help even out the air when heating your warehouse as well, which can help you save on heating and cooling costs.
Find the best ways to heat and cool your warehouse
Not all warehouses are the same, and neither should their heating and cooling options be. Whether you are looking for a heating solution, cooling option, or a combination of both, be sure to start with the size of your warehouse to begin narrowing down your search.
From there, consider the various options available to you, from gas and electric heaters to air curtains, commercial units, and industrial fans. If you aren't sure what option is right for you, speak with a professional on which would be the best for your situation. Here at Total Home Supply, we're happy to help.
Stop on by our wide array of gas unit heaters and other warehouse heating and cooling options to find the one that's right for you.
Take the headache out of temperature control in your warehouse with Total Home Supply.