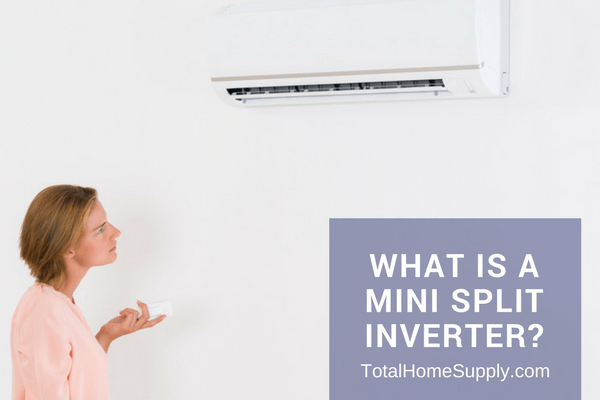 How satisfied are you with your air conditioner? How about your heater?
If you still use a traditional heating or cooling HVAC system, your answer may be: "Not so much". Ductwork, troublesome labor and installation, and inefficient performance have led many homeowners to opt for ductless mini split units instead.
With advanced technology that provides greatly improved efficiency, lower noise, and considerable short and long-term savings, mini split inverter systems may be the right choice for those looking to upgrade or replace their old AC or heating system.
Don't feel sheepish if you aren't sure what a mini split inverter is –– in this article we discuss what it is, what the advantages are, and how much you could save in the long run.
What is a mini split?
Before we get into the specifics about inverter mini splits, let's recap what a mini split AC unit is in the first place. Basically, a mini split AC unit achieves the same goal as a traditional AC unit: cooling your home. The main difference is that mini split air conditioners do so without relying on ducts, which is why they are also referred to as "ductless air conditioners."
The cooling (or heating) process uses an indoor/outdoor unit system. The indoor unit blows the warm air over cold evaporator coils containing refrigerant, which absorbs that heat from the air, and runs it to the outside unit. Through the compressor, the refrigerant dumps the heat pulled from your home's air. The resulting cold air then blows right back into your room.
What is an inverter mini split?
Among mini split systems, there are two different types of compressors: rotary and inverter. A rotary compressor always runs in full power mode: either its 0% (off) or 100% (on). In contrast, an inverter is a device that uses only enough power to reach and maintain your set temperature, and then idles at that setting until more power is needed.
For this reason, many people prefer the efficiency and cost-savings of mini split inverters to their rotary counterparts.
You might be wondering how exactly a mini split inverter works, or the mini split inverter technology behind the operation.
As mentioned above, mini split inverters are more targeted because they continuously regulate the temperature. Using a variable-frequency drive, the inverter controls the speed of the electromotor, and by consequence, the heating/cooling output.
A traditional rotary compressor might be rated for 9,000 BTUs of cooling. That means whenever cooling is called for the unit ramps up to full speed and outputs 9,000 BTUs of cooling. An inverter compressor rated for 9,000 BTUs of cooling might have a BTU output range of 1,000 BTUs to 12,000 BTUs. That means when cooling is needed, the unit will start out by providing 12,000 BTUs to quickly cool the space, but will then throttle down to just enough BTUs to maintain the temperature. This speed adjustment results in lower power consumption, less noise, and more even cooling of the space.
Within this system, a microcontroller can sample the ambient air, and adjust the speed of the compressor accordingly.
Benefits of a mini split inverter
Perhaps the biggest advantage of the mini split inverter as compared to the rotary compressor is its efficiency. Since it operates with a higher level of precision, it doesn't waste nearly as much energy as the alternative.
Plus, since the sharp fluctuations of the load are eliminated in mini split inverter systems, the parts last much longer and don't run the risk of needing replacement nearly as quickly.
And don't forget about the noise –– mini split units in general are much quieter than more traditional systems, too. Even if you need to heat more than one room, multi split units can still do the trick with their multi zone options.
Top inverter mini split systems
GE AS12URD 12000 BTU Endure Series 27 SEER Single Zone Mini Split – Heat and Cool – Built-In WiFi – 208/230V
Part of GE's Endure series of Energy Star-rated ductless mini splits, this indoor and outdoor unit pair is capable of 12,000 BTUs of cooling and 14,500 BTUs of heat. It can cover about 600 sq. ft. and boasts impressive efficiency ratings of 15.0 EER, 27.0 SEER and 13.0 HSPF.
The GE Endure Series offers cooling operation from 14°F – 115°F and heating operation from -31°F to 75°F! This model is also ideal for colder climates, being capable of 100% heating capability at 5°F.
Apart from its impressive efficiency and performance, this model features built-in WiFi, making it controllable from anywhere you have an internet connection. Simply download the SmartHQ app and you can integrate it with Google Assistant and Alexa.
Panasonic CU-5E36QBU-5 36,000 BTU 3 Ton Configurable Five-Zone Mini Split Air Conditioner System with Heat Pump
This 5-zone mini split system can accommodate from 2 to 5 indoor units. It is rated for 36,000 BTU cooling and 37,800 BTUs heating capacity from the heat pump, and can service a maximum of 59,500 BTUs of combined indoor unit ratings.
Its inverter technology enables high energy saving performance, with SEER ratings of 18.5 when all non-ducted units are connected, and 16.5 with ducted units. It also boasts HSPF ratings of 10.0 and 9.5 (non-ducted and ducted units, respectively).
As for reliability, reliability, with its low ambient heating capability, you will never be cold – heating is possible even if the temperature outside falls as low as -5°F.
Not sure how much power you need for your system? Use Total Home Supply's BTU calculator and chart to find out!
For more inverter mini split recommendations, check out our guide to the top mini inverter units for 2022.
Find the right mini split system for you
Now that you have a bit more knowledge about the inner workings of mini split inverter technology, you should be much better equipped to choose a mini split system for home, office, or other location.
For a step-by-step help to choose the right mini split for your needs, check out our guide, which teaches you how to determine the BTU capacity you need, what features to look, how to understand your warranty, and more.
Or, if you are ready to buy, go ahead and check out the many options available in Total Home Supply's mini split selection.