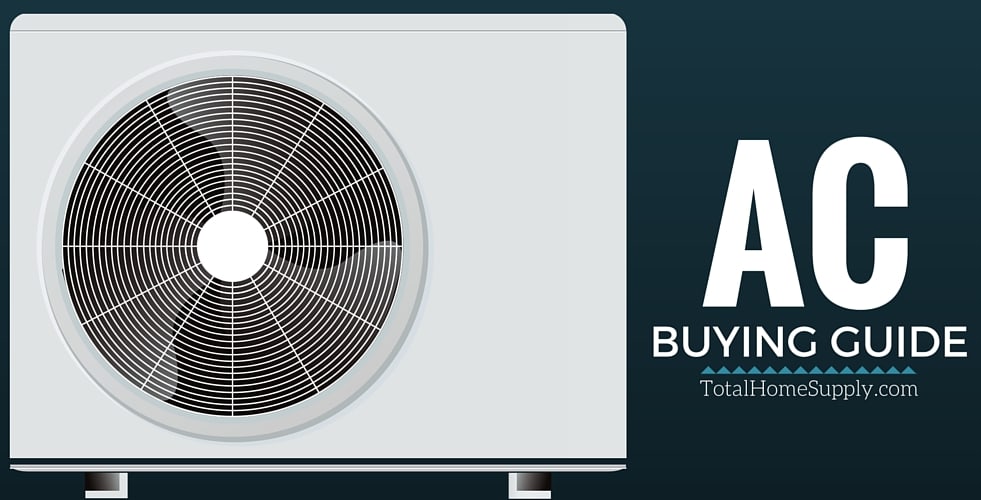 Please note: This article was updated April 29th, 2021.
It's that time of year again – flowers are in bloom, birds are chirping and the temperature is on the rise. Summer's right around the corner and it may be time for you to start thinking about how you'll cool your home during the upcoming hot, sunny months.
With so many different options to choose from, trying to figure out exactly which air conditioning system to purchase can prove a daunting and overwhelming task. That's why we at Total Home Supply have put together this comprehensive AC buying guide to help you identify what to look for when shopping for a new AC unit. Take a look at some of our top picks, then head on over to our website to shop and get free shipping on your order!
More details on the top air conditioners of 2021 below.
What to Look For in an Air Conditioner
When shopping for a new air conditioner, you should first have a good idea of what type of AC unit you need. Are you looking to cool your entire house? Just a room? Knowing how large of a space you need to cool will help you narrow down your options and find an AC unit that delivers the right amount of cooling power for you.
In general:
Now that you know the basics of these types of AC units, here are some of our staff picks and customer favorites in each category. We hope this air conditioner buying guide will help you narrow down your search for the perfect system.
Best Window AC 2021
Friedrich's CCW12B10A window AC delivers 12,000 BTUs, making it ideal for a 400-575 square foot room size. This powerful, Energy Star qualified unit features three cooling and fan speeds to help you achieve an optimal comfort level.
The CCW12B10A window air conditioner is a smart unit, meaning it comes with integrated WiFi that allows you to control the unit from your smartphone, giving you the freedom to control it from anywhere. Other features include energy saving mode, 8-way air flow control, and QuietMaster technology for quieter operation.
Full product listing here.
Top Through-the-Wall AC
Operating at an impressive 12,000/11,800 BTUs, GE's AJCQ12DCH through-the-wall AC is great for large, windowless rooms or for people who want a more permanent yet easy-to-replace solution. This unit is Energy Star certified and features three cooling speeds, including a fan-only option. Featuring an updated look and feel, it will bring stylish comfort to your space.
If you're looking for a through-the-wall air conditioner, keep in mind that you'll also need a wall sleeve to support your unit. Unlike window ACs, through-the-wall air conditioners are permanent fixtures, so be sure to closely follow all manufacturer instructions and measure the correct size hole to place in your wall.
Full product listing here.
Most Efficient AC
While all of the air conditioners on this list are energy efficient, as per our company commitment to greener technology, the Panasonic XE12SKUA-1 Exterios Series single zone mini-split AC really comes out on top. Ductless mini-split systems are a favorite choice for many because of their effective cooling power and silent operation.
This unit uses an inverter that changes power supply frequency to regulate compressor rotation speed, which means it operates using less energy. This system has a great energy efficiency rating: the maximum 30.6 SEER rating. It also comes with ECONVAI – a human detection technology that monitors and adjusts temperature in a space based on activity happening in the space.
If you're looking to really maximize the efficiency of your air conditioner, keep an eye out for those that are Energy Star qualified or have built-in energy saver or sleep modes.
Full product listing here.
Best Heating & Cooling AC
This GE Zoneline PTAC unit offers updated improvements over previous versions, including a redesigned internal structure for easier diagnostics and two additional DC fan motors to reduce noise. This system has 14,200 BTUs of cooling power and comes with a 13,400 BTU heat pump. The heat pump is also backed up by electric heat so the unit will still produce heat on extremely cold days.
This quality system is easy to use and built to last. It is the quietest PTAC on the market and comes with a limited 5 year warranty. It has an EER rating of 10.6 and a sleek appearance, these are just a couple of reasons why this unit has made it on our 2020 best AC list.
Full product listing here.
Best Multi-Zone Mini Split AC
The CU-5E36QBU-5 configurable multi-zone system is a five-zone outdoor unit that's designed to work with five indoor units for comprehensive climate control. With a 36,000 BTU rating for cooling capacity, this Energy Star qualified system features a high SEER rating of 18.5 (for non-ducted indoor units) for optimal efficiency. This mini split uses inverter technology that results in flexible operations that use less electricity.
The system comes with a heat pump boasting 37,800 heat pump BTUs making this unit perfect as both a cooling and heating solution. The heating capabilities work in temperatures down to -5°F.
Full product listing here.
This list includes some of our popular systems, but there are certainly other types available such as portable units and VTACs. As always, our excellent sales team is available to answer any questions you may have regarding our products. Please don't hesitate to contact us if you're interested in one of our top air conditioners of 2020, or any other product!