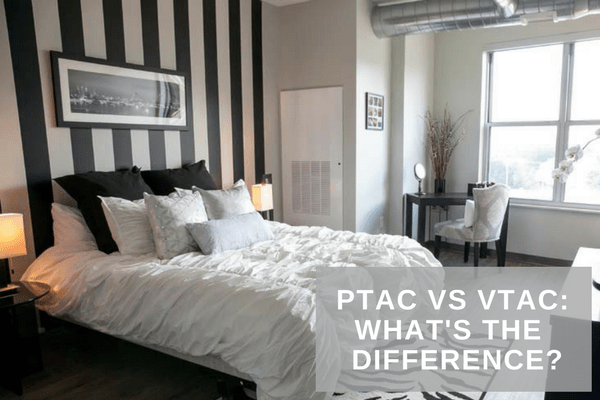 If you are shopping for an HVAC solution for your apartment building, hotel or hospital, you may find that your needs are different from other commercial enterprises. You want a heating and cooling solution that will keep your visitors comfortable without breaking your wallet. Two common HVAC products you may encounter are PTAC and VTAC units.
In this article, we explore the differences between PTAC vs VTAC, the pros and cons of each, and which one may be better suited for your needs.
What is a PTAC?
A PTAC (Packaged Terminal Air Conditioner) is a standalone AC/heater that is installed through a wall. PTAC units are self-contained, meaning they do not rely on ducts to operate. This makes them a great option for those who want to heat or cool a single room versus an entire home or building.
What is a VTAC?
A VTAC (Vertical Terminal Air Conditioner) is a vertical heating and cooling unit that is usually installed in a space hidden from view, such as a closet up against an outside wall. A VTAC can control the temperature of a single room or multiple rooms in a building.
PTAC vs VTAC: What's the Difference?
While both VTAC and PTAC units are commonly used in similar settings — hotels, motels, assisted living facilities, etc. — there are quite a few differences between the two.
Firstly, PTAC units are installed into a wall via a wall sleeve so that they can be easily accessed and operated from the room. VTAC units, on the other hand, are installed in a closet or a similar space so that they are hidden from view. They still must go through the wall like a PTAC unit. This makes VTACs an appealing option for those who don't want their heater/air conditioner in plain sight.
Because PTAC units are installed in a room, users can control the temperature directly on the unit or with a wall thermostat. Since VTAC units are hidden out of view, they can only be controlled via a thermostat. Both wired and wireless thermostats are available for both.
Pros and Cons of PTAC
Benefits of PTAC Units
Easy to install – PTAC units are easily installed directly into a wall with a wall sleeve – no ductwork necessary.
Inexpensive – PTAC units are fairly cheap to purchase compared to other commercial heating and cooling solutions. This means they can be easily replaced if necessary.
PTAC Drawbacks
Loud – Unfortunately, PTAC units aren't the quietest heating and cooling options. Pay attention to factors such as Sound Transmission Class (STC) and decibel ratings to compare loudness across models.

One-dimensional – PTAC units can only control a single room, which doesn't make them practical for an entire building.
To determine the right PTAC capacity, check out our guide on PTAC unit sizing.
Pros and Cons of VTAC
Benefits of VTAC Units
Versatile – VTAC units can control the temperature of one or multiple rooms.
Quiet – Because they're hidden out of view, VTAC units are ideal for those who want a quiet HVAC solution.
Powerful – VTAC units are available in sizes of up to 2 tons for more power.
Disadvantages of VTAC Units
Expensive – VTAC units carry a higher price tag than many other HVAC solutions.
PTAC vs VTAC Summary
| | | |
| --- | --- | --- |
| Criteria | PTAC | VTAC |
| Cost | Relatively cheap | More expensive |
| Installation | Easier to install | Requires ductwork |
| Placement | Exterior wall | Exterior wall in a dedicated closet |
| Service capacity | Single room | One or multiple spaces |
| Noise level | Louder | Quieter |
| Aesthetics | Visible | Hidden from view |
Best PTAC & VTAC Units
If you're in the market for a new PTAC or VTAC, we've got you covered.
Top PTAC Units
Entry level PTAC:
Hotpoint AH11H09D3B 9,000 BTU PTAC Air Conditioner with Heat Pump
The AH11H09D3B is a cooling unit with reverse cycle heat pump and electric back-up heat. It has a cooling capacity of 8,800 BTUs, 8,100 BTUs heat pump and features and 11.4 EER rating and 3.4 COP. The 20 amp power cord will deliver 3.4 kW of electric back-up heat.
Hotpoint PTAC units come with a 20 amp, 208/230 volt power cord included and new installations require a grille and wall sleeve, however if you are replacing a PTAC unit, your current grille and sleeve may be fine.
As an owner/operator, you have temperature limiting options that allows you to select one of four temperature ranges for total comfort and peak efficiency.  A nine-point diagnostic code system helps to easily identify service needs. In the event of a power failure, the Auto Power Recovery feature on Hotpoint PTACs will automatically restart your unit in the mode it was in when power was lost. Additionally, they also offer Freeze and Frost Protection to help keep your unit in top top condition. A sensor on the indoor coil monitors the coil temperature and turns the compressor off until the coils warms up.
Intermediate PTAC model with heat pump:
GE has made significant improvements to their long-trusted line of Zoneline PTAC units, both inside and out. A shallower front provides more usable space and an overall sleeker appearance, while a new, lighter color blends seamlessly with just about any existing decor. On the inside, a redesigned internal structure makes the servicing process easier and faster than ever before, providing a service diagnostics report to help technicians identify problems and a 'quick connect' feature that allows thermostat, central desk control, and external fan set-up in just seconds.
This 42″ PTAC has a cooling capacity of 11,800 BTUs and a 1,400 BTU heat pump. It has an EER of 11.8, and an impressive sound transmission class of 29. This makes GE's Zoneline units one of the quietest PTACs on the market at reducing outside noise when compared to leading competitors.
Features include electronic 7-step temperature limiting; 3-stage heating; reverse cycle defrost that prolongs heat pump operation, saving energy and money; and compatibility with a wide variety of thermostats and energy management systems, including central desk control.
For your convenience, we include the required power cord of your choice with this unit. You can choose either a standard power cord (included) or a hardwire kit ($20), each available in 15 amp, 20 amp or 30 amp.
Premium PTAC:
Friedrich FreshAire Series PTAC units are the most advanced PTAC units. This model s a 11,800 BTU cooling PTAC with 11,800 BTUs reverse cycle heat pump as well as back-up electric resistive heat. Additionally, it boasts an EER of 11.5, making it an efficient system to cool your smaller areas. It uses 208 / 230V electricity and has a 2 speed fan plus auto for better circulation.
It uses Inverter Technology helps the compressor to achieve expanded heating and cooling capabilities, higher SEER and HSPF ratings versus standard PTAC compressors, making it more efficient to run overall. Inverter technology uses variable capacity to reach the set point quickly and efficiently and then runs at a reduced capacity to maintain the temperature.
The FreshAire System brings in additional outside air which passes through a MERV 8 filter. It is the only PTAC line that meets ASHRAE 62.1-2013 requirements delivering up to 52 CFM of conditioned, MERV 8 filtered make-up air.
It comes with a 20 Amp power cord which provides 3.5 kW of electric heat. A 15 Amp cord (PXPCFA23015), providing 2.5 kW of electric heat and a 30 Amp cord (PXPCFA23030), providing 5.0 kW of electric heat are also available (sold separately). To back it all up, the FreshAire Series is backed by a 2 year parts and labor warranty with a limited warranty on the sealed refrigeration system for the third through fifth year (from date of installation).
Top VTAC Units
Entry-level VTAC:
GE AZ95E12DAC 11500 BTU 12.1 EER Zoneline Ultimate V10 VTAC with Electric Resistance Heat
This entry level VTAC offers up to 11,500 BTUs of cooling and electric resistive heat (power supply amperage dependent). It has an EER rating of 12.1 and has a footprint that is only about 24″ x 24″. It uses a wall mounted thermostat and has a top air discharge that can be ducted into one or more rooms – perfect for suite set-ups.
The design of the new AZ95E models includes a one-piece construction, which fully integrates with the wall plenum and aligns for a tight seal. This eliminates the need for building a customized platform on the construction site. Additionally it uses a Quick-Install Plenum that easily installs from inside the building without the need for exterior building access (caulking required).
The new AZ95E Series also gives you your choice of power supply. The power amperage you choose is directly related to the amount of electric heat you get. Universal power supply kits are available in 15 Amp; 2.45 kW electric heat, 20 Amp; 3.45 kW electric heat and 30 Amp; 5.0 kW electric heat options. Your choice of power supply is required at purchase.
Intermediate VTAC model:
Friedrich VHA12K34RTP Vert-I-Pak 12000 BTU Class Single Vertical Packaged Air System with Heat Pump
The VHA12K models are 208/230 volt and feature 11,500 BTUs of cooling comfort and 10,600 BTUs of heat from the heat pump. It has an 11.0 EER and can cool a room that is about 550 sq. ft. or about 24′ x 23′.
Vert-I-Pak fits neatly into a typical mechanical closet, so you can create indoor living spaces that are more versatile. Since the system fits into a closet with an outside wall, guests and tenants will enjoy a quieter, visually appealing living space, without giving up individual, in-room temperature control or access to windows. Even quieter operating sound levels may be achieved by insulating the closet. Contributing to the quieter sound levels and lower vibration noise of this unit, is the combination of the wall plenum and gasket plus extra thick rubber grommets.
The Friedrich Vert-I-Pak Systems are available with your choice of electric back-up heater size. The VHA12K34RTP includes a 3.4 Kw electric heater and requires a 20 Amp circuit. Other options of electric heat include 2.5 Kw (15 Amp circuit) (VHA12K25RTP) and 5.0 Kw (30 Amp circuit) (VHA12K50RTP).
Premium VTAC model:
GE AZ9VH12DBM 12,000 BTU Class 11.6 EER V12 Zoneline Inverter VTAC with Heat Pump and Make-Up Air 
The AZ9VH12DBM features Heat pump capacity range of 5,000 – 16,000 BTUs and a high COP of 3.4  at 47°F. This particular model offers up to 12,100 BTUs for cooling and up to 11,400 BTUs when operated as a Heat Pump, with an EER of 11.6. It comes with a factory installed makeup air system that delivers 37-90 SCFMs (without a filter) and 18-70 SCFMs (with MERV13 filter; RAA13V) of continuous makeup air. Its default setting is 35 CFMs.
The newest innovation for the GE Zoneline VTAC series is the Inverter Driven, Variable Speed Compressor, which, thanks to GE's proprietary algorithms, improves all operations of the VTAC system. Cooling, dehumidification, and heat pump operation continually adjust to meet the needs of each unique installation – keeping comfort high and energy costs low! Optimized and Efficient Operation!
Similar to central heating systems, the GE Zoneline Vertical Heat Pump incorporates the use of a reverse cycle defrost system. This allows the heat pump to operate at lower outdoor temperatures without frost accumulation on the outdoor coil. This helps provide owners with a cost efficient method of heating. Additionally, the outdoor coils include a corrosion treatment for added protection from the elements.
Summary
Both VTAC and PTAC units come with their own advantages. VTAC units are ideal if you value aesthetic over cost. For example, if you're a hotel owner, a VTAC unit will make for a more pleasant experience for your patrons. However, if you're on a budget and want something that is easy to install, a PTAC unit may suit your needs just fine.
Once you've decided which type of unit you need, head over to our website to shop our VTAC and PTAC units. All of our items ship for free to the contiguous US.