Air conditioners are a wonderful invention. They provide refreshing, reliable and almost instant relief from the stifling heat of summer. A simple push of a button or a remote control gives you cooling comfort in minutes.
The downside is that many ACs are energy hogs. They require a lot of power to run, which also means more money out of your pocket. Because of this, many folks decide to forgo AC and turn to other home cooling options that may not be as effective.
Thankfully, energy efficient AC units exist. These balance cooling with reasonable energy usage that's friendly both for your wallet and the environment.
But how do you know if an air conditioner is energy efficient? In this guide, we discuss what makes an energy efficient AC, and what factors you should look for when shopping for a high efficiency AC unit.

What is an energy efficient AC?
An energy efficient air conditioner is one that is designed to be more efficient that its counterparts by consuming less energy, or providing more cooling power for the same amount of energy used by non-efficient AC units.
An energy efficient AC unit is usually distinguished by three factors:
The energy efficiency rating

The use of inverter technology

Energy Star certification
We explain each of these below.
What Should I Look for in an Energy Efficient AC?
Energy efficiency rating
All air conditioners sold in the US are mandated by law to display their efficiency ratings in the product label. These ratings differ per air conditioner model.
Window air conditioners or room ACs use CEER (Combined Energy Efficiency Ratio), usually ranging from 8 to 15. The higher the CEER, the more efficient the room AC.
Ductless mini splits and central air conditioners use SEER (Seasonal Energy Efficiency Ratio). The higher the SEER, the more efficient the AC system is.
A product label sample for a window air conditioner sold in the US (left) and Canada (right). The energy efficiency is denoted by the CEER rating, which in this case is 12.0
These ratings go up periodically, as technology advances and environmental standards become stricter. For example, the CEER rating has gone up 4 times since 1990, while SEER was recently replaced by the more stringent SEER2 in early 2023. As such, it makes sense to get the highest possible rating allowed by your budget to future-proof your AC unit. 
EnergyStar certification
EnergyStar is a joint program by the US Environmental Protection Agency and Department of Energy to promote energy efficiency. The program designates energy efficient appliances, including AC units, by providing them with the EnergyStar certification.
Air conditioners that carry the EnergyStar seal are certified to be 10% more efficient than their regular counterparts. The EnergyStar website identifies window ACs, mini splits, and central AC systems that are energy efficient. It also supplies applicable rebates for your ZIP code region.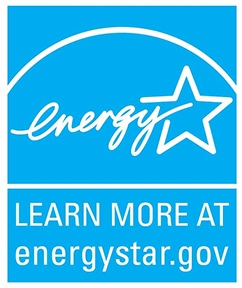 Inverter technology
Most appliances have a fixed power draw: the power they consume remains the same, even if their workload goes lower. Inverters are devices that allow the appliance to regulate its energy consumption by lowering it based on actual demand. 
This means that an inverter-equipped AC unit is able to adjust its power consumption based on the capacity needed to cool the room. Instead of going full-blast all the time, the inverter AC dials back its compressor once the temperature has been reached. 
This results in several advantages over conventional fixed ACs:
It has a dramatically reduced power consumption, resulting in up to 40% more monthly savings

It has longer lifespan, since the compressors don't have to work as hard

It can cool the room faster, since they start out strong then dial down as the desired temperature is reached

They tend to be more quiet, since they aren't operating at 100% all the time.
You can check out our list of the top inverter mini splits here.
The use of A2L refrigerants
Most AC units in use today use R410-A refrigerant. More recent AC systems have switched to A2L refrigerants, which are more efficient and friendlier for the environment.
In 2023, the EPA started phasing out the older R410-A in favor of these new refrigerants. Currently, R32 is the leading refrigerant for the new generation of high efficiency AC units. It is designed to be more energy efficient thanks to its better thermal conductivity, less toxic, and have a lower global warming potential. 
You can see the full list of A2L refrigerants here.
Types of Energy Efficient Air Conditioners
While all types of air conditioners — window, mini split, central, etc. — have their own energy efficient products, there's no doubt that some types of ACs are more efficient than others.
Central air
Central air conditioners distribute air throughout the home via ducts, which is then pumped out through vents. Units with an EER of at least 12 are considered Energy Star qualified.
However, central AC isn't the best for everyone. For those who don't already have ducts installed, central air conditioning may not be a viable option.
Also, if you only want to cool a few rooms, or if your house is on the smaller side, a central AC may not make sense. Instead, you may want to opt for a mini split system.
Energy efficient central air model:
Bosch 4 Ton IDS Premium 20 Seer Inverter Ducted Split System
The Bosch Inverter Ducted Split (IDS) System is a great alternative to conventional heating and cooling systems that require a condenser and indoor cooling unit plus a furnace. As the name implies it is a ducted split system that installs in two parts (1 indoor air handler and 1 outdoor compressor) and connects to your homes' ductwork. This model is Energy Star Rated with a SEER Rating of 20, an EER of 13.5, and an HSPF rating of 10.5.
The system includes a 5-ton class outdoor condenser paired with a 48,000 BTU indoor air handler. For cooling, the operating range for this system is 15°F – 125°F. For heating, the system will operate with outdoor temperatures from -4°F to 86°F. It offers 47,500 nominal cooling BTUs, with a nominal heating capacity of 48,000 BTUs on high and 40,000 BTUs on low. It delivers 100% heating capacity at temperatures as low as -5°F, with no additional hardware or accessories required. It also includes a factory installed base pan heater that keeps the condensate from freezing in extreme conditions. This system will also cool at low temperatures for national usability.
The air handler has a two-stage ECM motor in which the blower stages up and down providing enhanced comfort, energy savings and superior humidity control. The cabinet for the air handler is lined with foil-face insulation material to decrease energy loss and reduce condensation. It is painted galvanized steel and has been salt-spray tested for durability and corrosion resistance. This is especially important when used in coastal areas. It can be installed either horizontally or vertically – whichever is best for your installation.
Mini split
Mini split air conditioners are highly efficient. They give you free reign over your home's temperature, allowing you to cool as few or as many rooms as you want. Each room or "zone" needs its own indoor unit, which is powered by a single outdoor unit. This zoned efficiency along with the high SEER ratings make mini splits the most energy efficient choice for cooling, and also heating.
One thing to keep in mind is that mini split air conditioners have a high upfront cost. However, the units eventually pay for themselves in energy savings.
Our top energy efficient mini split:
Friedrich FRHW123A 12000 BTU Floating Air Premier Series Single Zone Mini Split with Built-In WiFi – Heat and Cool – Energy Star
The Floating Air Premier Series is Friedrich's top of the line ductless mini split systems, boasting high SEER ratings. This 12,000 BTU model has great efficiency ratings including 24.5 SEER2 and 15.4 EER.
It features inverter technology to run the system much more efficiently and reduce energy costs, all while cooling the space and reaching the desired set temperature more quickly. It also feature built-in WiFi and access to FriedrichGo App for wireless control, as well as Google Assistant and Alexa voice commands. The wall unit offers optimized air flow with 4-way air swing that send the conditioned air to all corners of your space.
One of the newest features of the Floating Air Premier Series is the FastPro Technology. FastPro Technology makes installation and maintenance a much easier, less time consuming task. FastPro gives your HVAC technician easy access to the entire indoor unit, including piping, wire terminal, the fan and fan components. The front panel of your wall unit can be propped open with sliding bolts to keep the cover up and out of the way. If more room is needed to work, there is a slide bar than can be pushed out for a wider space. This makes installation of the refrigerant lines and wiring a much more manageable, less time consuming task for your HVAC technician. Interior parts such as the return air filters and the entire blower wheel assembly are easily removed for cleaning or servicing (away from your room of installation) and re-installed quickly.
Window air conditioners
Window air conditioners, while not as efficient as mini split or central air conditioners, can be efficient under the right circumstances. If you only wish to cool one room in your home, or if you have a condo or an apartment, a window AC is probably suitable for your needs. Again, look for a window AC with a high EER rating to maximize energy saving potential. Many entry-level AC's are not Energy Star Rated. Be sure to look for the seal when making a purchase.
Our top energy efficient window air conditioner:
Friedrich CCV08A10A 8000 BTU Chill Premier Inverter Smart Window Air Conditioner – R32 – 115V – Energy Star
The new Chill Premier Inverter Series is Friedrich's Premium Line of "smart" room air conditioners now with variable comfort / inverter technology. The Premier Inverter units allow for the compressor to operate at the capacity needed at any given time. No more total unit shut off, just a lower speed circulating your cool air.
The Energy Star Rated CCV08A10A unit features 8,000 BTUs, an EER of 15.1 and a CEER of 15.0. It uses the newer, efficient R-32 refrigerant. R32 is up to 12% more efficient than R410A, resulting in lower Global Warming Potential. It features Friedrich's QuietMaster technology, which uses heavy duty insulation on the inner wall for sound absorption as well as a stiffened sheet metal casing to help block external noise. Vibration reducing counterweights also help to reduce the sound. Additionally, the wide discharge vents optimize airflow and minimize front panel noise. And, because it is running with an inverter there are no hard stop and stops in the compressor motor.
It also comes with integrated WiFi that allows you to control the AC using the Friedrich Go App right from your smart phone, and is compatible with Amazon Alexa. Once you download the Friedrich Go App, you can easily create and set a custom cooling schedule that fits your schedules and preferences.
PTAC 
Packaged terminal air conditioners, better known as PTACs, are air conditioners that are installed through the wall to control the temperature in an individual room. These inexpensive units are commonly seen in hotel rooms, hospital rooms, dorms, and assisted living facilities. Their easy-to-install design also makes them a popular solution for sunrooms. All PTAC units also come with heating capabilities for year-round comfort.
While PTAC units are a great solution for an individual room, they are not ideal for whole-home comfort.
Energy efficient PTAC with inverter:
Friedrich PVH12K3FB 12000 BTU Class FreshAire Series with Inverter Technology 11.5 EER PTAC Air Conditioner with Heat Pump – 20 Amp – 230 Volt
Friedrich FreshAire Series PTAC units are the most advanced PTAC units. This model is an 11,800 BTU cooling PTAC with 11,800 BTUs reverse cycle heat pump as well as back-up electric resistive heat. Additionally, it boasts an EER of 11.5, making it an efficient system to cool your smaller areas.
It uses Inverter Technology helps the compressor to achieve expanded heating and cooling capabilities, higher SEER and HSPF ratings versus standard PTAC compressors, making it more efficient to run overall. Additionally, your guests will benefit from improved dehumidification and reduced temperature swings in their room. The heat pump mode will provide instant heat, which quickly heats the room to the desired temperature for increased comfort for you and your guests.
The FreshAire System brings in additional outside air which passes through a MERV 8 filter and then mixes with return air from the room. It is then conditioned (heated or cooled) with the return air before it is re-introduced into your space. The Friedrich FreshAire PTACs are the only PTACs that meet ASHRAE 62.1-2013 requirements delivering up to 52 CFM of conditioned, MERV 8 filtered make-up air.
Friedrich FreshAire Series PTACs provide reliable performance at an entry level price point while still maintaining Friedrich quality and durable construction. The FreshAire Series features aluminum end plates and DiamonBlue Advanced Corrosion protection for a longer life in coastal area where the environment is harsher due to the salt water. Another feature includes an automatic sampling of the room temperature every nine minutes to ensure that the desired conditions are maintained.
PTAC with R32 Refrigerant:
Amana PTH153J35AXXX 15000 BTU Class 10.4 EER PTAC Air Conditioner with Heat Pump – R32 – 3.5 kW – 20 Amp
This unit offers 14,400 / 14,600 BTUs of cooling power, a 14,000 / 14,300 BTU heat pump and a 3.5 kW electric heater, providing approximately 9,900 / 12,00 BTUs of electric backup heat. It also includes a 20 amp power cord.
The Amana PTH153J35AXXX PTAC features an EER of 10.6 / 10.4 and will cool a space that is about 450 – 575 sq. ft. The "J" Series units available in the Amana line use R32 refrigerant. R32 is up to 12% more efficient than R410A, resulting in lower Global Warming Potential.
The new, improved design reduces operating noises from entering your guest rooms and feature an STC (Sound Transmission Class) of 29. In addition to the new design, better EER ratings and overall reputation of Amana PTACs, the standard and advanced features they are known for are all still included. Amana's advanced condensate dispersion system throws excess condensation onto the outdoor coil for fast evaporation allowing for maximum cooling efficiency with minimum condensate run-off. The built-in 30-second fan-off delay allows for more cooling efficiency, using the unit's fan to disperse the heated or cooled air into the room after the compressor stops, instead of leaving the conditioned air on the coils.
Why is energy efficiency important for AC units?
Energy efficiency is important for two reasons.
The first  — and perhaps the most obvious — benefit of buying an energy efficient AC is that it helps save energy, which in turn positively impacts the environment. According to the U.S. Department of Energy, air conditioners in the USA release approximately 117 million metric tons of carbon dioxide into the air every year. Making the switch to an to this type of air conditioner can help offset some of these emissions.
Secondly, being conscious of energy efficiency can help keep your utility bills low. Air conditioners cost about $29 billion annually to run and use roughly 6 percent of the country's electricity. Switching to an energy efficient unit can help alleviate some of these costs.
If you're still trying to decide between a mini split or central air system, take a look at our blog post explaining the pros/cons to each. If you're ready to start saving money and the planet, take a look at some of our favorite efficient air conditioners featured in our AC Buying Guide, then head over to totalhomesupply.com to shop our AC units.