Ductless mini splits are one of the most popular AC choices for homeowners and businesses alike. Mini split air conditioners are a leading seller on  our website, and, on our blog, have previously written about all the benefits of and features to consider when purchasing a mini-split AC of your own.
Installing ductless mini splits requires a high level of electrical knowledge for the job to be done safely and without harm to yourself or the unit. As such, we don't recommend homeowners try to install the unit themselves. Unless you are an advanced DIYer with extensive experience in electrical work, we strongly advise you to hire a professional to get the job done.
But even professionals have to learn the ropes, and so if you are an electrician who simply has not undertaken a mini split installation project before, this post is for you. Here, we offer a step-by-step guide to everything you need to know about the electrical specifications for installing ductless mini splits.
NOTE: These instructions are in regards to electrical specifications only, and do not include line set installation or refrigerant set-up. Always check the installation manual for the specific system you are installing as requirements can vary from item to item.
Mini Split Electrical Requirements
Voltage
The first thing to note is the voltage of your mini split. Ductless mini split systems generally require 208/240v, but some smaller mini split models only require 110v. Many single-zone mini splits come in 110v or 208/240v versions, while larger systems with a capacity over 12,000 BTUs typically operate on 208/240v.
Dedicated circuits
Mini splits must also have their own dedicated circuit to prevent overloading and repeated tripping of the breaker. According to the National Electrical Code, major appliances including ductless mini splits should have their own dedicated circuit. A dedicated circuit is one that has its own circuit breaker. This prevents it from overloading and tripping other circuit breakers in the electrical box.
Disconnect Switch
A disconnect switch or service disconnect must be installed at the location of the unit outside. This device allows you to cut off power to the unit which can be useful when servicing the unit or in the event of an emergency. Disconnects are housed in a weatherproof enclosure so that they are safe to be outside. A disconnect switch is required by code in most places for all mini split installations. 
Featured disconnect switch for mini splits:
Quick Disconnect Switch Kit for Mini Split Air Conditioner Systems
The Diversitech DDS-30 is designed to be easy to install and use. The included fuses install into the pull out handle. The terminals are arranged for simple hookup with heavy duty wiring, and the door is reversible to make it easy to fit into any area. 
It also features easy to read indicator lights for blown fuses. The knockouts are located on the side, back, and bottom and allow for 1/2″, 3/4″, or 1″ connections. The package comes with two fuses of your choice. Select the fuse based on the maximum overcurrent protection amp rating of your system.
Electrical whip
The outdoor portion of the wiring must also be encased in an electrical whip. This is a weatherproof casing that protects the wires from the elements. The whip connects the power line from the disconnect box to the condenser unit.
Mini Split Wiring Considerations
Before wiring a mini split system, let's go over critical factors you need to consider when wiring a mini split wiring.
How many wires are needed for a mini split?
There are two kinds of wires used by mini split systems:
The first is the wire from the circuit breaker to the disconnect. The second type of wire is the one that goes from the outdoor unit to the indoor unit.
What wire size do I need from the circuit breaker to the disconnect? 
The wire size is determined by the power draw of the mini split, the distance, and local electrical codes. See our full guide to Wire Sizes to determine the gauge for your unit.
What wire size do I need to connect the outdoor and indoor units?
Mini-split wires are used to connect the outdoor compressor unit with the indoor evaporator unit, delivering electricity and control signals. For most ductless mini-splits, the right wire is a 14/4 stranded conductor cable, however check the specs of your mini split to ensure the proper size. 
A 14/4 stranded cable provides two 14-gauge conductor wires for power, one communication wire and one ground wire. The ground wire is essential for safe operation, preventing damage to the air conditioner and protecting your family, which is why going with 14/4 is always better than 14/3.
Featured mini split wire:
Honeywell Genesis Cable 10703908 50 Foot Roll 14 AWG 4 Conductor THHN Mini Split Cable
This mini split cable is specifically designed for use with any mini split system. The 14/4 cable wire will work with most major brands and allows for easy wiring from the indoor unit to the outdoor unit. With a 600v capacity, it is PVC coated, sunlight resistant and rated for direct burial.
Some areas also require the wire to be armored by code. We carry armored cables to ensure your wiring is compliant.
Featured armored cable for mini splits:
Honeywell Genesis Cable 10753908 50 Foot Coil 14 AWG 4 Conductor Metal Clad Mini Split Cable
The Honeywell Genesis metal-clad 14 AWG / 4 conductor cable is specifically designed for use with any mini split system. With this cable, there is no need for additional conduit as this wire is already metal-clad and can be installed right into the wall as is.
Each conductor is 7 stranded bare copper wires. It is sunlight and oil resistant and rated for direct burial, and can handle up to 600V. 
When do I use a 10/2 or 10/3 for mini splits?
When installing a mini-split air conditioner, it's vital to choose cable that's large enough to handle the current your system requires. For ample spaces and significant heating/cooling, some homeowners choose a mini-split with 36,000 BTU capacity. This type of system can require a 30-amp circuit, so you would need 10-gauge wire to handle the current. Every unit will list its amp draw and the wire choice will vary based on that.
What do 10/2 and 10/3 wire numbers mean? The first number is the thickness in AWG (American wire gauge). Don't forget that in AWG, smaller numbers mean thicker wires. So a 14-gauge wire is medium sized, 12-gauge would be a little bigger, and 10-gauge is the biggest wire you're probably going to need for a mini-split.
The second number is the amount of connectors the wire has. A 10/2 wire has two connectors, the black and white, both hot/lead wires as well as a ground wire. On the other hand, 10/3 wires have three connectors, black, white and red plus a ground wire. 
For additional guidance on wire sizing, check out: Wire Size Guide: What Size Wire Do I Need?
With any electrical project, be sure to check with a licensed electrician and verify the requirements of your local codes.
How to Wire a Mini Split System
Now that we have that clarified, follow these steps to wire up your ductless mini split system:
Step 1 – Mini-Split Shut-Off Box:
Run a 230/208 volt or 115 volts* dedicated line from the main break box to the area where the shut-off box will be installed next to the unit.
* Voltage depends on the system. The vast majority of mini-split units are 230/208V, but some are 115V.
Step 2 – Mini-Split Wiring:
Mount the shut-off box on the outside wall and connect the wires from the breaker box.
To meet the code, you must have a shut-off box at the location of the unit. This makes system repairs safer and easier. Wire the two hot leads to the fused connections in the box and the ground to the provided connection. Then, reattach the faceplate and insert the on/off switch. It should be kept in the off position while you continue to work on the unit.
Step 3 – Electrical Wire Whip:
An electrical whip is a premade, outdoor grade wire set that is intended to run from a shutoff box to the unit being installed. Using this ensures that you will have no issues with meeting code and keeps the process simple for you. The whip must be wired into the shutoff box and then to the unit as we will talk about next.
Alternatively, run your own wire through an outdoor grade conduit so that it is protected from the elements. (an electrical whip is simply a pre-done version of this.)
Step 4 – Mini-Split Wire Connection to Base: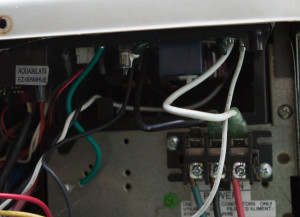 While it might be difficult to see through the other wiring in the unit, here we have included a picture of the main power connections to a Friedrich Mini Split Unit. You can see the green, black, and red wires connect the terminal blocks on the bottom right. The exact details of a connection like this are specific to your unit. Always reference the instruction manual before attempting any electrical connections.
Mini Split Wiring Diagram:
Step 5 – Mini-Split Wiring Connecting Inside to Outside Unit: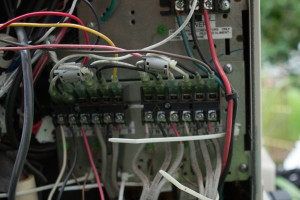 Depending on whether you are installing a single zone or a multi-zone unit, you will have a different number of connections. This Friedrich multi-zone unit has connections for 4 units, all of which are numbered for easy cross-referencing to the indoor unit. Make sure to write down which wire color is connected to which number. It is also critical to make sure that each indoor unit on a multi-zone system is wired to the same input that its line set is connected to. Otherwise, the system will not operate correctly.
It is recommended to use 14 gauge stranded wire for most installations. Pictured is a 14 gauge solid wire which will work but should only be used if the stranded wire is unavailable. Total Home Supply offers Honeywell 14/4 Mini Split wire in 50 ft and 250 ft rolls.
Step 6 – Secure the Mini Split Wiring
Just like the outdoor unit, the indoor connections must be made in the correct order. Connect the 3 main wires along with the ground to their respective terminals. Some manufacturers recommend using round crimp style terminals for a more secure connection.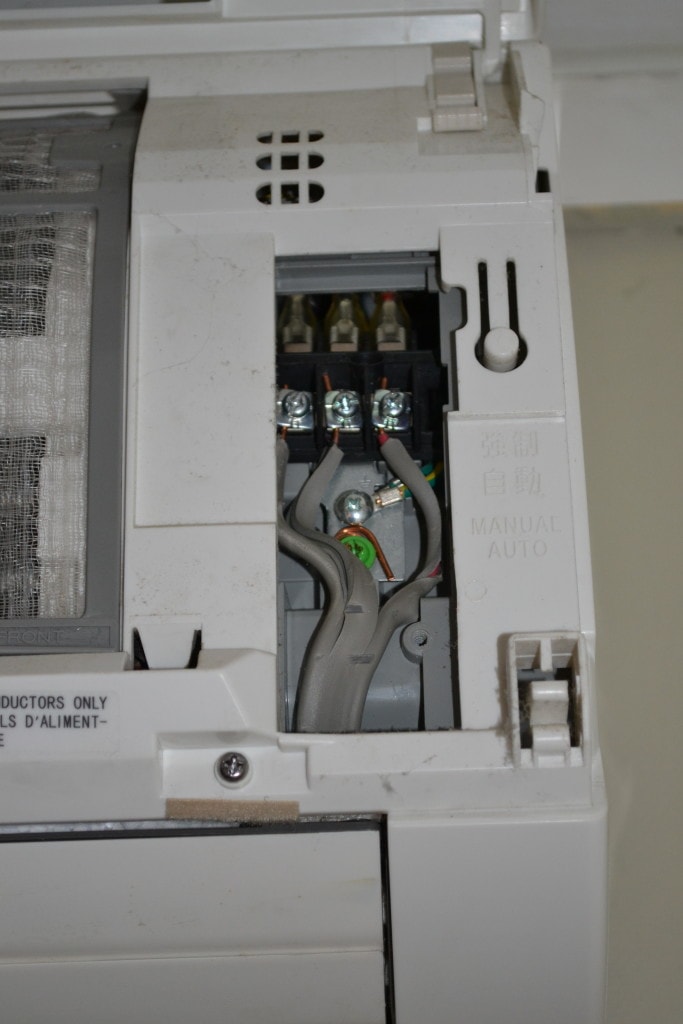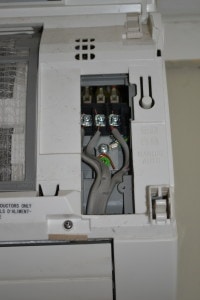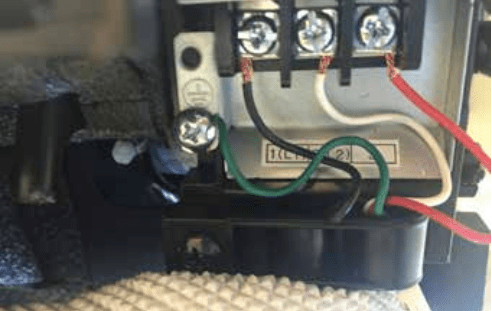 From figuring out the difference between 10/2 or 10/3 wires to the nitty-gritty of the wiring and installation of your mini split, we hope to have resolved your electrical wiring concerns.
Do I Need a Surge Protector?
A surge protector is a device that protects appliances from voltage spikes that can be caused by lightning or other surges in the AC circuit. A voltage surge can degrade wiring insulation and severely damage the components of electrical appliances that are plugged in all the time.
A mini split surge protector safeguards the system from voltage spikes and lightning surges. Because mini splits represent a considerable investment and are plugged in all the time, it's recommended to have a surge protector.
Recommended mini split surge protectors:
ICM493 Advanced Single Phase Surge Protector and Live Voltage Monitor for Mini Splits
The Single Phase Advanced Surge Protector features a bank of 5 surge arrestors, fully encased in a metal NEMA Type 3R Rated enclosure. This surge protector is perfect for use with mini splits, air conditioners, refrigeration systems and other electronics and appliances. It is water sealed for outdoor use.
It offers single phase protection against over and under voltage from 180 – 264 VAC for a more balanced distribution of power. The ICM493 also includes a built-in 40A contactor. Its dimensions are 4″H x 8″W x 8″L.
The unit installs between the disconnect switch and the condensing unit.
ICM517 Wet Location Surge Protector for Mini Splits
The Single Phase Wet Location Surge Protector will protect your mini split against voltage spikes as well as lightning power surges. It is fully encased in a metal NEMA Type 3R Rated enclosure and is installed on your electrical panel. 
It can protect your item against a surge current of up to 100,000 Amps. Your equipment must be protected by a circuit breaker rated 20 – 60 amps. It is for use with 120/240 Volt, Single Phase service.
This model is UL listed in the US and Canada, and has dimensions of 2.16″H x 2.78″W x 5″L.
ICM517 Wet Location Surge Protector for Mini Splits
If you have any further questions regarding the electrical specifications of installing ductless mini splits, please do not hesitate to contact us at 1-877-847-0050 and speak to one of our qualified representatives.
Ready for the next step? Check out our multi zone mini split buying guide!
Learn More About Mini Splits:
Ductless Mini Split AC Installation
Ductless Mini Split Sizing Guide: Heat Load & BTU Calculator