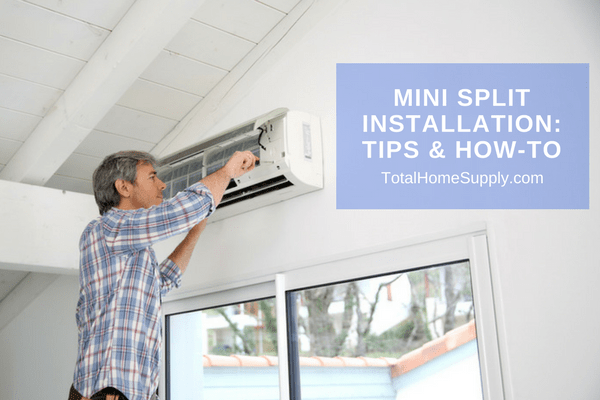 Whether you're a professional contractor or a handy homeowner, installing a mini split system can be a daunting task. But if you purchase a mini split, you might be surprised to learn that the installation process isn't all that difficult if you know what you're doing.
If you're a DIYer and thinking of installing a mini split yourself, you'll be happy to know that doing so can save you money. Whether you are planning on installing a traditional mini split and having a professional come in to charge the system and start it up or going for the even easier option of installing a 100% DIY mini split system, you can reap some pretty serious saving. And to top it all off, you'll end up saving money in the long run since mini split systems are highly efficient compared to central heat and air.
If you're a professional contractor, you understand that installing a mini split is a bit different than installing other types of HVAC systems. Since there's no need to install ductwork, you may find that the mini split installation process is actually quite simple.
In order to successfully install your new unit, there are a few key details to keep in mind to make the installation process a bit easier. By taking these factors into consideration, you'll ensure that your mini split installation is as smooth and successful as possible.
How to Install a Mini Split in 3 Steps
Installing a mini split system can be divided into 3 parts:
Install the indoor unit
Install the outdoor unit
Connect refrigerant piping from the indoor unit to the outdoor unit
Before you begin the installation process, it's essential to have a few key tools and parts on hand.
Tools & Parts for DIY/Professional Mini Split Installation
A mini split installation will require the following parts for a professional installation:
Mounting plate*
Clip anchors*
Seal*
Drain joint*
Wall sleeve*
Nitrogen Tank
Drill
Hole Saw
Torque Wrenches
Vacuum Pump
Flare Tool
Tube Cutter
Screwdriver
Allen Wrenches
Spray-on Leak Detector
Adjustable Wrench
Digital Refrigerant Scale
R410a Manifold Gauges
Tape Measure
*Included in a DIY mini split
For a DIY installation, you will only need the following tools to complete installation:
Drill
Screwdriver
Hole Saw
Adjustable Wrenches
Mini Split Indoor Placement Considerations
It's important to consider the following factors when deciding on a location for a mini split's indoor unit:
Wall Placement/Height
Select a location that's solid enough to support the unit's weight. This will also help prevent vibration, which can make the unit excessively noisy. Placing the unit at a decent height (at least 7 feet off the ground) allows for good airflow and convenient drainage. You'll also want to take sound into consideration, as installing the indoor unit too low can be disruptive.
Avoid installing the unit in a location that receives direct sunlight, and make sure to install the unit away from any doors. Every mini split has its own clearance requirements. Some can be mounted almost flush with the ceiling while others need to be mounted a foot or more down. Be sure to check your installation manual and look for an image like the one below to make sure your unit is installed for optimal performance.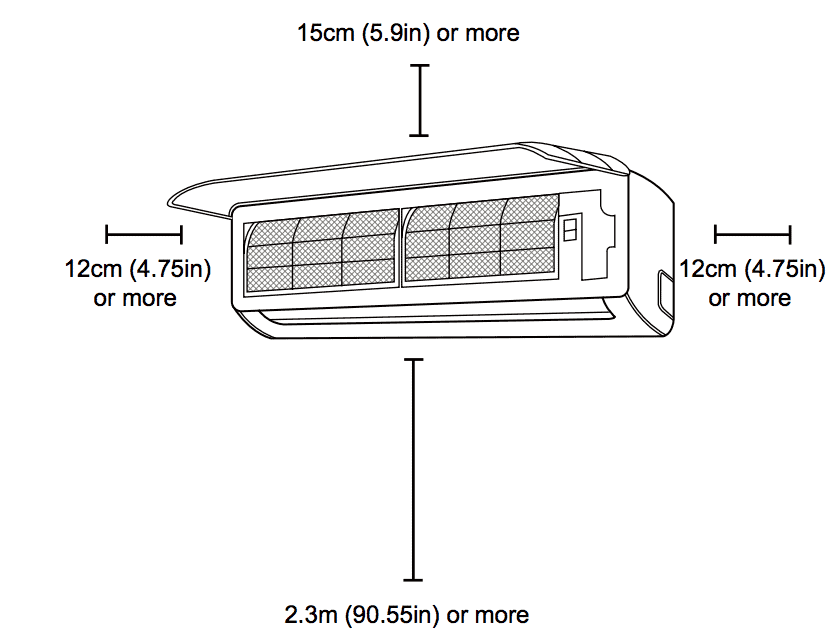 Proximity to Furniture & Appliances
Choose a location that's at least one meter from all objects, especially electrical devices such as TVs and computers. Do not install the unit near flammable objects or heat sources.
Maintaining Access to the Filter/Louver
Make sure you install the indoor unit at a height that will allow easy access to the filter and louver.
Aesthetic Considerations
You may not be too keen on having your mini split be the focal point of the room. In that case, choose a location that's as inconspicuous as possible. Installing the unit at a proper height will make it less noticeable than if you were to install it at a lower height.
Mini Split Outdoor Placement Considerations
To begin, it's important to choose a location that can support the weight of your mini split outdoor unit. Condenser units can weigh anywhere from 80 to 250 pounds, and soft ground may cause the unit to shift, resulting in issues with the connections.
For the most secure placement possible, pour a concrete pad on the ground and mount the unit with anchor bolts. If you do not have the ability to mount the unit to concrete, a great alternative is to use a pre-engineered condenser pad. These pads are designed to support the weight of a unit when placed on solid ground. Always make sure to level your pad prior to securing the unit to it.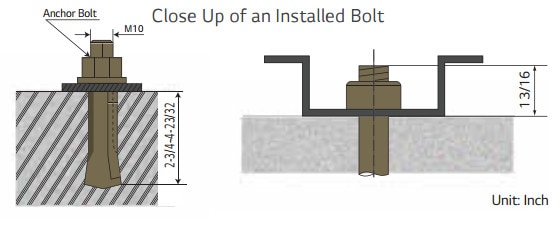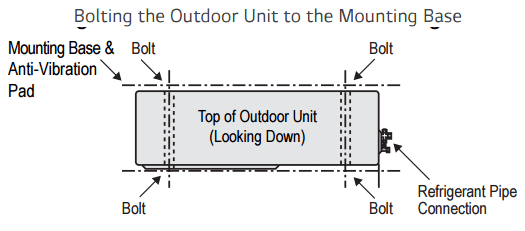 Airflow
Airflow is the key to your mini split's performance. When looking for a place to install your mini split, you should choose an area that offers optimum inlet and outlet airflow and is easily accessible for inspection, maintenance, and service. Do not install your unit where it will be exposed to heat or steam from sources like boiler stacks, chimneys, steam relief ports, other air conditioning units, kitchen vents, plumbing vents, etc. Such extreme temperatures may degrade performance or cause damage to the unit. When using multiple outdoor units, avoid placing them where discharge of one outdoor unit will blow into the inlet side of an adjacent unit.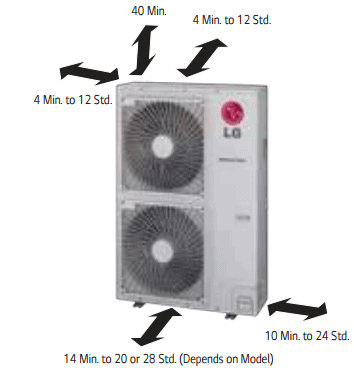 Appropriate airflow through the outdoor unit coil is critical for proper operation. Clearances ensure that heat radiation and discharge airflow aren't restricted around the outdoor unit. The exact dimensions will depend on your specific unit, but in general it is best to keep any objects 28 inches from the front air outlet, 12 inches from the rear air inlet, 40 inches from the top, and 12 to 24 inches from either side. The diagram on the right shows the basic configuration.
*Pro Tip: If only the minimum amount of clearance is used, the unit performance can decrease by up to 15%. Never use less than the minimum clearance. Excess heat buildup or poor airflow can cause the unit to fail.
Wind
Windy conditions can interfere with your unit in several ways. From knocking the unit over to disrupting the condenser fan, you want to make sure that wind gusts do not have a negative impact on your mini split.
Wall and rooftop installations are most susceptible to wind issues; therefore, any unit installed on a wall or roof must be secured using the unit's mounting points.
Ground installations are not without risk of wind issues, either. If you live in a high wind area like a coastal location, a wind barrier may be necessary in order to achieve the best performance.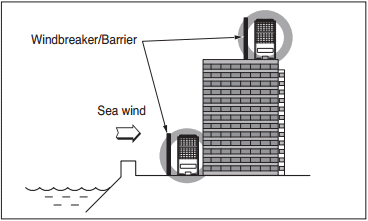 The wind barrier needs to be constructed of a strong material like concrete in order to effectively obstruct the wind. The height and width of the barrier should be large enough to fully shield the unit. It should be at least 50% wider and taller than the dimensions of the outdoor unit. The unit must be placed at least 28 inches away from the wall to allow for proper air flow around it.
*Pro Tip: Anti-vibration dampers are critical in high wind areas. These are often included with wall brackets and stands, but they may be added if you're ground mounting. Dampers will not only prevent the unit from audibly shaking but will also help to keep it secure and level.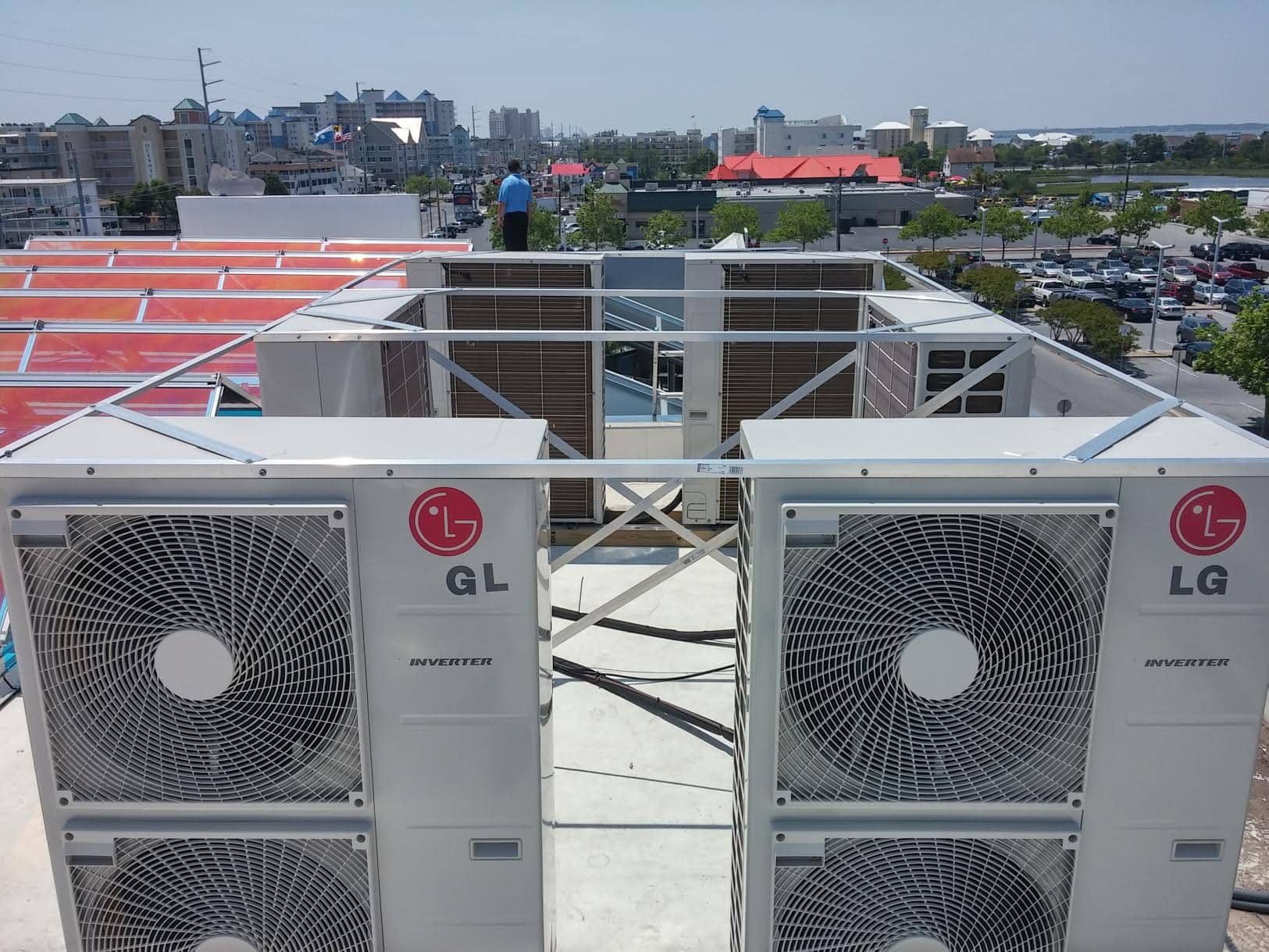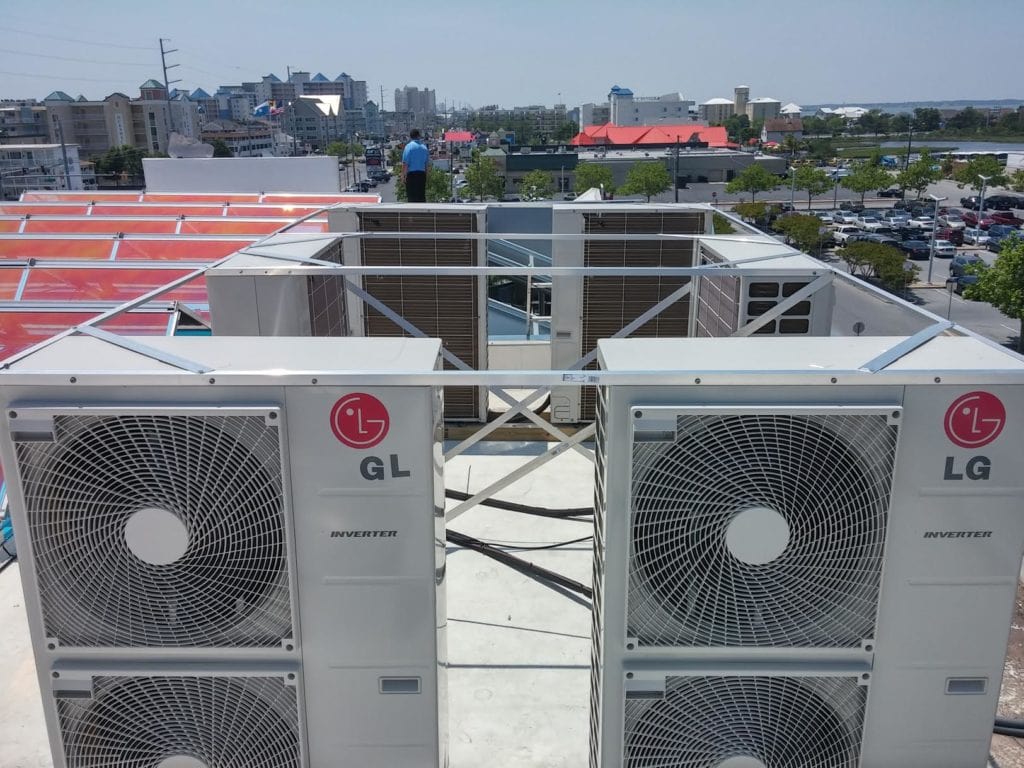 Rain
Rain itself will not have a major impact on the performance of the unit. However, the unit should never be placed in an area where there is standing water. If your location is prone to flood, consider a mini split stand, wall mounting, or roof mounting. The outdoor unit is water resistant, not waterproof. If you are in an area with a lot of rainfall, it may be wise to install hoods over the unit's air inlet and outlet. A roof or covering may also be used, but it must be at least 40 inches above the unit.
Snow
As heat pump performance has improved, so too has the usage of mini split units as primary heat sources. If you plan on using your heat pump as a primary heat source, you must make sure that your unit is clear of snow. Keep the following in mind if you're concerned about snow's effects on your mini split:
The unit should be mounted higher than the anticipated snowfall for that location.
The front fan and rear coil must be free of snow and ice. Ice buildup on the coils can cause the unit to shut down or unexpectedly malfunction.
The mounting platform should not have any additional flat surfaces for snow buildup.
If more than 4 inches of snow has accumulated on top of the unit, it must be removed prior to operation.
In very snowy areas, a hood or roof may be advisable. This surface must be at least 40 inches above the top of the unit, and it should be wide enough to fully protect your mini split. It is also important to install the outdoor unit air inlet and discharge areas away from prevailing winter winds. Always be sure to seal all piping and electrical access panels to prevent any moisture from getting inside.
Mini Split Insulation
All refrigerant piping — including connections, service valves, and elbows — should be completely and correctly insulated with closed cell pipe insulation.  To prevent heat loss or heat gain through the refrigerant piping, all refrigerant piping including liquid and vapor lines should be insulated separately.
Keep the following insulation tips in mind when installing your mini split system:
Insulation should be a minimum of half an inch thick.
Thickness may need to be increased based on ambient conditions and local codes.
All insulation joints should be glued tight with no air gaps.
The insulation material must fit snugly against the refrigeration pipes with no air space between it and the pipes.
It is best to purchase pre-insulated lines to ensure proper coverage. All DIY mini splits include a pre-insulated line set with the system.
*Pro Tip: All pipe insulation exposed to outdoor elements should be properly protected with PVC, aluminum vapor barrier, conduit or wide vinyl tape, or alternatively placed in a weather-resistant enclosure such as a pipe rack with a top cover. This will protect the insulation from drying out and cracking over time.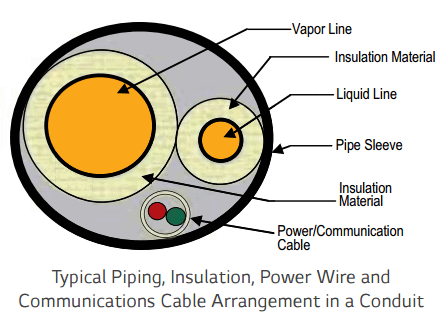 Buying a Mini Split
There are multiple types of mini splits on the market, but only a handful are designed for do-it-yourself installation. MRCOOL DIY mini splits are specifically designed for convenient, easy installation, and the best part? They ship with everything you need to complete the installation! No running to the hardware store to buy last-minute parts and accessories — all you need is a drill and drill bits to install a mini split yourself.
If you are a contractor (or plan on hiring a professional contractor), you have a wider selection of choices. We offer mini splits from renowned brands like LG, Daikin and Panasonic. To determine which model is right for your needs, check out our Air Conditioner BTU Calculator.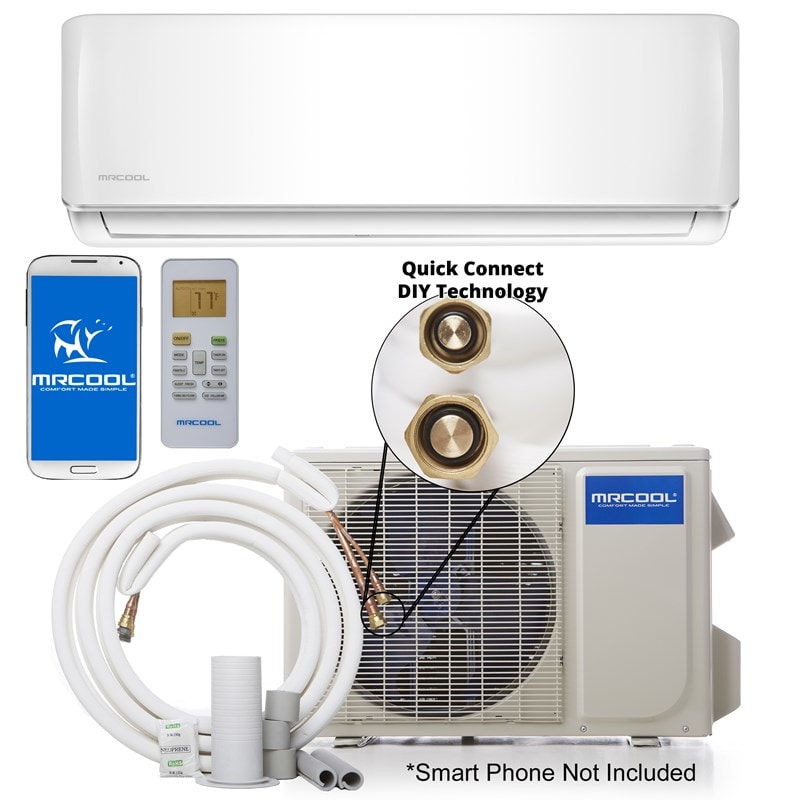 In Over Your Head? Call Us for Guidance
If you're hesitant about installing a mini split yourself, be sure to hire a reputable, qualified HVAC professional who can tackle the process for you. Need some guidance? Call us and we'll be happy to answer any mini split related questions you may have.