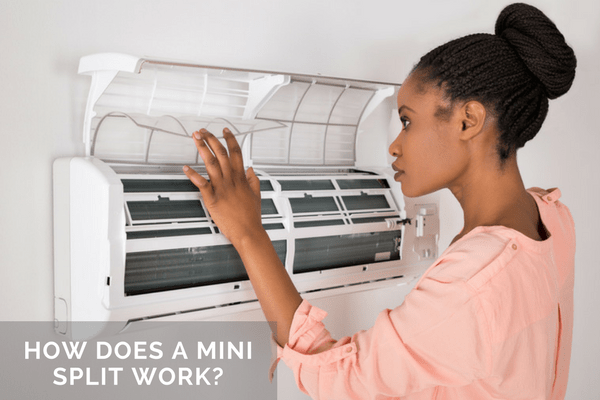 When it comes to cooling a room or your home, you may have visions of lugging a window unit out of the home supply store, turning on six different fans, cranking up the central air system, or even cracking open a window and hoping for a breeze to come in.
Indeed, when the weather is hot, we depend on our cooling systems to make sure that we stay comfortable even amid intense heat.
One option you may want to consider in your cooling hunt is a mini-split or ductless air conditioner. You may find that it's a quieter and more efficient alternative that can keep you cool whenever you need it. 
But what exactly is a mini split? How does a mini-split work and what about multi-zone mini-splits?
What is a Mini-Split?
In a nutshell, a mini-split AC unit does the same thing as a traditional AC unit: it cools your home. The big difference between the two is that mini split air conditioners manage to do so without ducts, which is why they are also called ductless air conditioners.
A mini split consists of two units: an indoor unit and an outdoor unit. The indoor unit houses the air handler, while the outdoor unit hosts the compressor. Both are connected by a conduit that houses the refrigerant line, communications wire and power.
To know more, check out our related article: What's a Mini-Split AC System?
How Does a Mini-Split Work?
So then, how do mini-split units operate?
The indoor unit blows the warm air from your home over cold evaporator coils. Inside the coils is refrigerant, which absorbs that heat from the air, and runs it to the outside unit that houses the compressor. The compressor dumps the heat pulled from the indoor air. The resulting cold air is then blown right back into the room.
This system differs significantly from a conventional central air conditioner, which usually works with one air handler, evaporator coil, and blower. Then, a complex duct system delivers air into each room of a building from a single point of origin.
For more information on the workings of mini splits, check out The Components of a Mini Split AC System.
How Does a Mini-Split Heat Pump Work?
A mini split heat pump is one that offers both cooling and heating capabilities. It does this by using a heat pump and reversing the flow of the refrigerant.
In heating mode, the heat pump pulls in heat from the outside and transfers it inside via the refrigerant. The indoor air handler then distributes the warmed air into the room.
Mini split heat pumps are highly efficient, drawing only 50% of the energy required by a typical central air system. If you have a smaller home or apartment, a mini-split heat pump may be all you need for both cooling and heating. 
Click here to know more about mini split heat pumps.
Advantages of Using a Mini Split
Mini-split units are growing in popularity for a variety of reasons, but some of the most common advantages cited are their efficiency and quiet operation.
Because mini-splits are ductless machines, they reduce a large amount of energy that is often lost through leaks and cracks in duct systems. According to the US Department of Energy, ductwork accounts for up to 30% of heat loss in a traditional ducted AC system. By eliminating the duct, mini splits are more energy efficient, and this translates to utility bills.
For this same reason, mini splits work much more quietly since they are not blowing air through ducts all over a room or home.
Compared to window air conditioners, mini splits have high EER and SEER ratings, which measure the efficiency of AC units. Some are also equipped with inverter technology, which dynamically adjusts the unit's power draw based on demand for even more efficient operation. 
Read our in-depth discussion on the efficiency of mini splits and why they are a better investment than conventional AC systems.
Difference Between Single and Multi-Zone Mini Splits
But how do ductless air conditioners work when you need to cool an entire home and not just one room? For that option, you can choose either single-zone mini-splits or multi-zone mini-splits. In this case, single-zone mini splits are not better than multi-zone units, or vice versa. This is dependent on your personal needs at home. 
Here is a breakdown of each system to help you decide which one you should purchase for your home:
Single Zone Mini Splits
How this mini-split works: These include one outdoor and one indoor unit, where the indoor unit is placed in the particular room you want to cool or heat individually. It can also be used in one total area in your home rather than just one room.

These systems are particularly great if you only want to cool and heat one specific room like an attic or garage. They are also great when you don't want to mess with existing ductwork.
Multi-Zone Mini Splits
How this mini-split works: In a multi-zone system, several indoor units all hook up to a single outdoor unit. The number of indoor units depend on the number of spaces you want to cool, but they alll connect back their one compressor outdoors.

As the name suggests, this system can occupy several different rooms or areas within a home. This is great for cooling and heating several rooms with different temperatures to accommodate each family members' temperature preferences. Multi-zone mini splits are also great for avoiding ductwork.
Overall, your decision to just heat or cool one or multiple rooms in your house will be the answer to which mini-split system you'll need. Also, depending on the size of your cooling needs (which you can calculate and compare here), figuring this out may help in making your decision as well.
Single-Zone and Multi-Zone Products to Check Out
If you are thinking that a mini-split air conditioner sounds like the perfect fit for you, you are already in the right place to find one. Total Home Supply carries a variety of mini-split units available for purchase.
Entry level single-zone mini split:
Friedrich FSHW121 12000 BTU Floating Air Select Series Single Zone Mini Split – Heat and Cool – 115V
The FSHW121 mini split is a 115 Volt, cooling with heat pump system. It features high efficiency ratings including a 18.0 SEER and 10.1 EER. The built-in low ambient cooling capabilities will cool your space when outside temperatures are as low as 0°F. The 13,000 BTU heat pump will work hard to keep you warm.
This system cannot be used as a primary heating source for most of the country, but it will give you 7,100 BTUs at 17°F with its low ambient heating capacity and can continue to provide heat even with temperatures down to -4°F. If you are need to cool a server room or other equipment year round, this unit's low ambient cooling features make it a great choice.
The 12,000 BTUs cooling capacity can service a room that is about 450 sq. ft. It comes with inverter technology for more efficient and silent operation, as well as 25 feet of line. Additionally, the line sets can be as long as 66 feet between the compressor and the indoor unit with a 49.2 foot height difference. Line sets are sold separately.
Premium single zone mini split
Bosch 12,000 BTU Climate 5000 MAX Performance Single Zone 22.5 SEER Mini Split System
With inverter drive technology, Bosch's premium Climate 5000 systems are Energy Star Rated. This unit boasts 13.0 EER and 22.5 SEER ratings. It is capable of 12,000 BTUs of cooling and 12,000 BTUs of heat.
It can operate at low ambient temperatures as cold as -22°F, and delivers 100% heating capacity at temperatures as low as -5°F, with no additional hardware or accessories required. It also includes a factory installed base pan heater that keeps the condensate from freezing in extreme conditions. This system will also cool at low temperatures for national usability.
Features include an infrared sensor that detects activity in a room and automatically adjusts the fan speed; and Humidity Control, which allows the system to increase the comfort level by lowering the humidity, not the temperature. It is also equipped with a Self-Cleaning Mode that helps to remove additional particles internally and excess moisture, with blue-fin technology, reducing or eliminating mildew.
Entry level multi zone mini split
Friedrich FPHMR36A3A 32000 BTU Floating Air Pro Quad-Zone Mini Split Air Conditioner with Heat Pump
This 2,000 BTU unit that has a connected capacity of up to 48,000 BTUs. As a quadzone mini split, a minimum of two units must be connected and the minimum combination or units must be at least 50% of the connected capacity, or 24,000 BTUs.
Several indoor units are available for use with the quad zone mini-split system. Any combination of 7,000, 9,000, 12,000, 18,000 and 24,000 BTU units can be used in the installation of the quad zone system. These include Friedrich's standard wall unit, 4-way ceiling cassette as well as a ceiling concealed duct unit. Each unit works with its own remote (included with wall and ceiling cassettes) or wall controller (included with concealed duct units) allowing for individual comfort control.
Depending on your installations of non ducted, ducted, or mixed units, the FPHMR36A3A gets great energy ratings.
| | EER | SEER | HSPF |
| --- | --- | --- | --- |
| Non-Ducted Indoor Units Only | 12.5 | 21.0 | 11.0 |
| Ducted Indoor Units Only | 12.0 | 19.5 | 10.8 |
| Mixed Non-Ducted and Ducted Indoor Units | 12.25 | 20.25 | 10.9 |
It features Friedrich's Precision Inverter Technology, offering a variable speed compressor to keep up with your comfort control needs while still being energy efficient. The outdoor unit features Low Ambient Operation making it a great year round option for heating and cooling for most of the US. It will operate in the Cooling Mode when outdoor temperatures are as low as 14°F up to 115°F. The range in which this unit will heat is equally as wide and it will heat when temperatures are as low as -13°F up to 75°F!
Premium multi zone mini split
Bosch BMS500-AAM036-1CSXHC MAX Performance 36,000 BTU Configurable Quad-Zone Heat and Cool Split System
Rated at 36,000 BTU cooling capacity, this quad zone system can handle a total connected capacity of up to 48,000 BTUs. The system will adjust its load as needed.
For example, if you connect four 12,000 BTU units, you can run them all simultaneously with the 36,000 BTU condenser. The system will allocate its 36,000 BTUs appropriately for your four spaces. If you are using only one room at any given time, that room will receive the total capacity of the indoor unit.
The MAX Performance condenser features Inverter Drive Technology provides optimum power control and extremely efficient operation by automatically changing the condenser power. The result is speedy, flexible operation that uses less electricity. It constantly adjusts the compressor rotation speed to provide optimum performance at all times. It can operate at low ambient temperatures and delivers 100% heating capacity at temperatures as low as -5°F, with no additional hardware or accessories required. It also includes a factory installed base pan heater that keeps the condensate from freezing in extreme conditions. This system will also cool at low temperatures for national usability.
Find the Mini Split That's Right for You
There's no doubt that mini-split air conditioners and heating units are growing in popularity, as they offer a quieter, more efficient system that does not require the use of ducts to deliver air to different rooms. Depending on your needs, you may find that a single zone multi-split is most appealing, where you can purchase a PTAC or mini split system. Or you can simply opt for a multi-zone setup for your entire home.
Whatever you end up choosing, Total Home Supply has you covered. Check out the mini-split units available on our site, and upgrade your cooling system to ensure comfort in the dog days of summer!
Related Articles
What's a Mini-Split AC System? – What Is a Mini Split AC?
Mini Split vs Central Air/Heat: Which is Right For You?